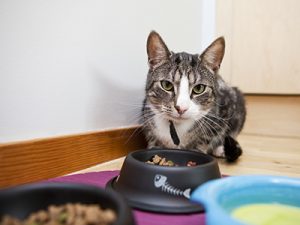 Update: this product is now commercially available in the U.S.
Kindred Biosciences Inc. has received approval from the U.S. Food & Drug Administration for Mirataz (mirtazapine transdermal ointment) for the management of weight loss in cats.
Mirtazapine, which blocks specific serotonin and histamine receptors that play a role in appetite and nausea, demonstrated a 3.9 percent increase in body weight in cats with unintended weight loss in as little as 14 days, according to San Francisco-based Kindred.
To help improve owner and patient compliance, Mirataz will be available in a topical formulation applied to the inner pinna of a cat's ear. Research shows daily topical application for 14 days resulted in measurable plasma concentrations of mirtazapine in cats, the manufacturer stated.
Mirataz offers the confidence of a product approved by the U.S. Food & Drug Administration Center for Veterinary Medicine, convenience of transdermal application, Good Manufacturing Practice (cGMP) production quality, known stability, manufacturer technical support, and a practical way to manage feline weight loss without administration of oral medication, according to Valentine S. Williams, DVM, DACVS, director of veterinary affairs at Kindred Biosciences.