Even in the aftermath of Hurricane Ike's massive storm, animal welfare organizations continue to lead rescue efforts, with many focusing on the equine population.
To help these efforts, the American Assn. of Equine Practitioners Foundation's Equine Disaster Relief Fund is accepting aid to help horses in Louisiana and Texas.
Donations, which can be made at their website, will go to programs and organizations that are helping with recovery and rebuilding efforts as well as any future disasters that may occur.
"The AAEP, AAEP Foundation and the equine veterinary community are saddened by the tragic loss of life and incredible destruction and flooding caused by Hurricane Ike," said Eleanor Green, DVM, president of AAEP. "We are compelled to reach out, together with our members, horse owners and industry leaders, as part of the effort to support the human and equine victims of this disaster."
The American Society for the Prevention of Cruelty to Animals has already pledged more than $25,000 in pre-assessment grants following Hurricane Ike, in addition to $50,000 in grant funding in the aftermath of Hurricane Gustav.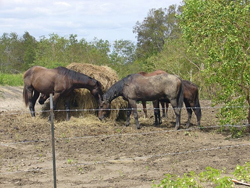 The ASPCA, among other animal organizations, provide hay and water for horses displaced by Hurricane Ike. (Courtesy of ASCPA)
Funding covers recovery costs, as well as transportation assistance, distribution of food and supplies, and other needs.
Organizations to benefit include the Walter Ernst Foundation of the Louisiana Veterinary Medical Assn. for equine hay drops in southwest Louisiana; Hopeful Haven Equine Rescue Organization in Shreveport, La., for assistance with removal of hoof stock from flooded areas in Vermillion Parish, as well as hay; and Habitat for Horses in Hitchcock, Tex., for emergency hay after the destruction of a new barn and sheds, and for 60 horses on site and another 300 in foster care across several states.
"Thanks to the kindness and generosity of our supporters, the ASPCA is able to offer grants and emergency funds to assist organizations affected by both Hurricanes Ike and Gustav," said Ed Sayres, ASPCA president and chief executive officer. "Over the years, these organizations have shown exceptional commitment and dedication the animals in their care, and we are happy to be able to provide assistance during their time of need."
Reports of horses that are injured, lost or trapped are coming in daily, according to Habitat for Horses, which has been working in teams to assess damage and rescue horses in its area.
After Hurricane Katrina, the nonprofit ramped up their Emergency Response Team training. Although the ranch took a direct hit from Ike, with years of careful planning, all the horses there escaped injury. For that, Jerry Finch, president and founder of Habitat for Horses, said he was grateful.
In addition to caring for horses, Habitat for Horses is working with the Texas Animal Health Commission to make sure cattle also have feed and hay.
"We will do whatever we can to make sure all the large animals are receiving fresh water, hay and feed," Finch said.
Click here to make a donation to Habitat for Horses.
In related news, the Texas Department of Agriculture and Texas AgriLife Extension Service have established a "No Fences" Hurricane Ike Horse and Cattle Relief donation website. Donations will be used for agriculture relief in counties affected by Hurricane Ike, including the purchase of hay, feed and water, fencing and corral materials, and other agriculture related items needed to assist with livestock.
Producers who wish to donate hay or are in need of hay can call the Texas Department of Agriculture's Hay Hotline at 877-429-1998 or visit their website for more information.
In several counties, large number of cattle and horses caught in the storm surge either died or fences are down, and animals are loose or stranded. The Texas Animal Health Commission is coordinating carcass disposal with the Texas Commission on Environmental Quality and the National Resources Conservation Service.
Reports of dead livestock should be made to the TAHC's Area Command Center at 800-550-8242 ext. 296. Callers will be asked to provide the location, species of animal, approximate number, and if possible, the GPS coordinates of the site.