Elysse Orchard, DVM: Placing Animals As Top Professional Priority
by Veterinary Practice News Editors | April 17, 2009 4:06 pm
As the sole veterinarian at Chimp Haven[1] in Keithville, La., Elysse Orchard, DVM, gave medical attention to more than 119 retired chimpanzees formerly used in biomedical research.
Although Dr. Orchard recently took a position at Louisiana State University, she still works part-time at Chimp Haven and her accomplishments at the facility are monumental.
She helped develop non-invasive techniques to assess chimpanzee health concerns while minimizing human risk, including a three-lead ECG probe to get heart rate and wave form evaluations. She even tested a blood glucose transmitter on herself before introducing it to chimps to ensure their comfort.
Her career had a fairly exotic beginning.
"My first veterinary job was in Liberia, West Africa, as the director of medical services for chimpanzees used in biomedical research that were retired to island habitats," Orchard says.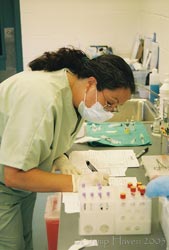 Orchard completed her residency in primate medicine at the University of California, Davis, in 1990.
"Prior to becoming a veterinarian, I was a certified veterinary technician, a laboratory animal technologist and a graduate from grooming school. After finishing a Bachelor of Science degree in biology, I realized the dream of becoming a veterinarian, with the encouragement of many people."
Orchard completed her residency in primate medicine at the University of California, Davis, in 1990. Her first faculty position was as an instructor and clinical veterinarian at the University of Miami's medical school. While with UM, Orchard also worked as the attending veterinarian with Monkey Jungle, a Miami primate park, and assisted with the veterinary care of primates in Parrot Jungle.
"In Miami, I learned how to deal with disaster preparedness with Hurricane Andrew, and I had my first child," she adds.
Orchard left Miami to work as assistant professor and assistant director at The Ohio State University, where she cared for Sarah, a chimpanzee that mastered cognitive skills through language token training. When the Sarah Boysen's Chimp Center at OSU was closed in February 2006, Orchard and Sarah united once again at Chimp Haven.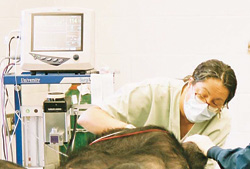 Orchard has given medical attention to more than 119 chimpanzees at Chimp Haven.
"Sarah, who is estimated to be about 48 years old, is one of the dearest chimps to me at Chimp Haven," Orchard admits. "Although a close relationship often forms when a chimpanzee shows a special preference for that person."
Making the Move
In 2004, Orchard, with encouragement from her husband and two children rearranged her life to take on the responsibilities of preparing Chimp Haven to take its first chimpanzees in 2005.
With each career change came an increase in rank and salary – until Chimp Haven. She moved from being interim director of Duke University in Durham, N.C., to Shreveport, La., to be 35 minutes from her work, which was a 24/7 job.
"It was all worth it," Orchard says. "It was the first time I implemented an animal-care program from scratch. Chimp Haven is licensed by the U.S. Department of Agriculture and accredited by the Association for the Assessment and Accreditation of Laboratory Animal Care, an internationally recognized organization."
While her education and experience would reasonably demand the utmost in formalities, Orchard insists that those who work with her call her Elysse.
"We all know I'm the doctor. Do we have to keep saying it?" she asks. "Let's focus our energy toward doing what we need to do for the animals."
Family life
Despite her demanding work schedule, Orchard cares for her children and husband, who is a teacher in the Shreveport Regional Arts Council and a nursing student. Having lived in an urban environment most of her life, she now enjoys gardening, boating and anything dealing with the arts.
She adopted two German shepherds from a Louisiana rescue organization, a standard poodle from a rescue in Virginia Beach and two large goldfish.
"Animals are my passion," she says.
In addition to her dogs and fish, she has a 16-year-old cat and a cockatiel that flew onto her head after Hurricane Andrew. Orchard says she eventually hopes to get more involved with Robinson's Rescue in Shreveport, an animal rescue organization founded by Bill Robinson, a philanthropist and a major supporter of Chimp Haven.
In the past, Orchard provided instruction at several wet labs during annual American Veterinary Medical Assn. conferences, explaining that she enjoys working and learning with other veterinarians.
---
"After finishing a Bachelor of Science degree in biology, I realized the dream of becoming a veterinarian."
~ Elysse Orchard, DVM ~
---
Good Times
"The best experience at Chimp Haven was being part of a brand new team of individuals with experience in captive care and chimpanzees," Orchard says.
"We came together successfully to bring 123 chimpanzees into retirement. The worst part was seeing the sadness of the staff when a chimpanzee dies, which happened four times in three years, the last time in June."
There are lighthearted moments in Orchard's line of work as well.
Nicky, a diabetic chimpanzee, was sedated and fitted with a device for continuous blood glucose monitoring. Within a minute of coming out of sedation, he had it off.
"He had no problem giving us the transmitter back after examining it," Orchard says.
The surprise of baby Tracy in January 2007 during morning rounds was another memorable moment.
"Teresa, a 40-something chimpanzee, came out of the trees holding an infant," Orchard says. "No pregnancies were expected since all male chimpanzees are required to have a vasectomy before coming to the sanctuary.
"The infant was obviously born that morning and still had her cord attached. We were very fortunate that out of all of the mothers that could have been, Teresa was experienced and known to be a good mother. After testing, Teresa's appeared to be the only pregnancy."
The next challenge was determining the father.
"Though concerned about the unexpected birth, the PR on 'Who's your daddy?' generated international media and helped advertise the plight of unwanted captive chimpanzees and the fundraising still required for Chimp Haven to complete its housing," she adds.
Orchard had the honor of administering anesthesia for the vasectomy surgery on Conan, the male found to be father of the surprise baby.
Orchard and the administration recognize how fortunate they have been with the vast support from the veterinary community.
"Local DVMs provide backup veterinary care, and veterinary cardiologists and clinical pathologists provide expertise," Orchard says.
"In addition, assistance from local medical physicians and palliative care nurses provide insight in the care of chronic disease conditions such as liver, heart and kidney failure. We have also received donations of equipment from pharmaceutical companies and equipment manufacturers, which has helped the veterinary budget tremendously."
In June, Orchard stepped down as associate director and attending veterinarian at Chimp Haven. A search for a new veterinarian is under way, and Orchard and several other veterinarians to share the veterinary backup.
In July, Orchard went to work with LSU's Health Science Center, working in academic medicine. The move positions her at the cutting edge of emerging diseases, she notes.
She says she enjoyed her role as the only veterinarian, but finding the time to perform administrative duties in addition to the clinical load was most challenging.
"I never went wrong when in prioritizing my work schedule by always choosing to care for the animals first," Orchard says. "This philosophy has worked for me."
Orchard recently attended the Pan African Sanctuary Assn. Veterinary Workshop in Cameroon, Africa.
"I was fortunate to be given a travel grant to represent the Association of Primate Veterinarians from the U.S. in an attempt to increase our mission on the care of nonhuman primates on a more international scale," Orchard says.
"It was great to have an opportunity to meet and form friendships with such dedicated people from many countries whose main goal is to preserve the wildlife populations and to serve as refuge for the orphans of the bushmeat trade, tribal conflict and loss of habitat."
Orchard will speak at the AVMA Annual Convention in New Orleans regarding animal sanctuaries and to highlight Chimp Haven as a model for captive care in the sanctuary setting.
Endnotes:
Chimp Haven: http://www.chimphaven.org/
Source URL: https://www.veterinarypracticenews.ca/elysse-orchard-dvm-placing-animals-as-top-professional-priority/
---