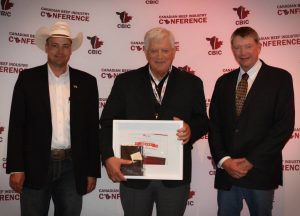 Eugene Janzen, DVM and professor at the University of Calgary College of Veterinary Medicine (UCVM), received the 2018 Canadian Beef Industry Award for Outstanding Research and Innovation at the 2018 Canadian Beef Industry Conference, held in London, Ontario.
Dr. Janzen has contributed to a long list of cattle health and welfare issues, including diseases and pathology of feedlot cattle, bovine respiratory disease, neurological conditions and Mycoplasma bovis, diseases and pathology of cow-calf operations, and Johne's disease.
His most recent research interests include effective pain control in beef cattle, toe-tip necrosis syndrome in feedlot animals, and livestock welfare during transport.
"There are few people with a broader or more prolonged impact on the beef industry than Dr. Eugene Janzen," said Ryan Beierbach, Chair of the Beef Cattle Research Council (BCRC) and producer near Whitewood, SK. "His work on disease management and accurate diagnosis has been extremely valuable and continues to help the industry to better understand, treat, and prevent issues in cattle health and welfare."
Dr. Janzen also helped develop the disease outbreak investigation programs at both the Western College of Veterinary Medicine (WCVM) and UCVM.
"Over the course of his career Dr. Janzen has been a teacher and mentor to hundreds of veterinarians, students and producers across Canada," added Matt Bowman, Vice-Chair of the BCRC and a producer from Thornloe, Ontario. "It's been said that he is on a first name basis with virtually every mixed-animal or food-animal veterinary practitioner in western Canada and his cell number is on the barn wall or in the phone directory of literally hundreds of beef producers and their veterinarians."
He is considered one of the pioneers that worked to understand the health challenges in feedlot cattle and holds a publication record of more than 110 peer-reviewed publications.
Dr. Janzen's research underpins many of today's feedlot health protocols, including the role of vaccines, antimicrobials and biosecurity measures.