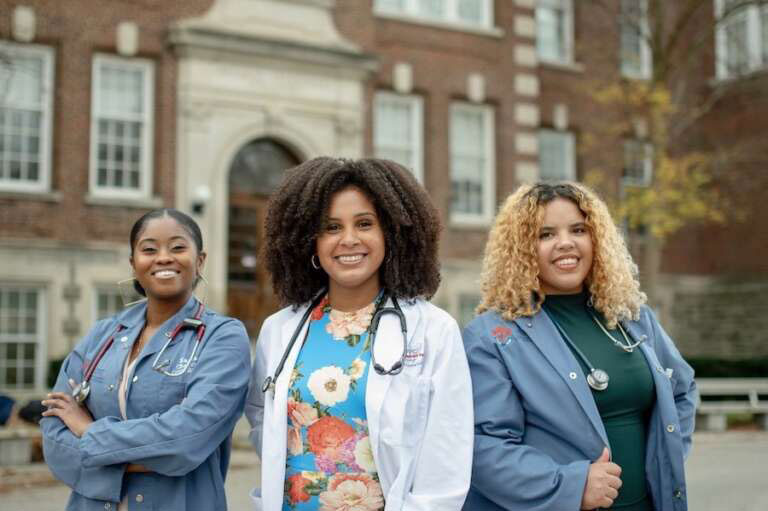 Making the veterinary profession more inclusive and accessible for Black people in Canada is the goal of a non-profit organization at the University of Guelph's (U of G's) Ontario Veterinary College (OVC).
Inspired by the Black Lives Matter (BLM) movement, Canadian VIBE (Veterinary professionals Instilling Black Excellence) was launched by OVC students Keisha Harris, Kayla Charles, and Melanie Moore and registered as a non-profit organization last summer.
Among the central goals of the group is ensuring high retention rates for Black veterinary students and identifying obstacles that could prevent them from completing their studies, Moore says. Tackling these challenges will, in turn, foster inclusivity and diversity in veterinary medicine.
"We want the future generation of Black students to see themselves represented in this profession," Moore tells U of G. "We want them to know they are supported. We want them to understand their skin colour does not define their abilities or what they are capable of achieving."
Among VIBE's activities and goals are:
a mentorship program for Black youth;
an online directory of Black veterinary professionals in Canada;
increased visibility of Black veterinary professionals in recruitment efforts;
a safe space for Black veterinary professionals; and
new scholarships and grants for Black veterinary students.
Numerous obstacles prevent Black people from entering the veterinary profession, Charles tells U of G.
"One of the major barriers is representation," she says. "Lack of representation impacts how children view themselves and it shapes what they believe is possible for them to achieve. The absence of support from those in the field is also a significant barrier.
"Our vision is to increase the visibility of Black veterinary professionals," Moore adds. "We plan to do this by making ourselves visible, hosting school talks about veterinary medicine, addressing topics surrounding diversity, and focusing on creating a strong network of Black veterinarians throughout Canada. I believe it is important for kids to grow up seeing Black men and women in powerful positions."
For more information on VIBE, click here.
Written with files from U of G