I received some responses regarding my August column about "Food Inc.," a documentary film released this past summer. No doubt, there are animal welfare issues in the field of food animal production that will put some veterinarians at odds with other veterinarians.
Part of my job is to raise awareness of issues that affect our profession and how we serve society. The information quoted in my article came from the documentary.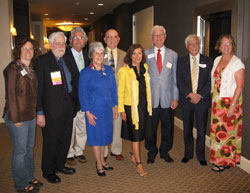 The first Bustad Award Winners' Reunion took place during the AVMA convention. It was organized by Dr. William McCulloch and hosted by Larry Norvell, president of the Delta Society. No other single event has attracted as many Bustad recipients in one room.
From left are: Drs. Jane Shaw from the Argus Center at Colorado State University, James Harris from Tasmania, Brian Forsegren (this year's recipient) from Cleveland, Caroline Shaffer from Tuskegee, Marv Samuleson with VARL, Dr. Alice Villalobos, Bill McCulloch from Washington, Gen Kato from Japan and Marie McCabe from Arkansas.
I recommend that all veterinarians see the movie because some of your clients most likely will see it. California had a parallel issue with Proposition 2 last November. The public voted to be kind to chickens.
Veterinary Practice News will provide a non-biased forum for discussions of controversies to help keep veterinarians informed about emerging concerns and how society is reacting.
***
"Stop me before I volunteer again." This slogan is on a tablet my best friend thoughtfully gave me. Of course I laugh every time I see it because "Volunteer" is my middle name.
Veterinarians are the most generous professionals on the planet. We give. We volunteer. We stay late. We are there when needed. We offer our time, advice, services and supplies to help animals, people and our favorite organizations.
This time next year, you will find me serving as president of the Society for Veterinary Medical Ethics. This year's outgoing president, Dr. Clayton McKay of Toronto, handed the gavel over to Dr. Katherine Knutsen, and next year she will hand the gavel to me.
I dedicate my term of service to honor the late Dr. Anna Worth, who was SVME president a few years before serving as president of the AAHA. We are not ethicists, but we are serving to encourage the exchange of information about ethical issues to increase teaching, awareness and understanding.
This is a huge "mind" field needing many mentors. I want to thank Bernie Rollin, Ph.D., of Colorado State University for his mentorship and for setting the bar for fired-up bioethicists.
The SVME was founded in 1994 to promote discussion and debate about ethical issues arising in and relevant to veterinary practice.
The SVME hosts a listserv, publishes a newsletter and holds a plenary meeting with lectures and discussions at the American Veterinary Medical Assn.'s annual conventions.
This year's sessions dealt with dilemmas and entanglements that lead our colleagues into reviews and hearings before state boards nationwide. The message put forth was chilling. Self-governance is a privilege that our profession may unwittingly forfeit if it isn't executed consistently and correctly by state boards, which exist solely to protect the public.
We may not realize it but our profession encounters ethical dilemmas every day. The 2009 AVMA convention drew seven demonstrators who dressed as mermaids to lie on the sidewalk. Their demonstration was to object to the AVMA's participation with the 100-year-old tradition of fish tossing at the world-famous Pike Street Market on Seattle's waterfront. The "mermaids" made the local papers and the news with their mission and the day was uneventful.
For the first time ever, AVMA officials held a town hall meeting to hear concerns from members. It is amazing that just about every issue brought forward had an ethical component. Many issues, especially welfare, have put veterinarians at odds against other veterinarians.
I hope we will continue to study and discuss these important issues with the help of cross-disciplinary input from experts for proper resolution, which will bring the maximum benefit for animals and society and the environment we share.
Please feel free to e-mail your concerns, issues and comments. It would be best if you allow me to quote you. Needless to say, 99 percent of practicing veterinarians, including me, are not trained ethicists. However, we get training every day as we deal with the dilemmas that our profession is uniquely embroiled. These include:
• The growing dilemma of convenience euthanasia.
• The unwanted horse slaughter and transport dilemma.
• The issues facing the horse- and dog-racing industries.
• The farm animal welfare issues that conflict with intense production of meat, milk and eggs.
• The conflict of interest inherent in production-oriented pay.
• The "pay for services rendered" delivery of veterinary services.
• The conflict of interest between entrepreneur and healer.
• The issues involved in overtreatment.
• The issues involved in under-treatment.
• The tendency to dismiss or pass on cases that we can't save.
• The demand for animal hospice and palliative care.
• The legal status of animals in the court system.
• The problems of self-governance via variable state boards.
• The role for third-party payment for pet health care.
• Dog and cat overpopulation.
• The shelter and rescue issues facing public and private efforts.
• The effect of foreclosures on the human-animal bond.
• The horrors of animal hoarding.
• The detection and reporting of animal abuse and dog fighting.
• The mistakes and deception in drug, supplement and food production.
• The issues regarding addiction, obesity and lifestyle.
• The question whether we practice what we preach.
• The political action issues facing the profession.
• The incorporation of corporate practice.
• The issues concerning biohazard and antiterrorism efforts.
• The pollution by agents and waste in food animal production.
• The stewardship concept versus intense factory-farming issues.
• The challenges to educate future DVMs.
Feel free to send in your topic or issue of interest or irk. We will at least research and highlight the pros and cons of the issues and raise questions. We can ask ourselves to ponder various issues and think about answers from various viewpoints. The listserv for the SVME can become very interesting at times. Consider joining! Click here.