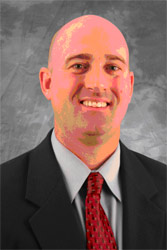 The Western Veterinary Conference has named David Little as chief executive director of the Oquendo Center for Clinical Education, which is scheduled to open later this month at WVC's 81st Annual Convention in Las Vegas held Feb. 15-19.
Little's duties will be to help provide vision and leadership, hire and oversee staff, establish priorities, monitor performance, manage the operating budget and generate written and oral communications pertaining to the center's activities. He will also be responsible for business development and execution as well as delivering programs and services that comply with WVC Board of Directors' objectives for the facility.
Prior to this position, Little served as director of the Convention and Meeting Planning Division of the American Veterinary Medical Association.
"I am very excited to become a part of the Western Veterinary Conference team and have the opportunity to oversee and manage the Oquendo Center," Little said. "I believe this world class facility will set the standard for hands-on veterinary education and training, and it is a privilege and honor to have been invited to be a part of its growth, along with being associated with the quality individuals within the organization."