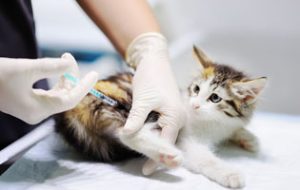 The Canadian Veterinary Medical Association (CVMA) is celebrating Animal Health Week from Sept. 30 to Oct. 6 by drawing attention to the importance of protecting animal health through vaccinations.
This year's Animal Health Week theme—Vaccines Save Lives!—is made to remind animal owners and caretakers about disease prevention.
"Many factors including the migration and expansion of parasite populations, the importation of domestic and farm animals from other countries, and the mutation and increased resistance of disease-causing bacteria have caused great concern in recent years for animal owners and veterinarians alike," said CVMA president Terri Chotowetz, DVM, BSA.
"Fortunately, at the same time, we have never been in a better position to protect the health and lives of the animals in our care because of the advances in animal health care and vaccinations."
CVMA is offering animal owners five reasons to vaccinate:
Vaccinations are safe and effective and prevent many animal illnesses
Vaccinations protect everyone and prevent diseases that can be passed from animal to animal, as well as from animal to human
Vaccinations are an important part of annual health exams
Vaccinations are tailored to each animal based on its breed, age, overall health, and disease exposure risk
Vaccinations can help avoid costly treatments for diseases that can be prevented
Over 200 veterinary practices across Canada are celebrating Animal Health Week this year through various events and engaging their clientele through educational resources.