CVMA, CVO, and OVMA publish cannabis guidelines for pets
by Sarah Said | October 24, 2018 10:45 am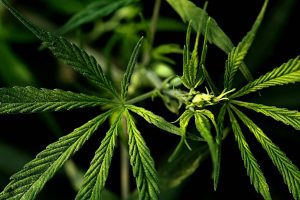 The College of Veterinarians of Ontario (CVO), the Canadian Veterinary Medical Association (CVMA), and the Ontario Veterinary Medical Association (OVMA) have released a set of best practices aimed at informing veterinarians and their clients on the cannabis use now that the product is legal in Canada.
The guidelines include categorized information about the country's new marijuana law, the signs of marijuana toxicity, and pet-safety tips for owners.
Currently, there are no approved veterinary drugs containing cannabis or cannabidiol (CBD) and veterinarians are not allowed to prescribe any of these products for animal use.
Read the CVO's Understanding the impact of the Cannabis Act on animal welfare[1]
Read the OVMA's Pets and marijuana[2] safety tips
Read the CVMA's Veterinarians Caution: Cannabis Exposure in Pets[3]
Endnotes:
Understanding the impact of the Cannabis Act on animal welfare: http://r20.rs6.net/tn.jsp?f=001zGr6_0Pm6Jda1YYa3G04kvOGYhyMFobRxKd0ijEj13SqULEx-YqnIKbeGOTd_SRbET6FO6B7I3hMh8HGZfUm4tAYhuBHVIyXfYBshvmB68ykBa7TqfSC7NMCppCYIOOAYbQrOUceM0D_kxxlC5p4PeO6NMV6lOAvd0yqfSf06xxIYCjuopxyZJbBGPyCHlg4R_afoDJWD7tw3BG-nZQuMprPADTL5W2VtMTnnZGWis8=&c=A1vf3lYlV2f-JZ8XsCCDMGnjf4YhkEtQl1S2bzHKIT3NhAjmE6cu1w==&ch=0uV-I7s0b4Rj8pVnr_l3es8L9ijx3DsYs3CY3BL0RTi2HGbMFlL1eQ==
Pets and marijuana: http://r20.rs6.net/tn.jsp?f=001zGr6_0Pm6Jda1YYa3G04kvOGYhyMFobRxKd0ijEj13SqULEx-YqnIKbeGOTd_SRb2pRMg87B7oTlyx0Ykk1sS0HH5u8u8h46l8ujt4Wwb0wlExbB0GfswFuVpDO56iRAd2yHS8nF3ZygGEa9a9sW5xvsJdoTmEn8YRzAfrfqtRBrGtIqIjQYl5ZRwEMtCMVc5MBcAXedH-fPEcTIxirDtucNoHR_bify&c=A1vf3lYlV2f-JZ8XsCCDMGnjf4YhkEtQl1S2bzHKIT3NhAjmE6cu1w==&ch=0uV-I7s0b4Rj8pVnr_l3es8L9ijx3DsYs3CY3BL0RTi2HGbMFlL1eQ==
Veterinarians Caution: Cannabis Exposure in Pets: http://r20.rs6.net/tn.jsp?f=001zGr6_0Pm6Jda1YYa3G04kvOGYhyMFobRxKd0ijEj13SqULEx-YqnIKbeGOTd_SRbOecshgqhXu3upPnLn7A6SPeGPnnbEd2NJZfIYzF5Oa6qQ0kGfZRRHU0fQpoKclFdjXPlAzzilbEHvgxRuB8OGBOgF8F6CSN1Pgd6CD_Z3Qqlp_XuHNUefOD0K6590bYpqBhXamd9YBnLeE1aKKczNuNNAfErbDp5stg5lv3jMQlrWrmaxjlhWynZmouCLSHh&c=A1vf3lYlV2f-JZ8XsCCDMGnjf4YhkEtQl1S2bzHKIT3NhAjmE6cu1w==&ch=0uV-I7s0b4Rj8pVnr_l3es8L9ijx3DsYs3CY3BL0RTi2HGbMFlL1eQ==
Source URL: https://www.veterinarypracticenews.ca/cvma-cvo-and-ovma-publish-cannabis-guidelines-for-pets/
---