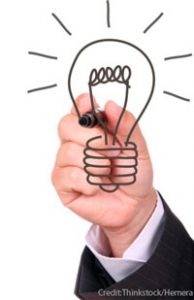 Until recently, there were:
The CEO, or Chief Executive Officer;
The CFO, or Chief Financial Officer;
The CIO, or Chief Information Officer;
The CTO, or Chief Technology Officer;
And a few others (CSO, CCO and CKO anybody*?)
I recently heard of the CWO, aka Chief WOW Officer, aka Director of WOW, as Nido Qubein calls it. The businessman and motivational speaker is currently the President of High Point University, an amazing private liberal arts university in High Point, North Carolina. Of course, there is a CWO at High Point.
His job is to identify the un-WOW on campus, and turn it into WOW to improve the students' experience.
Here are a few of the services provided. Each one honors an important value:
• There is an ice cream truck on campus, and a bubble-gum machine at the entrance of the Dean's door (value: generosity).
• Students can have a free car wash on week-ends to forget the dust caused by an extensive construction project (value: respect for others' property).
• Valet parking for students after 9 pm (value: safety).
• Live music at the cafeteria (value: rock 'n' roll forever?).
Similar creative ideas can be implemented in your clinic. And it doesn't have to cost a fortune.
Jennifer spontaneously offers to clean up a cat carrier soiled by a stress-out freakozoid feline.  John volunteers to carry a large bag of food—or said cat carrier—to a client's car.  Jessica surprises an anxious client, who has been sitting in an exam room for more than five minutes, with a cup of green tea. In turn, happy clients could give a WOW card to outstanding team members. After so many WOW cards are collected, employees could be rewarded accordingly. And publicly.
You can be a student of WOW as you live your everyday life. If you had a good experience at a store, a hotel or on the phone, how can you emulate that at your practice or in your professional life? If you had a dismal encounter at a medical practice, a car rental office or on a website, how can you make sure your clients never experience such poor customer service?
Of course, you don't have to be a practice owner to apply the WOW concept.  You can be an associate vet, a technician or a hospital administrator and still benefit from the idea!
As business gurus have told us for years, it is much easier (and cheaper) to WOW current clients, than to attract new ones. Exceeding their expectations is the mission of your Director of WOW.
Now, who can you name (part-time) Director of WOW at your clinic?
Dr. Phil Zeltzman* is a mobile, board-certified surgeon in Allentown, Pa. His website is www.DrPhilZeltzman.com. He is the co-author of "Walk a Hound, Lose a Pound: How You and Your Dog Can Lose Weight, Stay Fit, and Have Fun Together (www.WalkaHound.com)."
* Chief Security Officer, Chief Compliance Officer and Chief Knowledge Officer