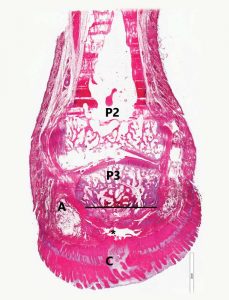 Surgical excision requires either a general anesthetic or heavy sedation with medetomidine and butorphanol together with a digital nerve block, for instance. Hemostasis is achieved by an assistant pinching the caudal aspect of the pad between the index finger and thumb. A full thickness elliptical incision is then made around the corn to include a small margin of normal pad tissue, allowing the corn to be teased out from the underlying fibro-adipose tissues. The pad margins are closed with simple absorbable sutures, the author's (Guilliard's) preference being polyglactin. The paw needs to be covered in a protective dressing for up to three weeks and changed frequently. The sutures soon wear through and disappear.
The role of toe amputation in the management of corns is typically considered to be the treatment of last resort, since it may alter weight distribution between the remaining toes, resulting in a new corn developing on one of them. However, in the authors' experience, this rarely occurs. This consideration should be weighed against the possibility toe amputation can render a greyhound corn- and pain-free.
A distal digital amputation through either the distal interphalangeal joint or the distal second phalanx has been advocated. This technique is more likely to be successful in digits 2 and 5, as they are not the main weight-bearing digits. However, in the author's (Guilliard's) experience, this has shown mixed results.
The author (Guilliard) is currently conducting trials of a novel surgical treatment for corns that involves cutting the flexor tendons. He has postulated that if the affected toe is unloaded by this method, the mechanical trauma will cease, the dog will not be lame, and the corn will grow out and not recur. The corn is not excised, but pared down only if prominent.
Short-term results to date on a small number of cases are very encouraging, with all owners reporting great improvement after only two or three days. The longest follow-up period is six months with no lameness reported.
Outcome of treatment
Currently, the only treatment with any published outcome data is surgical excision (Guilliard et al, 2010) where approximately 50 per cent of the dogs had no recurrence of lameness at one year post-treatment.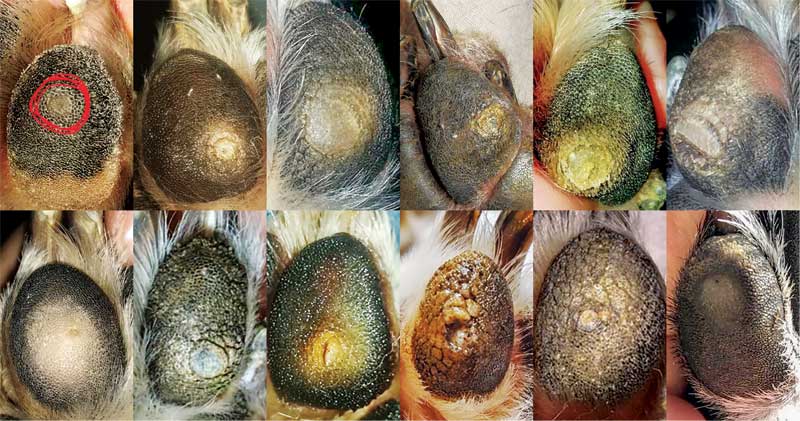 Conclusion
While being a relatively simple lesion, the greyhound corn is both debilitating for the patient and frustrating for the veterinarian and owner. The first challenge for a veterinarian presented with a lame greyhound is to think of the possibility of a corn. While surgery offers a chance for successful resolution of the lesion, recurrence is still common. Palliative management, including removing the lesion's core, can offer symptomatic relief.
Currently, there is a lack of information regarding the biology and epidemiology of greyhound corns and the efficacy of different treatment options. With this in mind, the Greyhound Health Initiative (GHI)—a U.S. non-profit organization dedicated to improving the health and well-being of sighthounds on a global scale—is currently raising funds that will go toward researching this topic. As a first step, an Internet-based greyhound corn study discussion group has been started. Any veterinary professional interested in participating in this or in any of GHI's corn research projects can contact them at info@greyhoundhealthinitiative.org.
References
Anis, E. A., Frank, L. A., Francisco, R., & Kania, S. A. (2016). Identification of canine papillomavirus by PCR in Greyhound dogs. PeerJ, 4, e2744.
Balara, J. M., McCarthy, R. J., Kiupel, M., Buote, M. A., Wise, A. G., & Maes, R. K. (2009). Clinical, histologic, and immunohistochemical characterization of wart-like lesions on the paw pads of dogs: 24 cases (2000–2007). Journal of the American Veterinary Medical Association, 234(12), 1555-1558.
Guilliard, M. J., Segboer, I., & Shearer, D. H. (2010). Corns in dogs; signalment, possible aetiology and response to surgical treatment. Journal of Small Animal Practice, 51(3), 162-168.
Kim, S.H., Kim, S., Choi, H.I., Choi, Y.J., Lee, Y.S., Sohn, K.C., Lee, Y., Kim, C.D., Yoon, T.J., Lee, J.H. and Lee, Y.H. (2010). Callus formation is associated with hyperproliferation and incomplete differentiation of keratinocytes, and increased expression of adhesion molecules. British Journal of Dermatology, 163(3), 495-501.
Lord, L. K., Yaissle, J. E., Marin, L., & Couto, C. G. (2007). Results of a web‐based health survey of retired racing Greyhounds. Journal of Veterinary Internal Medicine, 21(6), 1243-1250.
McKay, I. A., & Leigh, I. M. (1991). Epidermal cytokines and their roles in cutaneous wound healing. British Journal of Dermatology, 124(6), 513-518.
Roven, M. D. (1968). Helomata, A review of some of the literature. Journal of the American Podiatry Association, 58(5), 209.
Swaim, S. F., Amalsadvala, T., Marghitu, D. B., Sartin, E. A., Hudson, J. A., & Stoenescu, E. D. (2004). Pressure reduction effects of subdermal silicone block gel particle implantation: a preliminary study. Wounds—A compendium of clinical research and practice, 16(10), 299-312.
Swaim, S. F., Bohling M. W., Wright, J. C., et.al., (2014) Paw pad pain: A review of corns in dogs. Veterinary Medicine, 109, 61.
Yale, I. (1987). Yale's podiatric medicine. Baltimore: Williams & Wilkins.
Richard W. Doughty, M.Sc., MB ChB (Hons), BVSc, is an attending (medical) pathologist at a university hospital near Oslo, Norway. He holds a bachelor of science degree in physiology and master of science in toxicology. In 2002, Dr. Doughty completed his bachelor of veterinary science at the University of Bristol Veterinary School. He then went on to complete his human medical degree at University of Liverpool Medical School in 2011 and residency in anatomic pathology in 2018. Doughty has previously worked in clinical veterinary practice involving both racing and retired greyhounds and has a long-standing interest in greyhound corns. He can be reached at dr.rwdoughty@yahoo.co.uk.
Michael Guilliard, MA, VetMB, CertSAO, FRCVS graduated from the University of Cambridge Veterinary School in 1972. Working in private practice for his entire career, he developed an interest in the racing greyhound. This led to several publications on greyhound injuries in peer-reviewed veterinary journals for which Dr. Guilliard twice received the British Small Animal Veterinary Association (BSAVA) Dunkin Award for the most valuable article published in the Journal of Small Animal Practice by a small animal practitioner. In 2012, he became a fellow of the Royal College of Veterinary Surgeons (RCVS) for his thesis entitled, "The nature, incidence and response to treatment of injuries to the distal limbs in the racing greyhound," and in 2014 received BSAVA's Simon Award for outstanding contributions in the field of veterinary surgery. Guilliard now runs his own orthopedic veterinary practice in the United Kingdom, with running dogs contributing to 50 per cent of his workload. He can be contacted at guilliard@talk21.com.