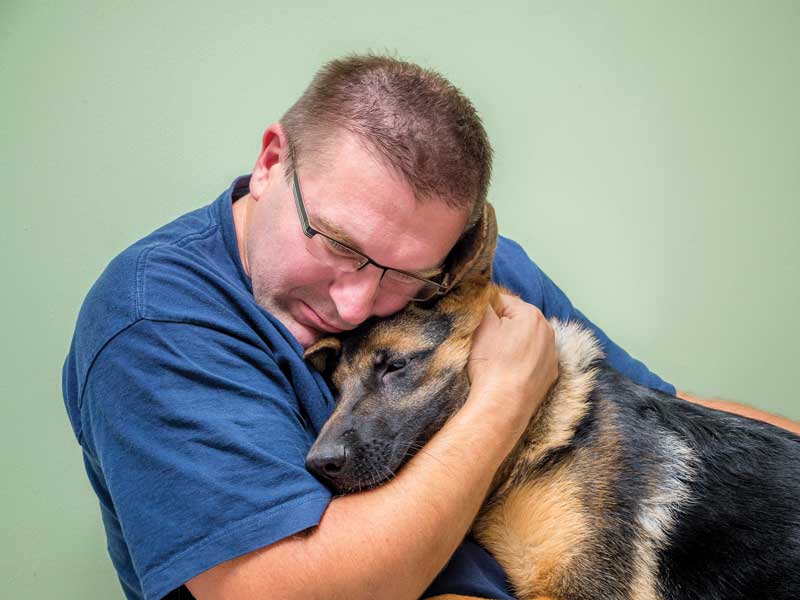 In the 20 years I have worn my veterinary coat, I have seen some unreal situations—from a cat with an arrow through its epaxial muscles to a seemingly stereotypical 'tough guy' crying more at the death of his dog than the passing of his own mother. I have witnessed the evolution of the strength of the human-animal bond—and I am no longer afraid to say I feel compassion satisfaction in most of my euthanasia appointments.
Euthanasia is recognized as a major contributor to compassion fatigue; however, when we feel as though we are making a difference by bringing our knowledge and empathy to families and animals, satisfaction comes over us. Indeed, these experiences, which are so rich in humanity, do not empty our 'empathy tank,' but, instead, fill it up.
Learning from our mistakes
For me, the road to get to this point has been fraught with pitfalls. Without formal academic training in sedation protocols; intravenous and intra-organ injection techniques; verbal and non-verbal language; and client psychology, the journey has been challenging. As such, it took making big mistakes to learn my most valuable 'tricks of the trade.'
Until my last breath, I will remember the exasperated client who yelled, "Just kill him! Kill him!" when I could not find a vein in her reactive, though dehydrated, dog as he laid in the back of her 1976 Chevy on a Saturday night. If I had known how to give him a decent sedation to get rid of his pain and anxiety (and if I could have injected him intra-hepatically, given the poor lighting and fragile veins), it would have changed the experience for all of us.
The situation felt hopeless at the time—for the lady who wanted what was best for her companion, for me who felt like an imposter (sound familiar?), for the empathetic technician, and for the poor anxious dog. After 20 years, I finally learned how to use the deep sedation techniques which prevent much of the unexpected (a growl, a shrill cry, a paw that withdraws). A source of stress diffused. What a relief not to worry about the unpredictable in such a tense moment.
On the other side of the mirror
Conversations with a bereavement consultant took me through the looking glass and made me realize how our gestures (verbal and non-verbal communication) could be perceived by suffering clients whose perception is altered by stress and emotion. I learned how we can adapt our vocabulary to increase our chances of being understood.
For instance, avoid:
Physically separating the pet from its parents in the final moments, as this time is so dear to both human and animal before departure.
Weighing the animal. Pet owners don't understand why we weigh animals; they associate the practice with health follow-up, which contrasts with euthanasia (they don't live on mg/kg like we do!).
In applying these simple precautions, I feel more in tune with clients. I feel better. I feel emptied and filled at the same time. I feel alive.
Mapping the experience
While we, as veterinary professionals, surely know the euthanasia experience by heart, we should always remember what we did not know when we did not know.
We need to describe in detail to the families what is coming: what they will see and feel, the physical and mental reactions to sedation, and the time each step will take. Verbalize: "I know this is not easy, but we are here for Fluffy and for you. We have gone through this with our own pets." A simple statement like this can change the dynamic for a family bathed in guilt and unite them in this intimate and privileged event.
Positive vocabulary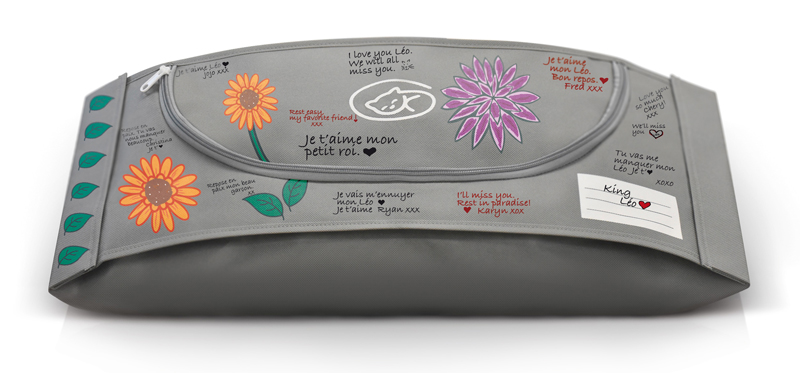 To help with client conversations surrounding euthanasia, Dani McVety, DVM, and Mary Gardner, DVM, of Lap of Love and Kathy Cooney, DVM, CHPV, CCFP, director of education for the Companion Animal Euthanasia Training Academy (CAETA), recommend positive comprehensive wording.
Consider these 'word swaps':
Calming agent instead of 'sedative'
A device in the vein instead of 'catheter'
Anesthetic instead of 'euthanasia solution'
He will be comfortable rather than 'he will not suffer'
We are making the right decision instead of 'you are making the right decision'
The devil is in the details (sometimes in just a couple of letters)—what a difference in perspective! This goes to show a minor adjustment can lead to major impact.
Language can make a huge difference for families who are looking for permission to move forward with a euthanasia. My goal during these appointments is to turn the heavy feeling of guilt into a sense of mission accomplished. Together, we did the right thing for your friend. Cherishing this privileged moment with teary eyes and a smile while looking at pictures or talking about memorable moments shared with the pet.
Preserving dignity
How is it possible to preserve the dignity of a beloved animal when you put the pet's remains in a garbage bag? For so many years, I felt like I was in the mafia every time I had to put beloved pets in plastic bags. It made me feel ashamed, like an imposter, and not worth the trust people were putting in me to be by their side in this intimate moment.
Incorporating purposeful and appropriate body bags as part of your euthanasia services helps honour the strength of the bond between the pet owner and their companion animal. The added level of dignity allows you to share, without guilt, the post-euthanasia part of the process to clients rather than trying to hide it or risk feeling you are not living up to the client's expectations.
Visiting the crematorium
After practicing for more than a decade, I decided to visit the place where I had sent thousands of patients. I did not know what to expect. What does cremation look like? How do they handle the bodies? What does it smell like? Is it a presentable place?
After my visit, I could finally say to clients (with confidence): don't worry; your pet is in good hands. I was able to see with my own eyes an individual versus a group cremation and understand this is much more than simply being able to recover the ashes, but, rather, a completely different treatment of the body.
Knowledge as power
While the art of euthanasia and the science of death are not an integral part of the veterinary training program, the focus is made up of multiple aspects that are important for our well-being, as well as that of a patient's family and our team. Indeed, the American Veterinary Medical Association's (AVMA's) Companion Animal Aftercare Policy emphasizes the importance of body care, choice of crematorium, and pre-planning for patient body disposal.
Fortunately, there are many continuing education programs available online, as well as a plethora of digital tools, including quality of life assessment guides, pet burial sheets, child-friendly brochures about pet loss, and book recommendations for grieving families.
The time has come to apply our years of experience and do what we can to elevate euthanasia appointments. By being cognizant of positive comprehensive wording and effectively communicating with our clients, we can help to strengthen the human-animal bond and achieve compassion satisfaction.
Céline Leheurteux, DVM, is founder and CEO of Euthabag, a purpose-built body bag for companion animals. Dr. Leheurteux, a Québec-based practitioner, shares her best tips on euthanasia via the Small Animal Euthanasia Practical classes, free RACE-approved training built to reduce stress and improve compassion satisfaction in veterinary teams. For more information, visit veterinaryeuthanasiaeducation.com.