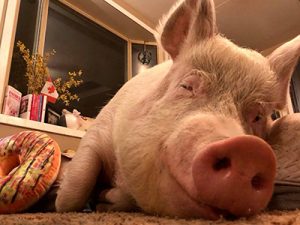 Canadian social media starlet Esther the Wonder Pig has ignited a campaign to raise money for a large animal CT scanner for the University of Guelph's Ontario Veterinary College (OVC). The first of its kind Canada, the Pegaso CT scanner will provide diagnostic imaging for pigs, standing horses, and other large animals.
Last fall, Esther, the 650-pound pig from Campbellville, Ontario, Canada, started experiencing health complications that caused her to seizure and hyperventilate. Veterinarians at OVC recommended a CT scan to better diagnose her condition, but told owners Steve Jenkins and Derek Walter a scanner able to accommodate an animal of her size was not available in Canada. Further, transporting Esther to the U.S. would involve a three-week quarantine upon her return.
Fortunately, the pig recovered on her own and was able to forgo the scan, but Jenkins and Walter decided to ignite a fundraiser to save other large animal owners future distress.
"We wanted to give large animals the same opportunities that we give to our typical companion animals," said Jenkins. "As soon as we realized there was nothing there for Esther, we started working to get a large-scale scanner in place. It was an incredible opportunity to do something good, to do something much bigger than anything we have done so far."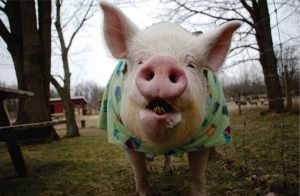 Appealing to Esther's 1.5 million social media followers, Jenkins and Walter, who also run the rescue farm Happily Ever After Esther Farm Sanctuary, launched the Esther Scanner Fundraiser, a $650,000 campaign to equip OVC with a large animal scanner. They hope to reach their target by July 1—Esther's sixth birthday—and, so far, have raised $73,000.
"As a health-care center whose goal is to help animals of all shapes and sizes, we are grateful Steve and Derek want to help change that—for Esther and for all large animals," said Jeffrey Wichtel, BVSc, Ph.D., ACT, OVC dean.
The new machine is expected to fill a gap in large animal care at OVC and across Canada.
"This scanner will enable us to scan a horse in a standing position," said Stephanie Nykamp, DVM, DACVR, OVC's associate dean, clinical programs. "That means we can avoid the risks and recovery associated with anesthesia and placement on a table,"
Once installed, Esther will be the first patient scanned by the Pegaso.