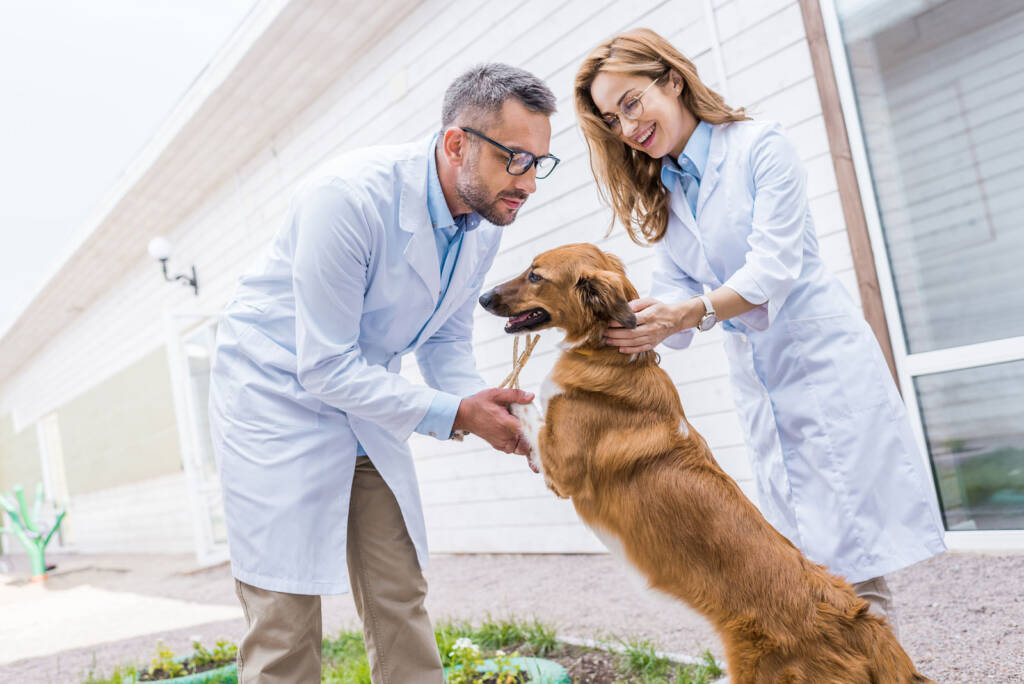 While cannabidiol (CBD) and delta-9-tetrahydrocannabinol (THC) are both phytocannabinoids derived from cannabis plants, differences in their chemical structures allow each to interact with unique receptors, resulting in distinct molecular targets and physiological effects. Namely, THC shows high affinity toward CB1 receptors, which are present in central and peripheral neurons, resulting in the euphoric effect commonly attributed to cannabis intoxication. In contrast, CBD does not bind CB1 at relevant concentrations and is nonintoxicating. Instead, CBD interacts, to various degrees, with other receptors (agonism at TRPV1 and 5-HT1A, antagonism at TNFα, GPR55, and GPR18), which may be relevant for its suggested therapeutic effects.
Practical considerations
Recently, CBD- and THC-containing products for people and pets have become more widely available, especially in jurisdictions that have passed legislation allowing the sale of such items intended for human use. Evolving regulatory frameworks and social perceptions have also renewed interest in the potential therapeutic properties of cannabinoids for animals. Importantly, there are no authorized veterinary drugs containing cannabinoids in the U.S., and any state laws permitting the use of medical cannabis do not apply to use in animals.
Increasingly, the veterinary profession is being asked to weigh in on the potential roles of CBD and other cannabinoids for pet species. A recent online survey of U.S.-based veterinarians revealed over half of the respondents had clients inquire weekly or monthly about the use of CBD in animals.1 Before entering a discussion about the use of cannabinoids in animals, it is wise to research the regulatory framework of cannabis, both on a federal and state level, as well as the position of your state's veterinary licensing body.
When it comes to safety considerations or possible toxic exposures, whether a veterinarian is allowed by their state's guidance to recommend, dispense, or even discuss the therapeutic use of cannabis-derived substances may not be the most important question. Rather, recognizing signs of toxicity, and diagnosing and treating exposures appropriately when needed is likely more important. As such, veterinary professionals should have a basic understanding of the pharmacology of cannabinoids.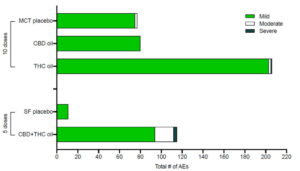 Novel research findings
Recent publications have explored the safety of repeated dosing of CBD alone or CBD and THC in combination in dogs (Table 1). CBD was generally well tolerated in dogs, with no major adverse events (AEs) when administered between 2 and 10 mg/kg twice daily. Meanwhile, CBD and THC in combination was associated with neurological signs and thin appearance. However, the relative safety of CBD or THC alone as compared to CBD and THC in combination had not been previously explored in the same study in dogs.A recently published research article in the journal Frontiers in Veterinary Science compared the relative safety and tolerability of three cannabis oil formulations in a randomized, placebo-controlled, blinded study in healthy Beagle dogs.8 The study included 20 dogs, with four dogs (two males and two females) in each treatment group, which comprised three cannabinoid groups (CBD or THC or CBD+THC) and two placebo groups (medium-chain triglyceride [MCT] oil or sunflower oil). Since a hallmark dosing strategy for cannabis initiation is to "start low and go slow" so as to build tolerance to the neurological effects associated with THC9, a slow upward dose titration was used, wherein dogs were given up to 10 escalating doses of cannabinoid or placebo oils over a period of 32 days, with a minimum of three days between consecutive doses.
Clinical observations, physical examinations, and blood collections (complete blood count, clinical chemistry, cannabinoids and their metabolites) were used to assess the formulations' safety and tolerability. AEs were rated as mild, moderate, or severe/medically significant. Both placebo oils and cannabis oils predominant in either CBD or THC were tested up to the last (10th) scheduled dose (equivalent to ~62 mg/kg CBD, or ~49 mg/kg THC, respectively). The CBD+THC combination oil was tested up to the fifth of 10 scheduled doses (~13 mg/kg CBD + 9 mg/kg THC); dosing was ceased for all dogs past the fifth dose due to two of four dogs experiencing severe AEs, which manifested as lethargy and ataxia.
Overall, 95 percent of AEs reported in this study were mild (Figure 1). Of the three cannabis oils, the CBD oil was best tolerated; the number of AEs in this group was comparable to MCT placebo oil.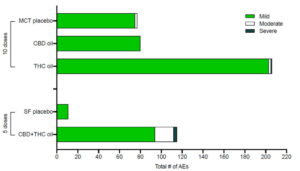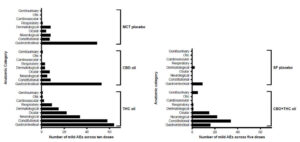 Across the treatment groups, commonly observed AEs were gastrointestinal in nature, likely due to the dosing procedure (oral gavage) and/or oil volume (Figure 2).
This study demonstrated THC alone or in combination with CBD led to a greater proportion of AEs that were constitutional (lethargy, hyperaesthesia, hypothermia), neurological (ataxia, tremor), or ocular (mydriasis) in nature. Encouragingly, adverse events were transient and resolved within three to 24 hours (moderate AEs) or nine to 28 hours (severe AEs) of the previously administered dose without medical intervention.
Elevation in serum alkaline phosphatase (ALP) secondary to CBD treatment has previously been described in dogs.4,6 In the present study, ALP elevation was noted in one dog in the CBD oil group (2.9-fold) and one dog in the CBD+THC oil group (3.6-fold) following the final administered dose (Figure 3). All other serum chemistry parameters were stable. Following a seven-day washout period, elevated ALP levels in both dogs decreased. Plasma levels of liver enzymes were stable in the THC oil group. ALP elevation can occur in dogs secondary to treatment with frequently used drugs in the veterinary clinic (e.g. anticonvulsants, glucocorticoids) and secondary to stress.10-12 The ALP elevations observed were not considered clinically relevant.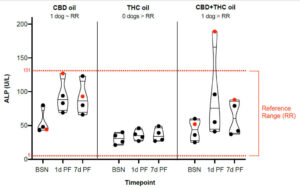 For the first time in a dose-escalating study, the results of this trial provide evidence that separates the relative safety and tolerability of plant-derived CBD versus THC versus a combination of CBD and THC in oil formulations. The favorable safety profile of 10 escalating doses of a CBD oil (delivering up to ~62 mg/kg) provides comparative evidence that, at the investigated doses, a CBD-predominant oil formulation was safer and more tolerated in dogs than oil formulations containing higher concentrations of THC. These findings provide support for continuing research on the safety and potential therapeutic uses of orally delivered CBD in canines.
Emphasis on safety
Veterinary professionals are the primary source of safety information for pet owners. With the popularity of CBD products on the market, a solid knowledge base regarding cannabinoid safety is critical when counseling pet owners considering the use of cannabinoids, or in cases of deliberate or accidental exposure to the growing number of products in the marketplace. Having a clear idea of the dose tolerability in dogs can be very important to the veterinary practitioner.
One of this study's overall conclusions was that CBD is well tolerated by dogs, even when administered at doses up to ~60 mg/kg. All AEs in the CBD group were classified as mild and did not require any medical intervention; AEs were comparable in incidence and type to the placebo oil. This is in contrast to the occurrence and severity of AEs seen in the THC groups (THC alone or combination CBD+THC groups). In these groups, overall, AEs were more common (e.g. constitutional [lethargy, hyperaesthesia, hypothermia], neurologic [tremors, ataxia], and ocular [mydriasis]) and more severe. Thus, it appears there is a remarkable difference in the tolerability and AE profile of CBD versus THC-containing interventions (THC alone or in combination with CBD). In a practice situation, knowing the combination of signs associated with cannabinoid exposure may help guide appropriate diagnosis, support, or treatment.
Veterinarians and veterinary staff should be prepared to recognize signs of toxicity. Hundreds of reports of potential toxicity to cannabinoid substances are reported to poison control centers annually. The vast majority of these involve THC-containing products or exposure to cannabis intended for recreational use.
Bottom line
The wide availability and growing interest in CBD and THC products places a burden on veterinary professionals to be informed and able to comfortably converse about the safety of these compounds with their clients. While there is much more work that needs to be done, the body of knowledge is increasing rapidly.
Justyna Kulpa, PhD, joined Canopy Animal Health in January 2018, and is currently the regional research manager for Canada and the northeast U.S. Dr. Kulpa holds a PhD in molecular biology from Université de Montréal, an MSc (biomedical science) from the University of Guelph, and an HBMSc (Medical Science) from Western University. She has worked in chronic pain clinical research at Toronto's Mount Sinai Hospital, in cardiovascular physiology research at the Ontario Veterinary College, and, most recently, at the Institute for Research in Immunology and Cancer in Montreal, studying estrogen receptor signaling in breast cancer.
Bob Menardi, DVM, joined Canopy Animal Health as director of veterinary technical and educational services in 2019. Prior to joining Canopy, he was director of veterinary technical solutions at Boehringer-Ingelheim Animal Health/Merial, marking the latest of a series of technical and commercial leadership roles. Dr. Menardi began his veterinary career with 12 years of companion animal clinical practice in Alaska and Arizona. He earned his doctor of veterinary medicine degree from Colorado State University.
REFERENCES
1 Kogan, L.; Schoenfeld-Tacher, R.; Hellyer, P.; Rishniw, M. US Veterinarians' Knowledge, Experience, and Perception Regarding the Use of Cannabidiol for Canine Medical Conditions. Front Vet Sci. 2019, 5, 338.
2 Bartner, L.R.; McGrath, S.; Rao, S.; Hyatt, L.K.; Wittenburg, L.A. Pharmacokinetics of Cannabidiol Administered by 3 Delivery Methods at 2 Different Dosages to Healthy Dogs. Can. J. Vet. Res. 2018, 82, 178–183.
3 Deabold, K.A.; Schwark, W.S.; Wolf, L.; Wakshlag, J.J. Single-Dose Pharmacokinetics and Preliminary Safety Assessment with Use of CBD-Rich Hemp Nutraceutical in Healthy Dogs and Cats. Anim. Open Access J. MDPI 2019, 9.
4 Gamble, L.-J.; Boesch, J.M.; Frye, C.W.; Schwark, W.S.; Mann, S.; Wolfe, L.; Brown, H.; Berthelsen, E.S.; Wakshlag, J.J. Pharmacokinetics, Safety, and Clinical Efficacy of Cannabidiol Treatment in Osteoarthritic Dogs. Front. Vet. Sci. 2018, 5.
5 McGrath, S.; Bartner, L.R.; Rao, S.; Packer, R.A.; Gustafson, D.L. Randomized Blinded Controlled Clinical Trial to Assess the Effect of Oral Cannabidiol Administration in Addition to Conventional Antiepileptic Treatment on Seizure Frequency in Dogs with Intractable Idiopathic Epilepsy. J. Am. Vet. Med. Assoc. 2019, 254, 1301–1308.
6 McGrath, S.; Bartner, L.R.; Rao, S.; Kogan, L.R.; Hellyer, P.W. A Report of Adverse Effects Associated with the Administration of Cannabidiol in Healthy Dogs. JAHVMA 2018, 52, 34–38.
7 Whalley, B.J.; Lin, H.; Bell, L.; Hill, T.; Patel, A.; Gray, R.A.; Elizabeth Roberts, C.; Devinsky, O.; Bazelot, M.; Williams, C.M.; et al. Species‐Specific Susceptibility to Cannabis‐Induced Convulsions. Br. J. Pharmacol. 2019, 176, 1506–1523.
8 Vaughn, D.; Kulpa, J.; Paulionis, L. Preliminary Investigation of the Safety of Escalating Cannabinoid Doses in Healthy Dogs. Front. Vet. Sci. 2020, 7.
9 MacCallum, C.A.; Russo, E.B. Practical Considerations in Medical Cannabis Administration and Dosing. Eur. J. Intern. Med. 2018, 49, 12–19.
10 Gieger, T.L.; Hosgood, G.; Taboada, J.; Wolfsheimer, K.J.; Mueller, P.B. Thyroid Function and Serum Hepatic Enzyme Activity in Dogs after Phenobarbital Administration. J. Vet. Intern. Med. 2000, 14, 277–281.
11 Ochi, T.; Nishiura, I.; Tatsumi, M.; Hirano, Y.; Yahagi, K.; Sakurai, Y.; Sudo, Y.; Koyama, H.; Hagita, Y.; Fujimoto, Y.; et al. Effects of Transport Stress on Serum Alkaline Phosphatase Activity in Beagle Dogs. Exp. Anim. 2013, 62, 329–332.
12 Ginel, P.J.; Lucena, R.; Fernández, M. Duration of Increased Serum Alkaline Phosphatase Activity in Dogs Receiving Different Glucocorticoid Doses. Res. Vet. Sci. 2002, 72, 201–204.