Mary Lynn Reed and Scott Sonntag have been clients of Lee W. Morgan, DVM, Dipl. ABVP, almost from the day he took over the Washington, D.C., veterinary clinic they frequented.
When one of their golden retrievers, Beau, was dying, Dr. Morgan insisted on going to the house so the dog wouldn't have to endure the pain of traveling for treatment. He was there when Beau died.
Last summer, when another golden, Connor, had minor surgery that turned complicated, Morgan took him home for overnight monitoring. In fact, Reed says, Morgan slept on the couch next to the dog for several nights, which she learned only because Morgan's 7-year-old son spilled it to her after the fact.
"Dr. Morgan would have never told us that," Reed says. "But it was so revealing about the way he is. … Even though he's in this big capital city, he runs a small, very personal office, like a country vet."
Reed's husband, Sonntag, agrees: "He treats you like you're family."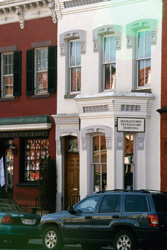 Georgetown Veterinary Hospital has been in business since the late 1940s. Morgan bought the practice in 2002.
Such above-and-beyond feats have become the hallmark of Morgan, 44, who owns Georgetown Veterinary Hospital. He is the Veterinary Practice News Veterinarian of the Year, receiving the award in New York City during the 2008 Purina ProPlan Show Dogs of the Year Awards. Dogs in Review magazine, a sister publication of Veterinary Practice News, presents the event to honor exemplary show dogs and their human teams the weekend before the Westminster Kennel Club Dog Show.
"I do try to run a small-town practice in the big city," says Morgan, whose wife, Kris, runs the business side and whose son, Spencer, and Siberian husky, Buddy, frequently greet patients. "My philosophy has always been that I want to take a teamwork approach. If you try to dictate treatment to an owner, they will tend to resist you. But if you work with them and they feel they are part of the plan, they're more likely to implement your suggestions and it is better for everyone."
From Exotics to Companions
Morgan took a roundabout path to a veterinary career. Growing up surrounded by Ohio farmland, he wanted to major in something exotic when he went to Case Western Reserve University in Cleveland for his undergraduate degree.
Marine biology fit the bill. As a sophomore, he landed an internship studying language acquisition in dolphins and spent eight months in Hawaii. That led to a job after graduation training dolphins and sea lions for summertime shows and working with the animals in Mississippi during the off-season. This, in turn, led to a master's degree in marine science at the College of William and Mary in Virginia.
He might have stopped there, except, as he jokes, "I wanted to stay out of the workforce as long as possible." During his master's research, he crossed paths frequently with a veterinarian who worked with sea creatures and maintained a typical small-animal practice.
"I thought that was the greatest thing, that he had this huge base of knowledge. He could treat dogs, cats, horses, sea turtles, dolphins," Morgan says. "I do believe in pure research, and I still do some research. But for me, for a career, I realized it would be more satisfying to be using a skill set in the real world."
So off he went to veterinary school at the University of Wisconsin, Madison. After graduation in 1996, he worked several years for two animal hospitals in the Washington area before buying his own practice.
His marine background still comes into play. Last year, for instance, he was asked to serve as chief veterinarian for the "Frogs!" exhibit at the Museum of the National Geographic Society, providing medical care for 11 species of tropical frogs.
"The call came out of the blue," he recalls. "But I had actually seen a poison arrow frog once, which was one more time than anyone else in D.C. had seen one, so I got the job. But that's one of the cool things about being a vet: You get to do interesting things all the time."
Unforgettable Experience
The occasional poisonous frog aside, most of Morgan's patients are of the traditional house pet variety. His volunteer work includes providing veterinary care for dogs being trained as service animals for the blind, working with animal rescue groups and raising money for a mobile clinic serving injured police dogs. That work is fueled by his belief that animals are vital to people's lives and well-being.
This is a point he has seen over and over again, but never more eloquently than a single incident early in his career.
As an intern, Morgan was working at a large clinic when an elderly gentleman came in with a very ill cat. Morgan worked up a diagnosis but worried that the man might be unable or unwilling to pay for the long list of treatments. He shared his fears with a clinic veteran, who quietly told him the man was a frequent client who would surely save the cat, no matter the cost.
The other veterinarian explained that the client had been in a concentration camp during World War II. There, he had befriended a stray cat, keeping it alive by feeding it any stray morsels he could find.
"He credited that cat with saving his life, because it gave him humanity and something to focus on," Morgan says. "After that he took a pledge that he would take care of any cat that came into his life."
The man helped convince Morgan that his life was on the right course.
"After seeing that," he says now, "you could never say, 'It's just an animal.' As a veterinarian, you have a lot of cases that are memorable or interesting, but that was the one that made me feel that what I do is important."