Canuck leadership, innovation honoured with national awards
by samantha_ashenhurst | July 23, 2020 10:44 am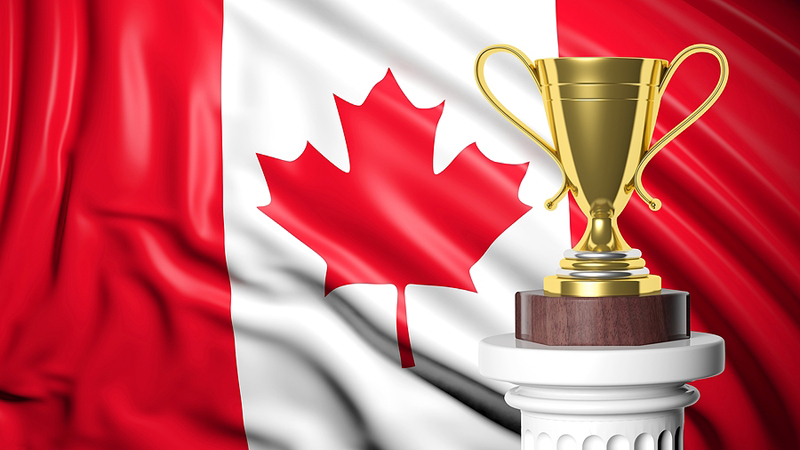 [1]Eight national accolades celebrating the best of the best in the Great White North's animal health industry have been bestowed.
The Canadian Veterinary Medical Association (CVMA) has announced the recipients of its annual awards program, recognizing individuals who have demonstrated significant accomplishments, leadership, and commitment to Canada's veterinary community.
While physical distancing restrictions prevented the honourees from receiving their awards in person, the association highlighted the winners and their achievements through its social media channels, eNewsletters, and web news.
"CVMA has proudly recognized its members' exceptional contributions to the veterinary profession and animal health and welfare for more than 30 years," the group said in a statement. "This year is no exception, despite finding ourselves in an unprecedented situation, collectively."
The 2020 recipients are as follows:
Small Animal Practitioner Award
Presented to an association member whose work has significantly contributed to the advancement of small animal medicine, this year's Small Animal Practitioner Award went to Suann Hosie, DVM. A graduate of Ontario Veterinary College (OVC), Dr. Hosie founded the Vancouver Animal Emergency Clinic (VAEC) in 1978. She served on the council for the British Columbia Veterinary Medical Association (BCVMA) and was appointed the group's president in 1992. Now retired from practice, Hosie currently works with the Thank Dog I Am Out Rescue Society, serving on its board of directors since 2016. The Small Animal Practitioner Award is sponsored by Petsecure Pet Health Insurance.
"The word 'practitioner' embodies the art of practice," Hosie tells Veterinary Practice News Canada. "I think of this award as celebrating my philosophy of practice—a philosophy which, I hope, has inspired those who have practiced with me for more than 46 years."
Merck Veterinary Award
Sponsored by Merck Animal Health, the Merck Veterinary Award is presented to a CVMA member whose work in food animal production practice has contributed significantly to the advancement of food animal medicine and surgery, including herd health management. This year's recipient, Egan Brockhoff, DVM, serves as president of the Prairie Swine Health Services in Red Deer, Alta., and Steinbach, Man. Since 2010, he has been providing consulting services in Asia, focusing on veterinary training, infection prevention and control, and enhancing biosecurity capacity. Additionally, Dr. Brockhoff teaches swine medicine at the University of Calgary, Faculty of Veterinary Medicine (UCVM).
CVMA Humane Award
Also sponsored by Merck, the CVMA Humane Award, which recognizes leadership in the care and well-being of animals, was presented to Bettina Bobsien, DVM, BSA, ABVP, of Vancouver Island. A member of the Canadian committee that developed the current Equine Code of Practice, Dr. Bobsien worked on multiple educational projects around the code's implementation across the country. Additionally, she chaired the Animal Welfare Committee for the College of Veterinarians of B.C. and achieved cosmetic surgery bans on ear cropping, tail docking, and declawing procedures. She is currently chair of the CVMA Animal Welfare Committee Chair and co-chair of the Equestrian Canada Health and Welfare Committee.
CVMA Practice of the Year Award
Sponsored by Scotiabank, the CVMA Practice of the Year Award recognizes a veterinary practice team for outstanding achievement within their local community. This year's recipient, Delaney Veterinary Services, provides complete care for horses and employs a team with a range of specialties. Additionally, the facility is a referral hospital, equipped to serve clients and provide client care for referring veterinarians across Canada's western provinces.
CVMA Industry Award
The CVMA Industry Award, which recognizes an association member for contributions to the advancement of veterinary medicine, was bestowed upon Daniel Venne, DVM, M.Sc., ACPV. Dr. Venne, who served several years on the executive board of l'Association des vétérinaires en industrie animale du Quebec (AVIA) and as a member of the professional inspection and drug committees of the Ordre des médecins vétérinaires du Québec (OMVQ), is co-director of the Canadian Association of Poultry Veterinarians (CAPV-ACVA). His consultant work includes advising companies such as Zoetis.
"I was very pleased and honoured to receive the CVMA Industry Award, especially since it is given for the advancement of veterinary medicine," Venne tells Veterinary Practice News Canada. "I think it comes from my passions for applied research for poultry welfare and judicious use of antibiotics.
"Over the years, I have tried to share what I have learned through research with teaching institutions throughout the world, and by having students come for externships. I would encourage veterinarians to share with the younger generation of upcoming veterinarians. It is very rewarding."
CVMA Life Membership
This year's CVMA Life Membership, which is presented to an association member for long and outstanding service on the group's council, executive, boards, and committees, went to Eugene Janzen, DVM. Dr. Janzen primary interests are mitigation of painful cattle procedures, validation of the digital necropsy diagnostics, management of lameness in feedlot cattle, and investigation of disease outbreaks and nutrition problems in western Canadian communities.
R.V.L. Walker Award
The R.V.L. Walker Award plaque is presented to the reigning Students of the CVMA (SCVMA) president in recognition of their contributions to promoting student interest in the association. This year's recipient, Audrey Roy, attends the Faculté de médecine vétérinaire (FMV) at the Université de Montréal where she co-chairs the Zoological Medicine Club.
CVMA President's Award
Selected by the association's president and executive committee, Jack Wilson, DVM, received this year's CVMA President's Award in honour of his exceptional contributions and devotion to the association. A career-long member of the Calgary Academy of Veterinary Medicine (CAVM), Dr. Wilson also served on multiple Alberta Veterinary Medical Association (ABVMA) committees and took on the position of ABVMA council president in 1985. Further, has been the CVMA designee to the American National Board of Veterinary Medical Examiners (now the ICVA), which owns the North American Veterinary Licensing Exam, for the past eight years, serving as the organization's chair from 2015 to 2016.
Endnotes:
[Image]: https://www.veterinarypracticenews.com/wp-content/uploads/2020/07/SA_CVMAawards.jpg
[Image]: https://www.veterinarypracticenews.com/wp-content/uploads/2020/07/Hosie_Small-Animal.jpg
[Image]: https://www.veterinarypracticenews.com/wp-content/uploads/2020/07/Brockhoff_MerckAward.jpg
[Image]: https://www.veterinarypracticenews.com/wp-content/uploads/2020/07/Bobsien_HumaneAward.jpg
[Image]: https://www.veterinarypracticenews.com/wp-content/uploads/2020/07/Delaney_PracticeoftheYearA.jpg
[Image]: https://www.veterinarypracticenews.com/wp-content/uploads/2020/07/Venne_IndustryAward.jpg
[Image]: https://www.veterinarypracticenews.com/wp-content/uploads/2020/07/Janzen-Photo.jpg
[Image]: https://www.veterinarypracticenews.com/wp-content/uploads/2020/07/Audrey-Roy_RVL-Walker.jpg
Source URL: https://www.veterinarypracticenews.ca/canuck-leadership-innovation-honoured-with-national-awards/
---