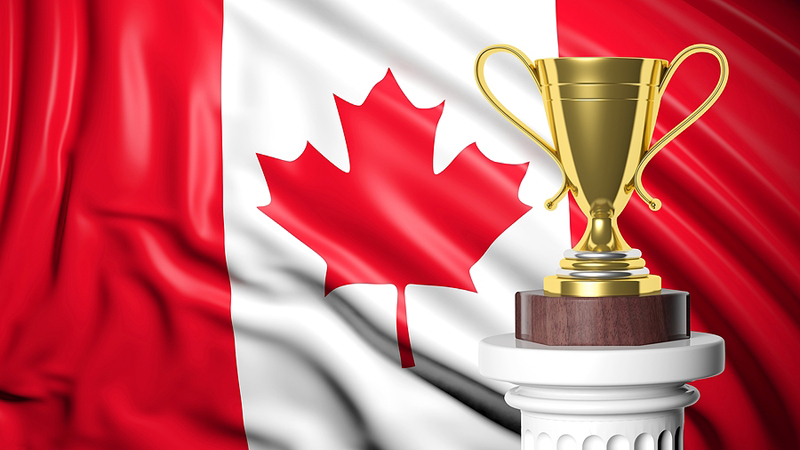 Eight national accolades celebrating the best of the best in the Great White North's animal health industry have been bestowed.
The Canadian Veterinary Medical Association (CVMA) has announced the winners of its annual awards program, recognizing individuals who have demonstrated significant accomplishments, leadership, and commitment to Canada's veterinary community.
The 2021 recipients are as follows:
Small Animal Practitioner Award
Presented to an association member whose work has significantly contributed to the advancement of small animal medicine, this year's Small Animal Practitioner Award went to Ameet Singh, BSc., DVM, DVSc., DACVS, associate professor and small animal surgeon at the Ontario Veterinary College. A graduate of the Atlantic Veterinary College (AVC) and OVC, Dr. Singh is currently president of the Veterinary Endoscopy Society and is also an American College of Veterinary Surgeons (ACVS) founding fellow of minimally invasive surgery. He has also published more than 100 journal articles and has taught workshops and surgical courses internationally. The Small Animal Practitioner Award is sponsored by Petsecure Pet Health Insurance.
"It is such a great honour to receive this award," Singh tells Veterinary Practice News Canada. "It's a reflection of the amazing people I've had the privilege of working with!"
Merck Veterinary Award
Sponsored by Merck Animal Health, the Merck Veterinary Award is presented to a CVMA member whose work in food animal production practice has contributed significantly to the advancement of food animal medicine. This year's recipient, Claire Windeyer, BSc., DVM, DVSc., is an associate professor in production animal health at the University of Calgary Faculty of Veterinary Medicine (UCVM), where she instructs on epidemiology, health management, outbreak investigation, and production animal medicine. A graduate of OVC, Dr. Windeyer joined UCVM's faculty in 2011. Her research focuses on cow-calf health management, including perinatal care of newborn calves, pre-weaning management practices, epidemiology of infectious diseases of pre-weaned calves, and pain and animal welfare.
"It is a strange and wonderful honour to be added to a list of so many of my most-respected colleagues and mentors," Windeyer tells Veterinary Practice News Canada. "I would not have accomplished half of what I have so far without the meaningful mentorship I have received at various stages of my career, and, of course, without the amazing students I have had the privilege of supervising. I'm so grateful to the folks who nominated me, the committee who selected me, and Merck for sponsoring the award."
CVMA Humane Award
Also sponsored by Merck, the CVMA Humane Award, recognizing leadership in the care and well-being of animals, was presented to Emilia Wong Gordon, DVM, DABVP (shelter medicine practice), senior manager of animal health for the British Columbia Society for the Prevention of Cruelty to Animals (BC SPCA). Since joining the organization in 2014, Dr. Gordon has managed animal health programs for 36 community animal centres across B.C. In 2018, she partnered with researchers at IDEXX Reference Laboratories and the University of California, San Francisco to investigate the cause of an outbreak of feline illness occurring in SPCA shelters. The collaboration led to the discovery of a new virus, a novel chaphamaparvovirus since named 'fechavirus.'
"Receiving the CVMA Humane Award is incredibly meaningful, as it recognizes not just my work, but the collaborative work of the shelter medicine community and animal welfare sector," Gordon tells Veterinary Practice News Canada. "I am also deeply honoured to follow in the footsteps of previous Humane Award winners, including several other incredible colleagues from B.C."
CVMA Practice of the Year Award
Sponsored by Scotiabank, the CVMA Practice of the Year Award recognizes a veterinary practice team for outstanding achievement within their local community. This year's recipient, Mountain View Veterinary Hospital, is a full-service, Fear Free-certified practice, serving the British Columbia communities of Langley, Surrey, White Rock, and the Fraser Valley. Established in 2013, the clinic works with several rescue organizations and regularly donates its time and hospital space to provide spay/neuter services for feral and shelter animals.
CVMA Industry Award
The CVMA Industry Award, which recognizes an association member for contributions to the advancement of veterinary medicine, was bestowed upon Walt Ingwersen, DVM, DVSc., DACVIM (SAIM). Early in his career, Dr. Ingwersen, who is a past-president of the World Small Animal Veterinary Association (WSAVA), served as chief of veterinary internal medicine at a general and specialty veterinary clinic in Toronto, before being appointed hospital director. In 1998, he became the first Canadian editor of the Journal of the American Animal Hospital Association. Ingwersen was also the recipient of the CVMA President's Award in 2000, as well as the 2020 Ontario Veterinary Medical Association (OVMA) Outstanding Veterinarian Award.
CVMA Life Membership
This year's CVMA Life Membership, which is presented to an association member for long and outstanding service on the group's council, executive, boards, and committees, went to Wayne McDonell, DVM, MSc., DVA, PhD, DACVA. Dr. McDonell received his DVM from OVC in 1965 and, soon after, was hired as a junior faculty member to establish anesthesia as a specialization. Throughout his academic career at the University of Guelph (U of G), he held many positions, including departmental graduate co-ordinator, area co-ordinator for OVC's small and large animal clinics, hospital director, and assistant dean of research and graduate affairs.
R.V.L. Walker Award
The R.V.L. Walker Award plaque is presented to the reigning Students of the CVMA (SCVMA) president in recognition of their contributions to promoting student interest in the association. This year's recipient, Svetlana Ponsin, attends the Western College of Veterinary Medicine (WCVM) and is also a student member of the American Association of Swine Veterinarians and the Canadian Association of Swine Veterinarians.
CVMA President's Award
Selected by the association's president and executive committee, Carlton Gyles, DVM, MSc., PhD, received this year's CVMA President's Award in honour of his exceptional contributions and devotion to the association. A graduate of OVC, Dr. Gyles joined his alma mater as a faculty member in 1969. For 36 years, he taught DVM and graduate students, conducted research, and held administrative positions, including department chair, dean of graduate studies, and interim dean. Since 1990, Gyles has assisted the University of the West Indies' School of Veterinary Medicine in Trinidad and, from 2008 to 2020, he served as editor-in-chief of The Canadian Veterinary Journal.
"I have had the opportunity to closely observe and admire the amazing dedication of hundreds of veterinarians who are CVMA volunteers because they believe our profession deserves national representation and leadership," Gyles says. "I consider this award to be incredibly special, because the recipient is selected by the CVMA president and has previously been awarded to a range of outstanding veterinary leaders in Canada."