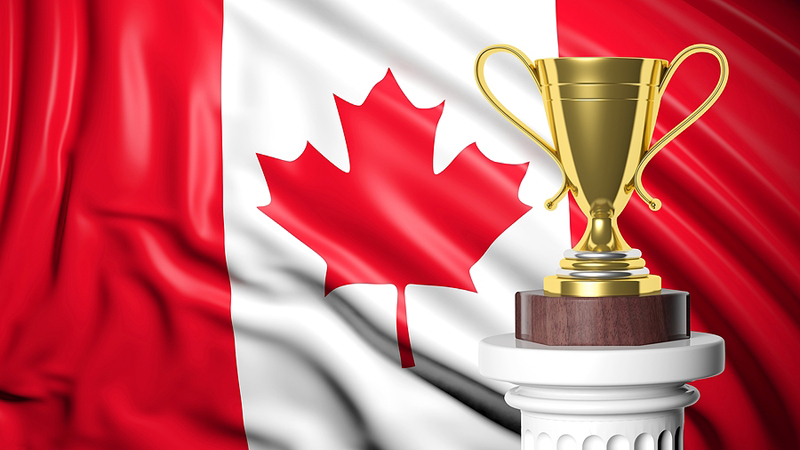 Nine national accolades celebrating the best of the best in the Great White North's animal health industry have been bestowed.
The Canadian Veterinary Medical Association (CVMA) has announced the winners of its annual awards program, recognizing individuals who have demonstrated significant accomplishments, leadership, and commitment to Canada's veterinary community.
The 2022 recipients are as follows:
Small Animal Practitioner Award
Presented to an association member whose work has significantly contributed to the advancement of small animal medicine, this year's Small Animal Practitioner Award (sponsored by Petsecure Pet Health Insurance) went to David Silversides, DVM, PhD, a researcher and professor at Faculté de médecine vétérinaire (FVM) at the Université de Montréal. A graduate of the Western College of Veterinary Medicine (WCVM), Dr. Silversides obtained his PhD in reproductive physiology from the University of Saskatchewan and has spent the past 32 years working as a researcher in genetics and genomics at FVM. His recent focus has been on DNA mutations causing genetic disease in domestic dogs and cats, including the development of the labgenvet.ca website.
Merck Veterinary Award
Sponsored by Merck Animal Health, the Merck Veterinary Award is presented to a CVMA member whose work in large animal practice, clinical research, or basic sciences has contributed significantly to the advancement of large animal medicine and surgery. This year's recipient, Brian Taylor, DVM, is an Alberta-based bovine veterinarian who has spent more than four decades working with cattle. A graduate of Ontario Veterinary College (OVC), Dr. Taylor began his career in Ontario with a focus on dairy and equine medicine, then relocated to Alberta, where he worked in mixed animal practice at the Nanton Veterinary Clinic. He became a certified Veterinary Acupuncturist after completing the International Veterinary Acupuncture Society (IVAS) course.
CVMA Humane Award
Also sponsored by Merck, the CVMA Humane Award, recognizing leadership in the care and well-being of animals, was presented to James Stickney, DVM, of Alberta. A graduate of the Western College of Veterinary Medicine (WCVM), Dr. Stickney founded Mackenzie Veterinary Services in 2006, which consists of a base clinic in High Level, Alta., and a mobile unit serving surrounding communities in Northern Alberta and the Northwest Territories.
CVMA Practice of the Year Award
Sponsored by Scotiabank, the CVMA Practice of the Year Award recognizes a veterinary practice team for outstanding achievement within their local community. This year's recipient, Fundy Veterinarians, Ltd. (Fundy Vets), is a mixed-animal clinic serving Shubenacadie, N.S. Founded as a food animal practice in 1971, Fundy Vets has since expanded to a 14-veterinarian team serving a variety of species, including companion animals. The practice is a regular supporter of local causes, such as youth athletics and education, school breakfast programs, 4-H, and food banks.
CVMA Industry Award
The CVMA Industry Award, which recognizes an association member for contributions to the industry advancement of veterinary medicine, was bestowed upon Kathy Keil, DVM, an advocate for mental health and well-being with more than 20 years of experience in the veterinary pharmaceutical industry. A past recipient of the University of Guelph Alumni medal for community leadership, Dr. Keil has served as president of the Ontario Association of Industrial Veterinarians, volunteered on the Ontario Veterinary Medical Association (OVMA) board, served on the Alberta Veterinary Medical Association (ABVMA) council, and is currently a member of the ABVMA Member Wellness Committee and chair of the CVMA Wellness Advisory Group.
CVMA Life Membership
This year's CVMA Life Membership, which is presented to an association member for significant contributions to the national veterinary profession and academia, went to Éva Nagy, DVM, PhD, an adjunct professor at the Atlantic Veterinary College (AVC) and visiting scientist at the University of Utrecht in the Netherlands. Born in Hungary, Dr. Nagy has contributed to more than 175 peer-reviewed publications, mainly focusing on avian adenoviruses and other animal viruses. She has also published nine book chapters and has five patents, primarily on her avian adenovirus vaccine platform.
R.V.L. Walker Award
The R.V.L. Walker Award plaque is presented to the reigning Students of the CVMA (SCVMA) president in recognition of their contributions to promoting student interest in the association. This year's recipient, Jeff Li, attends the Ontario Veterinary College (OVC), where he sits on the student council. Li is involved with environmental conservation in his native Toronto through non-profit organizations such as Wild Ontario.
CVMA President's Award
Selected by the association's president and executive committee, Jim Fairles, DVM, MBA, received this year's CVMA President's Award in honour of his exceptional contributions and devotion to the association. A past-president of CVMA and the Canadian Association of Swine Veterinarians (CASV), Dr. Fairles has been involved with veterinary associations on local, provincial, and national levels. He has experience in private mixed practice in Mount Forest, Ont., as well as international experience in China. Since 2004, Fairles has served as a Client Services Veterinarian for the Animal Health Laboratory at his alma mater, the University of Guelph.
2022 Canadian RVT of the Year Award
Sponsored by Hill's Pet Nutrition, the Canadian RVT of the Year Award is presented by the Registered Veterinary Technologists and Technicians of Canada (RVTTC) to a registered veterinary technologist/technician in recognition of outstanding dedication to the profession. This year's recipient, Alyson Howard, RVT, has been working in the role for more than 17 years. A New Brunswick native, Howard has travelled throughout Atlantic Canada to help fill veterinary shortages in Newfoundland and Labrador and Nova Scotia.