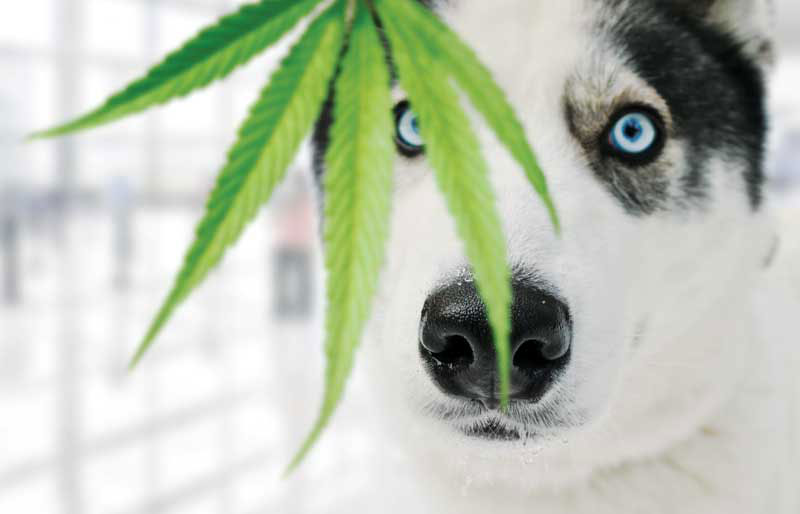 For several years, cannabis-based products have been one of the most popular supplements in the veterinary market, and one of the most active areas of research. In 2017, I first evaluated the evidence regarding cannabis in pets.1 At that time, there were no published clinical trials in dogs and cats. Evidence from lab animals and humans suggested cannabis, particularly the component cannabidiol (CBD), might have some potential veterinary uses, but no clear conclusion was possible. I also pointed out in that review cannabis products were illegal for veterinary use, and in an entirely unregulated market, and the risk of mislabeling and adulteration of cannabis products was quite high.
Two years later, I revisited the topic to report on two clinical studies in dogs.2 One found some suggestion of benefit for treating pain in dogs with osteoarthritis.3 The other failed to find convincing evidence of benefits in dogs with epilepsy.4 Both studies were small and had significant limitations.
It is a strong principle of evidence-based medicine that a single study is almost never sufficient justification for widespread use of a treatment, despite this being common practice in veterinary medicine. While the study of CBD for arthritis was encouraging, again no definitive conclusion for this or any other indication was possible. The legal and regulatory issues remained unresolved at that time.
Here we are two years further on. Cannabis products for pets remain popular and profitable, the legal issues are still murky, and there has been some small growth in our knowledge about their effects and about the quality of pet cannabis products on the market.
Humans like the idea
Pet owners have strongly positive views of cannabis products.5,6 Many believe them to be safe and effective despite the lack of evidence for this. Some studies suggest this belief is connected to the notion that cannabis is "natural" and thus cannot be harmful. However, there also appears to be a widespread belief that cannabis has been scientifically proven effective for many potential uses. In one survey of cat owners, a majority felt very or somewhat comfortable using cannabis-based products for behavior problems in their cats.7
This confidence is somewhat surprising given these owners reported "proven effectiveness (i.e. published studies and clinical trials)" as the most important factor in their decision to use treatments for behavior problems. There are no such studies showing cannabis to be effective for behavioral disorders in cats. Pet owners report significant benefits and few adverse effects when using cannabis,5,6 reasons for their purchases, and the perceived value of these products on pets' health, but of course this is only anecdotal evidence and can easily be a function of placebo effects and bias.8-10
There has also been some investigation of veterinarians' attitudes towards cannabis products. One survey found veterinarians have limited confidence in their level of knowledge about cannabis products, and that this reduces their willingness to advise clients about these products.11 While clients ask many vets about these products regularly, and most veterinarians support further research, there is not yet enough confidence in the science to encourage widespread endorsement or prescription of these remedies.
Veterinarians are also concerned about the unresolved legal issues regarding cannabis products for pets. Despite a change in federal law decriminalizing hemp cultivation, it is not clear that available cannabis products for pets are legal to manufacture or sell, or for veterinarians to prescribe, under either federal or state laws. Apart from off-label use of the single FDA-approved CBD product on the market, no specific medical use of cannabis for veterinary patients has been explicitly identified as legal.
In 2019, the FDA issued warning letters to several manufacturers of CBD products for animals. In these letters, it referred to these products as "unapproved veterinary drugs" and specifically stated CBD does not fall under the category of food ingredients generally recognized as safe and exempt from many regulations.12
The FDA also does not recognize animal products as falling under the Dietary Supplement and Health Education Act, the law which allows most supplements sales for humans with restricted medical claims. Despite the optimistic interpretations of many companies producing cannabis-based products for animals, the legality of these products is still very unclear.
Potential concerns
Another significant concern regarding cannabis for pets is the lack of regulation and quality control in the market. There is limited data about veterinary cannabis products, but the FDA has found significant problems in some of its testing.13 A recent study of product quality and labeling produced mixed results.14
Many, but not all, products (19/29) offered a Certificate of Analysis (COA) intended to prove the accuracy of labeling for active ingredients and to warn of any adulteration with heavy metals or other potential toxins. Most products did comply with guidelines for tetrahydrocannabinol (THC) content, the component most likely to cause toxicoses in pets. However, only 10 of 29 products were accurately labeled with regard to CBD. Two products showed unacceptable levels of heavy metals, one for arsenic and one for lead. Other toxins sometimes found in human cannabis products were not evaluated in this study.
There have been no new clinical trials evaluating cannabis for naturally occurring disease since my last update in 2019. Several lab studies in dogs have been reported looking at the pharmacokinetics and safety profile of oral and transdermal cannabis products, mostly containing CBD, but also some looking at THC.15-19
In general, these studies have confirmed and elaborated the existing understanding CBD has very minimal toxicity in dogs and THC is more likely to induce unacceptable adverse responses. These studies are a necessary step towards developing and evaluating clinical treatments derived from cannabis, but they don't directly address whether or not cannabis products are actually safe and effective for specific indications.
There have been some reports bearing on the potential risks associated with cannabis for pets. A Canadian study found no increase in the incidence of cannabis toxicoses in dogs in the first year following legalization of marijuana in that country.20 This is in contrast with an earlier study which found an increase in the risk of marijuana toxicosis in dogs following legalization of medical marijuana in Colorado.21 These studies address different time periods, dog populations, and both legal and cultural contexts, so there are many potential reasons for the different findings.
There have also been case reports illustrating some risks associated with cannabis products in dogs and cats. One involved a four-year-old Labrador retriever that developed severe multifocal pad sloughing and oral ulceration after being given an oral hemp oil product.22 The reaction subsided with discontinuation of the product and supportive treatment. This likely represents an idiosyncratic adverse drug reaction, and it is worth bearing in mind that such reactions can occur even with drugs that show good general safety profiles, such as CBD.
Another report identified both signs of systemic toxicity and mechanical gastrointestinal obstruction from ingestion of cannabis by a cat.23 Though cats are far less likely than dogs to intentionally ingest cannabis products, there have been previous sporadic reports of toxicity from recreational marijuana.24
It is unclear what the relative safety of commercial CBD and other cannabis products might be for cats compared with dogs. There is very little research on the pharmacokinetics or safety profile of CBD and other cannabinoids in cats, and the limited data that do exist suggest some differences.18 Given the widespread availability of CBD and other hemp products for cats, and the apparent confidence of cat owners in their safety and efficacy, the absence of reliable research evidence is a cause for significant concern.
Bottom line
Cannabis products for pets continue to grow in popularity and profitability far out of proportion to the scientific evidence supporting their use.
The slowly accumulating evidence regarding CBD in dogs suggest a good safety profile, but there is still little evidence to support claims of clinically meaningful benefits.
The legal and regulatory environment is still confusing, but generally cannabis-based products for pets are likely not legal in most places in the U.S., and they are effectively unregulated.
Despite some improvement, the quality control of available products remains uncertain and unreliable.
There is virtually no published research evidence regarding cannabis-based products in cats, and given the well-characterized susceptibility of this species to toxic effects from pharmaceuticals, the widespread use of these products in cats is a cause for concern.
Brennen McKenzie, MA, MSc, VMD, cVMA, discovered evidence-based veterinary medicine after attending the University of Pennsylvania School of Veterinary Medicine and working as a small animal general practice veterinarian. He has served as president of the Evidence-Based Veterinary Medicine Association and reaches out to the public through his SkeptVet blog, the Science-Based Medicine blog, and more. He is certified in medical acupuncture for veterinarians. Columnists' opinions do not necessarily reflect those of Veterinary Practice News.
References
McKenzie B. Cannabis-based remedies: No reliable clinical research evidence. Vet Pract News. August 2017:38.
McKenzie B. A conclusion on cannabis? Vet Pract News. July 2019:26-27.
Gamble L-J, Boesch JM, Frye CW, et al. Pharmacokinetics, Safety, and Clinical Efficacy of Cannabidiol Treatment in Osteoarthritic Dogs. Front Vet Sci. 2018;5:165. doi:10.3389/fvets.2018.00165
McGrath S, Bartner LR, Rao S, Packer RA, Gustafson DL. Randomized blinded controlled clinical trial to assess the effect of oral cannabidiol administration in addition to conventional antiepileptic treatment on seizure frequency in dogs with intractable idiopathic epilepsy. J Am Vet Med Assoc. 2019;254(11):1301-1308. doi:10.2460/javma.254.11.1301
Kogan LR, Hellyer PW, Robinson NG. CONSUMERS' PERCEPTIONS OF HEMP PRODUCTS FOR ANIMALS Scientific Report. Vol 42.; 2016. http://www.drugabuse.gov/. Accessed December 2, 2018.
Kogan LR, Hellyer PW, Silcox S, Schoenfeld-Tacher R. Canadian dog owners' use and perceptions of cannabis products. Can Vet J = La Rev Vet Can. 2019;60(7):749-755. http://www.ncbi.nlm.nih.gov/pubmed/31281193. Accessed December 10, 2020.
Grigg EK, Kogan LR, van Haaften K, Kolus C. Cat owners' perceptions of psychoactive medications, supplements and pheromones for the treatment of feline behavior problems. J Feline Med Surg. 2019;21(10):902-909. doi:10.1177/1098612X18807783
McKenzie B. What is a placebo? Vet Pract News. July 2018.
Conzemius MG, Evans RB. Caregiver placebo effect for dogs with lameness from osteoarthritis. J Am Vet Med Assoc. 2012;241(10):1314-1319. doi:10.2460/javma.241.10.1314
Gruen ME, Dorman DC, Lascelles BDX. Caregiver placebo effect in analgesic clinical trials for cats with naturally occurring degenerative joint disease-associated pain. Vet Rec. 2017;180(19):473-473. doi:10.1136/vr.104168
Kogan L, Schoenfeld-Tacher R, Hellyer P, Rishniw M. US Veterinarians' Knowledge, Experience, and Perception Regarding the Use of Cannabidiol for Canine Medical Conditions. Front Vet Sci. 2019;5:338. doi:10.3389/fvets.2018.00338
Wall T. CBD pet products may face more FDA warnings, lawsuits | PetfoodIndustry.com. PetfoodIndustry.com. https://www.petfoodindustry.com/articles/9602-cbd-pet-products-may-face-more-fda-warnings-lawsuits. Published 2020. Accessed December 18, 2020.
U.S. Food and Drug Administration. Warning Letters and Test Results for Cannabidiol-Related Products | FDA. https://www.fda.gov/news-events/public-health-focus/warning-letters-and-test-results-cannabidiol-related-products. Published 2020. Accessed December 18, 2020.
Wakshlag JJ, Cital S, Eaton SJ, Prussin R, Hudalla C. Cannabinoid, Terpene, and Heavy Metal Analysis of 29 Over-the-Counter Commercial Veterinary Hemp Supplements. Vet Med Res Reports. 2020;Volume 11:45-55. doi:10.2147/VMRR.S248712
MB H, KA D, BN T, et al. Serum cannabidiol, tetrahydrocannabinol (THC), and their native acid derivatives after transdermal application of a low-THC Cannabis sativa extract in beagles. J Vet Pharmacol Ther. 2020;43(5). doi:10.1111/JVP.12896
A C, K I, S V, KR P, J A, K C. Pharmacokinetic and Safety Evaluation of Various Oral Doses of a Novel 1:20 THC:CBD Cannabis Herbal Extract in Dogs. Front Vet Sci. 2020;7. doi:10.3389/FVETS.2020.583404
Łebkowska-Wieruszewska B, Stefanelli F, Chericoni S, et al. Pharmacokinetics of Bedrocan®, a cannabis oil extract, in fasting and fed dogs: An explorative study. Res Vet Sci. 2019;123:26-28. doi:10.1016/J.RVSC.2018.12.003
Deabold KA, Schwark WS, Wolf L, Wakshlag JJ. Single-Dose Pharmacokinetics and Preliminary Safety Assessment with Use of CBD-Rich Hemp Nutraceutical in Healthy Dogs and Cats. Animals. 2019;9(10):832. doi:10.3390/ani9100832
Vaughn D, Kulpa J, Paulionis L. Preliminary Investigation of the Safety of Escalating Cannabinoid Doses in Healthy Dogs. Front Vet Sci. 2020;7:51. doi:10.3389/fvets.2020.00051
M J, D J. Comparing the prevalence of tetrahydrocannabinol (THC) toxicities in dogs before and after legalization of cannabis in Canada. Can Vet J = La Rev Vet Can. 2020;61(9). https://pubmed.ncbi.nlm.nih.gov/32879528/. Accessed December 18, 2020.
SD M, CC T, SA H, TB H, EM M. Evaluation of trends in marijuana toxicosis in dogs living in a state with legalized medical marijuana: 125 dogs (2005-2010). J Vet Emerg Crit Care (San Antonio). 2012;22(6). doi:10.1111/J.1476-4431.2012.00818.X
Simpson AC, Bradley CW, Schissler JR. Probable cutaneous adverse drug reaction due to a cannabidiol‐containing hemp oil product in a dog. Vet Dermatol. 2020;31(5):404. doi:10.1111/vde.12876
Amanollahi R, Soltaninejad H, Ghasemkhani N. Cannabis poisoning in a cat. Online J Vet Res. 2020;24(7):434-437. http://onljvetres.com/catcannabisabs2020.htm. Accessed December 18, 2020.
Janeczek A, Zawadzki M, Szpot P, Niedzwiedz A. Marijuana intoxication in a cat. Acta Vet Scand. 2018;60. doi:10.1186/S13028-018-0398-0