Canine open-heart surgery performed at AVC
by samantha_ashenhurst | May 5, 2022 10:14 am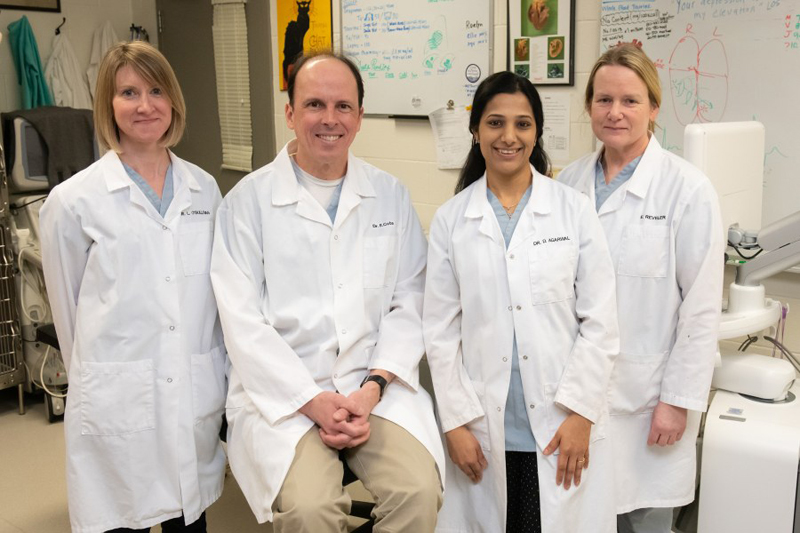 A puppy with a rare congenital heart anomaly is feeling better than ever after undergoing an atriotomy under inflow occlusion at the University of Prince Edward Island's (UPEI's) Atlantic Veterinary College (AVC).
The patient was first referred to AVC's Internal Medicine Service for testing in the fall of 2021 after receiving an ascites diagnosis from its family veterinarian.
Under the care of small animal internal medicine resident Stephanie Maloney, DVM, it was discovered the puppy's caudal vena cava was dramatically enlarged, UPEI reports. The patient was then put under the care of AVC's Cardiology Service, led by Étienne Côté, DVM, DACVIM, professor of cardiology.
"Dogs have four chambers in their heart, like people—two top chambers (atria) and two bottom chambers (ventricles)," he says, "but this puppy's cardiac ultrasound revealed it had three atria—one left atrium and two right atria. Through this test, we were able to diagnose the puppy with cor triatriatum dexter (CTD), with secondary caudal vena caval and hepatic venous distention resulting in ascites."
While many dogs with CTD can tolerate it, the patient was found to have a severe form, UPEI reports, which significantly impaired circulation and threatened the dog's quality of life.
Following consultation with colleagues across Canada and the United States, AVC's cardiology, small animal surgery, and anesthesiology teams opted to proceed with a minimally invasive catheter-based procedure. Once in surgery, however, it was discovered it was not possible to cross the membrane because the tissue of the CTD was too tough, UPEI reports.
It was decided, instead, the patient would require atriotomy under inflow occlusion—a technique used for open-heart surgery in which all venous flow to the heart is temporarily interrupted. The surgery would be the first of its kind performed at AVC.
In addition to the cardiology team, the surgery itself required the collaboration of Adam Ogilvie, DVM, DVSc., DACVS (small animal), associate professor and small animal surgeon; Katie Hoddinott, DVM, DVSc., DACVS, assistant professor and small animal surgeon; and Meagan Walker, DVM, chief surgery resident.
"The whole time of inflow occlusion, meaning time during surgery from tourniquets being tightened to released, was 100 seconds," says Sarifa Lakhdhir, DVM, senior resident in cardiology and a member of the operating team. "We were able to remove a large segment of the CTD membrane. We were able to see an immediate improvement in the flow of blood through the opening in the membrane."
Recovery was a success, UPEI reports. Prior to discharge, the puppy had another echocardiogram, which showed the improvement was maintained.
At the patient's two-week post-operative checkup, the cardiology team observed the benefits of surgery were maintained. Further, many secondary problems, such as the blood vessel enlargement, had normalized completely.
"This was a positive outcome to a very complicated case, and we are happy to report the puppy is doing well," Dr. Lakhdhir says. "We are incredibly appreciative to everyone who worked on this case, the family for their dedication, and our donors for supporting initiatives at AVC to purchase equipment that can give a puppy like this one a new lease on life."
Written with files from UPEI[2].
Endnotes:
[Image]: https://www.veterinarypracticenews.com/wp-content/uploads/2022/05/SA_AVC.jpg
Written with files from UPEI: https://www.upei.ca/communications/news/2022/04/puppy-receives-surgery-first-its-kind-atlantic-veterinary-college
Source URL: https://www.veterinarypracticenews.ca/canine-open-heart-surgery-performed-at-avc/
---