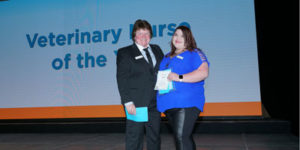 Calgary-based registered veterinary technician Katie Berry was named the 2019 Veterinary Nurse of the Year at the Petplan Veterinary Awards in Orlando, Fla.
When she went to the Veterinary Meeting and Expo (VMX) conference in January, Berry says she unaware she had won the award. Accepting the award was a blur she explains. "I don't know if I took a single breath. The amount of gratitude and love I felt was beyond belief."
The Petplan Veterinary Awards recognize the industry's best in the U.S. and Canada. The award highlights veterinary professionals who go above and beyond to provide pets with exceptional care and clients with outstanding customer service. Berry says a co-worker nominated her for the award.
According to Berry, the most fulfilling part of her job is the patients and the clients. "When I have clients I have a good relationship with, it makes this job worth it," says Berry who has been an RVT at Montgomery Village Veterinary Clinic in Calgary since the clinic opened in November 2017. "I love seeing my patients thriving and I like my clients knowing I am there for them when they need me."
Berry believes veterinary technicians everywhere need recognition. "I may have won the award, but veterinary technicians everywhere are amazing," she explains. "The daily sacrifices they make are so significant and often get pushed away as if it were an expectation of the job. I want all veterinary technicians to feel important and feel gratitude. The burnout and turnover rate for this profession is way too high and we all need to play our role in improving this industry."