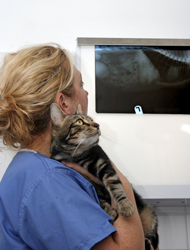 BrightHeart Veterinary Centers recently acquired Veterinary Referral Clinic in Bedford Heights, Ohio. The clinic is now called Great Lakes Veterinary Specialists.
"The name was chosen by the [clinic's] staff," said Alan Green, DVM, chief operating officer of BrightHeart. "It was an expression of the excitement they felt to have an opportunity to build a new practice, with a new image and a new commitment to excellence."
Ronald Haffey is joining the practice as hospital administrator. Most recently he was the hospital administrator for the University of Missouri Veterinary Medical Teaching Hospital.
BrightHeart now has a combined staff of more than 400, including more than 100 veterinarians, in its network.