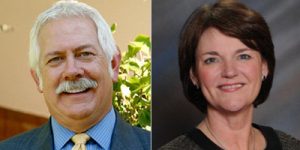 Two veterinary industry professionals have been recognized for their leadership.
Michael Cavanaugh, DVM, DABVP, chief executive officer of the American Animal Hospital Association (AAHA), and Julia Stephanus, founder and president of Avviare, received a lifetime Bridge Club membership from the video-based professional community.
"Mike and Julia represent the very best kind of leader—they are smart, creative thinkers who have achieved tremendous levels of success and have remained uniquely themselves," said Bridge Club cofounder, Brenda Andresen.
"Both are genuine and enthusiastic role models and mentors to others."
The recipients will be honored at the Bridge Club's Industry ICON event during the Western Veterinary Conference (WVC) in Las Vegas, Nev., which runs from Feb. 17 to 20, 2019.
According to Bridge Club, the ICON event aims to give members and veterinary professionals the chance to connect with and learn directly from the people who, through their perspectives, leadership and vision, have impacted the veterinary industry.