Boosting care and profit with new tech
by samantha_ashenhurst | April 4, 2022 2:14 pm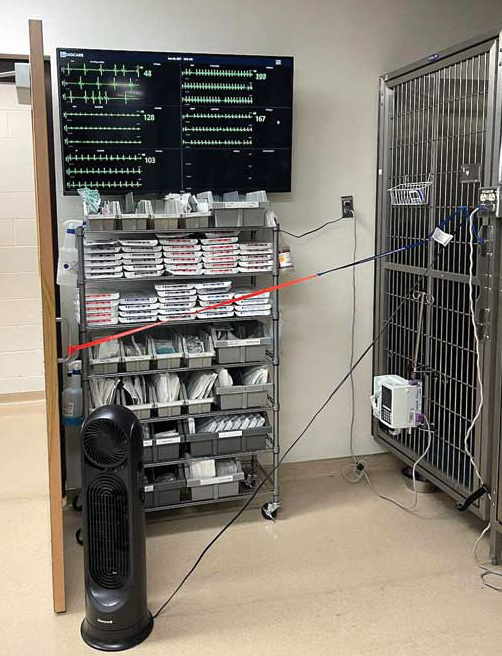 The decision to purchase equipment for your clinic or practice is often a multi-faceted analysis of both the potential benefits to patient care and whether it will bring a return on the investment (ROI). Thus, when multiple specialty areas within a clinic can benefit from a piece of equipment, procurement can be even more attractive.
Central monitoring systems
When it comes to ROI, central telemetry and monitoring systems check off a lot of boxes—especially amidst a COVID-era animal health environment, rife with overworked veterinarians and staff shortages. Further to the immediate fiscal efficiencies this technology can provide in relation to staffing, logistics, and time resources is its ability to increase the quality of patient care and reinforce client confidence.
Central monitoring systems allow veterinary team members to closely monitor the conditions of multiple emergent, critical, and surgical patients (across specialties) in real-time via automatically syncing devices. These systems typically allow viewing of numerical values, waveforms, and active alarms and, in some models, also support bi-directional communication with connected monitoring devices. This allows for quick mitigation of declining patient health situations, while also saving time for veterinarians.
In addition to viewing patient vitals across multiple monitoring devices, these systems can do some heavy lifting regarding patient management, including admission and discharge. Some models also permit users to generate and print Excel and PDF reports of tabular data, including electrocardiogram (EKG) recordings of significant time blocks of activity.
Increased response for better care
Indeed, beyond boosting the bottom line, enhancing patient care ranks high in the decision-making process for veterinarians when incorporating central monitoring systems.
"Our primary reason for purchasing a central station was to improve the quality of our patient care," says Marcos Unis, DVM, MS, DACVS-SA, of Access Specialty Animal Hospitals in Florida. "I feel it has improved our anesthetic monitoring capabilities significantly. By allowing simultaneous patient monitoring, we can detect problems and dispatch the criticalist or anesthesiologist to help."
With remote viewing and access, having a central monitoring system on the premises certainly affords logistical convenience, which expedites response time. Increased situational awareness stems from having a central monitoring system linked with anesthesia gas monitoring and invasive blood pressure systems, increasing response time for patients in the intensive care unit (ICU), emergency department, and operating room (OR).
Enhancing teamwork
In addition to identifying the best equipment option available, it also helps to look for manufacturers that offer supplementary support, which can help extend one's budget.
Indeed, beyond the equipment itself, some veterinarians are seeking (and thriving) from the biomedical support that accompanies the purchase of a central monitoring system. This can maximize the advantages of a purchase.
Alexander Dehne, LVT, RVT, of VCA Veterinary Care Animal Hospital and Referral Center, a 24-hour, multi-disciplinary specialty hospital in Albuquerque, N.M., says his facility integrated a central monitoring system as a member of its critical care team after enduring an ongoing problem with staff shortages.
"We have implemented well-monitored protocols to utilize digital monitoring for all transfusion patients," he says. "With a simple taped-in rectal temperature probe and atraumatic ECG clips, we have decreased the stress on staff while ensuring the highest level of care."
Impact on ROI
There are direct and indirect avenues from which veterinary hospitals can extract revenue with the addition of a central monitoring system.
Immediately, a clinic can realize efficiencies which allow veterinarians to see more patients in less time. Additionally, by using the system as an extension of the clinic's staff, hospitals can avoid non-productive down time due to staff shortages.
"All patients deemed high-risk or unstable are fitted with either temperature, ECG, SpO2, NIBP, or EtCO2 monitoring, so utilizing central monitoring as a part of the team has greatly increased our capacity for care and the number of patients able to be seen at any given time," Dehne says.
"On top of that, we assess charges in 12-hour increments for advanced monitoring with the cost broken down based on the level in which the patient is monitored within the ICU," he adds.
Long-term outlook
Over time, the enhanced client confidence resulting from the addition of a central monitoring system can increase repeat business and, in turn, help boost the bottom line. This opportunity for indirect financial gain and increased client satisfaction is, indeed, something to consider as one forecasts their practice's 2022 capital expenditures.
Eduardo Miranda, BSEE, MSc., is a biomedical engineer and president of Digicare Animal Health, a manufacturer of veterinary-specific multiparameter monitoring systems, telemetry, and central monitoring systems.
Endnotes:
[Image]: https://www.veterinarypracticenews.com/wp-content/uploads/2022/04/crop_Digicare-Image-1.jpg
Source URL: https://www.veterinarypracticenews.ca/boosting-care-and-profit-with-new-tech/
---