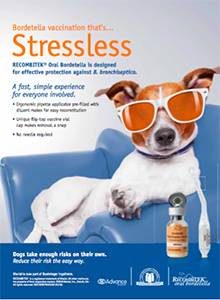 Merial, now part of Boehringer Ingelheim, has launched Recombitek Oral Bordetella, an oral vaccine shown to be effective against canine infectious tracheobronchitis caused by Bordetella bronchiseptica, the company reported.
Clinical studies suggest that as a mucosal vaccine, it offers dogs a robust immune response after a single dose, according to the manufacturer.
B. bronchiseptica, one of the primary pathogens responsible for canine infectious respiratory disease complex, is unique in its ability to evade the immune system for weeks to months. During this time, a dog that appears clinically normal could be exposing other dogs.
"For many dogs, oral delivery may mean a less stressful experience without the unpleasant sneeze backs of alternative vaccines delivered through the nose," said Zach Mills, DVM, executive director of Boehringer Ingelheim's U.S. Pet Vet Veterinary Professional Services. "The packaging's flip-top vial cap allows for easy opening by veterinary staff, and the safe, needle-free pipette simplifies the vaccination process while reducing risk of injury."
Recombitek Oral Bordetella is administered into the dog's buccal cavity. Recombitek vaccines are backed by the Pet Vaccines Customer Satisfaction Guarantee.
Visit boehringer-ingelheim.com for more information.