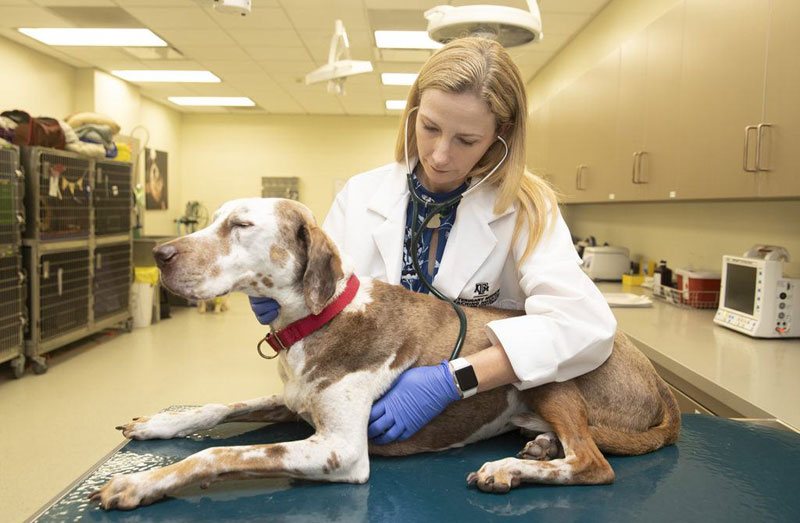 Improving the quality of life for man's best friend is the goal of a newly launched cancer-detection tool.
Texas A&M University College of Veterinary Medicine & Biomedical Sciences (CVMBS) has introduced a cost-effective oncology test veterinarians across North America can use for early cancer detection in canine patients. Developed by Belgium-based epigenetics company Volition, the proprietary Nu.Q Vet Cancer Screening Test uses a blood test to measure early markers of cancer, representing a streamlined diagnostic process.
"Unlike in humans, where routine cancer screening is relatively commonplace, there are few tests for animals," says CVMBS professor, Heather Wilson-Robles, DVM, DACVIM (oncology), who helped develop the screening. "We are changing this today."
"This simple, low-cost blood test can help streamline the diagnostic process and shorten the path to diagnosis, thereby allowing treatment (be that chemotherapy, radiation therapy, or surgery) to be initiated earlier, even before symptoms appear, increasing the chance of the dog's survival and its quality of life."
Cancer is the most common cause of death for dogs older than two in the United States, according to Texas A&M. Further, as many as 50 per cent of all dogs over the age of 10 will develop cancer in their lifetime.
The new test, which is available through CVMBS' Gastrointestinal (GI) Laboratory, can be used during wellness checks of older dogs where there is a suspicion of cancer, as well as in younger high-risk breeds.
At 100 per cent specificity, the test has been shown to detect 74 per cent of lymphomas and 89 per cent of hemangiosarcomas, which are two of the most common cancers in dogs, comprising approximately one-third of canine cancers, Texas A&M says.
"As with human cancers, early diagnosis is key, and this testing will not only save dogs' lives, but will offer dogs a better quality of life through earlier treatment," says John August, BVetMed, MS, MRCVS, DACVIM (SAIM), dean of CVMBS.
For more, click here.
Check out the video below, courtesy Volition.