AVC brings free veterinary care to Canada's North
by samantha_ashenhurst | June 1, 2022 4:58 pm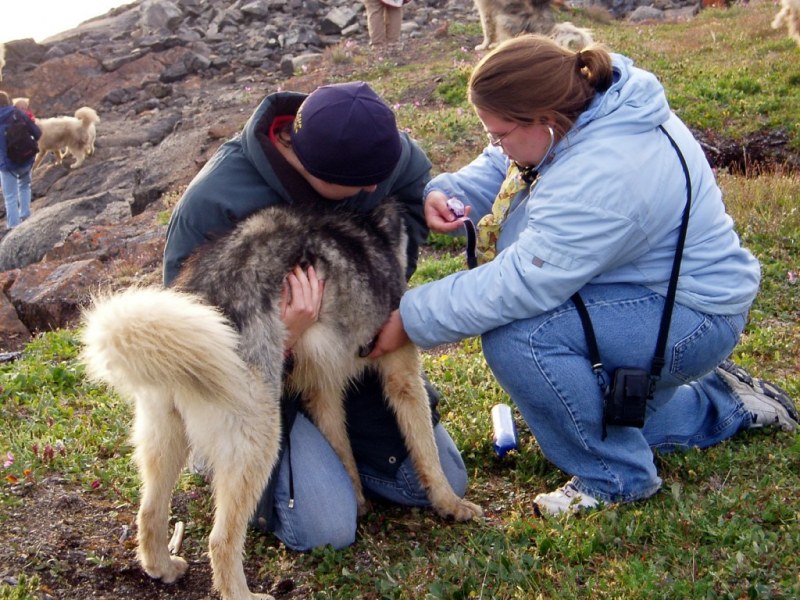 Volunteer veterinarians and fourth-year students at the Atlantic Veterinary College (AVC) are gearing up to travel north to provide free care to dogs living in Canada's remote communities.
Following a three-year COVID-related hiatus, the Chinook Project[2] is set to relaunch later this month, AVC has announced. The initiative sets up temporary clinics in Canada's North to provide free, essential veterinary services for dogs, including spays/neuters, vaccinations, deworming, and parasite control.
"In 2020 and 2021, it was very hard to tell communities we had to cancel clinics which had been planned for years," says the project's co-coordinator, Marti Hopson, DVM. "The cancellation was disappointing to the owners of these animals, and disappointing for the veterinary students, technicians, and faculty members. Without on-going clinics, several of the communities we have visited in the past are having a difficult time with dog overpopulation, bite incidents, and infectious diseases such as rabies, parvovirus, or distemper—all of which can be fatal."
Each clinic is staffed with up to four volunteer veterinarians and technicians and up to five fourth-year students from AVC. The project only visits communities where it is invited, and veterinarians will only perform services requested by the community and its animal owners. Host communities support the initiative by providing accommodations and assistance in organizing the clinic locally.
In addition to providing veterinary services, participants are invited to learn about and experience the North, AVC reports. Chinook Project team members take part in informal activities, such as nature hikes or iceberg sightings, and visit schools and community centres to meet local residents and gain a better understanding of their culture.
"We feel this project is an essential service, as part of the One Health initiative, which recognizes the importance of the relationship between the health of humans, animals, and their environment," Dr. Hopson says. "As well, team members learn valuable cultural lessons, [and gain] intensive experience in surgery, anesthesia, and medicine."
The first clinic of the year will be offered in Port Hope Simpson, located on the southeastern coast of Labrador.
For more, click here[3].
Written with files from AVC[4].
Endnotes:
[Image]: https://www.veterinarypracticenews.com/wp-content/uploads/2022/06/6341650917_9c09d64266_o.jpg
Chinook Project: https://www.chinookproject.org/
here: https://www.chinookproject.org/
Written with files from AVC: https://www.upei.ca/communications/news/2022/05/chinook-project-relaunches-after-three-year-hiatus
Source URL: https://www.veterinarypracticenews.ca/avc-brings-free-veterinary-care-to-canadas-north/
---