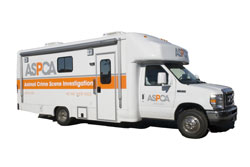 More than 200 veterinary and toxicology professionals are expected to attend the first Veterinary Forensics Symposium April 9-11 in Orlando, Fla.
The symposium, hosted by the American Society for the Prevention of Cruelty to Animals in conjunction with the University of Florida's William R. Maples Center for Forensic Science, aims to advance the study of animal forensics.
"For 142, years, the ASPCA has been dedicated to battling animal cruelty and improving the well-being of animals everywhere," said Ed Sayres, ASPCA president and chief executive officer.
"Veterinary forensics is clearly the next frontier in our fight. We are proud to be a part of this ground-breaking event which will bring together areas of forensics that have previously been applied only to crimes against humans."
Speakers will include Randall Lockwood, Ph.D., the ASPCA's senior vice president of Anti-Cruelty Initiatives & Legislative Services; Melinda Merck, DVM, the ASPCA's senior director of Veterinary Forensics; and Sharon Gwaltney-Brant, DVM, Ph.D., vice president and medical director of the ASPCA's Animal Poison Control Center.
Attendees will also receive specialized training in veterinary forensics, as well as training in how to process animal cruelty cases.
Continuing education credits are available.
In addition, the ASPCA's new mobile "Animal Crime Scene Investigation" will be open for tours during the symposium. The forensic vehicle, which includes a surgical suite, will travel and assist national and local law enforcement.
For details, contact Jason Byrd, Ph.D., at the University of Florida at 352-258-1085 or email jhbyrd@ufl.edu.