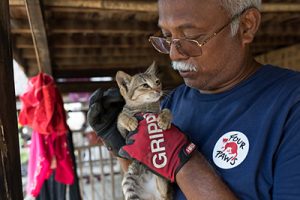 Within four weeks of launching its "Don't Wait, Vaccinate" campaign in Myanmar, global animal welfare agency Four Paws International has administered rabies vaccinations to more than 30,000 dogs and cats in 220 villages surrounding Naypyidaw, the country's capital city. The area, which is three times the size of Singapore, is now considered rabies free.
The mission is reflective of the World Health Organization's (WHO) goal to eradicate rabies in humans by 2030. According to WHO and the Myanmar Livestock Breeding and Veterinary Department, nearly 62,000 people in Myanmar were bitten by dogs in 2017, with 40 percent of those bitten under the age of 15. Approximately 1,000 of those bites resulted in deaths due to rabies infections.
In response to the frequency of the disease, residents and authorities have started mass-killing many of the estimated four million stray and community-owned dogs across the country, especially throughout summer months.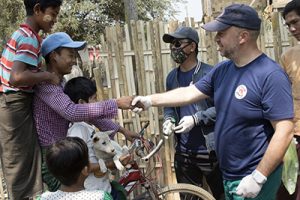 "The misconception that dogs are particularly aggressive when it is hot is unfortunately widespread in Myanmar," said Marina Ivanova, DVM, with Four Paws. "Therefore, our task is not only to vaccinate the animals, but also to educate people about rabies."
For the mission's second phase, Four Paws' 40-person team, which includes local and international veterinarians and organizations, aims to vaccinate another 20,000 animals in the ancient city of Bagan.
"When we started our work in Myanmar at the beginning of March, it seemed impossible to make so much progress this quickly," said Amir Khalil, DVM, with Four Paws. "Besides the unbearable heat, our team has faced many cultural and logistical obstacles. The fact that we have already vaccinated more than 30,000 animals against rabies proves that nothing is impossible and we are looking forward to working with the residents of Bagan."