Four dogs and one cat were in the spotlight June 4 during the American College of Veterinary Internal Medicine's Animal Survivor Media Event, which took place at the ACVIM Forum & Canadian Veterinary Medicine Association Convention in Montreal.
The annual event gives insight into the medical advances that saves pets' lives.
"The ACVIM's Animal Survivor is a wonderful opportunity to highlight animals that beat the odds," said Jenn Armbruster, ACVIM communications and media relations manager. "With the help of their owners, general practitioners and ACVIM board-certified veterinary specialists, these animals overcame life-threatening illnesses to live life to the fullest once again."
One such example is Forrest Gumpy, a Jack Russell that was adopted by the McDougall family in 2007.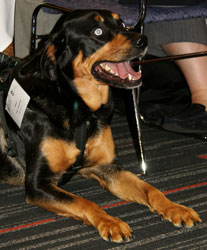 Dixie
Gumpy's owners, specifically now 15-year-old Sarah-Simone McDougall, discovered his love for the water and decided to enter him into DockDogs diving events, leading him to compete with some of the top dogs in the world. However, Gumpy was struck with stage IV lymphoma shortly thereafter.
Even though his fight with lymphoma had him going through many rounds of chemotherapy, and he relapsed three times, he remained happy and had a wonderful quality of life, according to his owners and Kevin Finora, DVM, Dipl. ACVIM, a veterinary oncologist in Toronto who treated Gumpy.
Despite his sickness, Gumpy won six National Diving Championships and was ranked Top Lap dog World Wide with three organizations. He also appeared on The Late Show with David Letterman last August where he jumped 23 feet, 6 inches.
Although Gumpy lost his battle with cancer on Feb. 22, he was still chosen as an Animal Survivor.
"After Forrest Gumpy was diagnosed with cancer, [Sarah-Simmone] became a strong support and advocate for the ACVIM Foundation's 'Chase Away K9 Cancer' campaign, which helps improve the prevention, diagnosis and treatment of cancer," Armbruster said. "Although Gumpy was sick and was going through chemotherapy he still was able to have wonderful quality of life with the help of his ACVIM board-certified veterinary specialist. So much so that he continued jumping right up to the moment he lost his battle with cancer earlier this year."
Dixie, a 4 ½ year-old spayed female Rottweiler owned by Véronique Desjardins in Montreal, is another example of "beating the odds."
Dixie was originally presented to the emergency veterinary service at the University of Montreal for signs of retching, regurgitation, weight loss and bloating of the stomach.
She was diagnosed with two esophageal strictures, as well as gastric dilation and volvulus. The esophageal strictures developed secondary to an esophagitis, which occurred following an episode of regurgitation during general anesthesia while undergoing a surgical procedure a few weeks previously.
Dixie ended up undergoing a surgery called gastropexy where a stomach tube was placed in order to feed her. Balloon dilation of the esophagus was attempted on six occasions. However, the affected areas would restructure within a week of each procedure despite feeding her a liquid diet and administering numerous medications, according to Lisa Carioto, DVM, a small animal internist at the University of Montreal, Saint-Hyacinthe, who treated Dixie.
Two biodegradeable esophageal stents were placed in an attempt to keep the esophagus open and prevent it from retricturing. These failed as well.
Finally, a permanent esophageal stent was placed in the fall of last year. Dixie is reportedly doing well and is now able to eat kibble. Dixie was described as "bright and alert and extremely active."
The ACVIM Animal Survivor was sponsored by Merial Ltd. of Duluth, Ga.