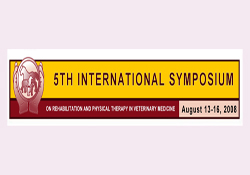 The 5th International Symposium on Rehabilitation and Physical Therapy in Veterinary Medicine will be held Aug. 13-16 in Minneapolis, Minn.
It is being hosted by the University of Minnesota College of Veterinary Medicine and the International Association of Veterinary Rehabilitation and Physical Therapy.
The event will include lectures by researchers and clinicians with veterinary and physical therapy training, breakfast forums, laboratory and demonstration sessions, poster and abstract sessions, case reports and an exhibit tradeshow.
Inspirational speaker Ann Bancroft will open the symposium with her presentation on "Collaboration and Teamwork."
Continuing education credit is available for veterinarians, veterinary technicians and physical therapists.
For details, contact Dr. Liz LaFond, University of Minnesota, at lafo0005@umn.edu or visit www.cvm.umn.edu/outreach/events/rehab.