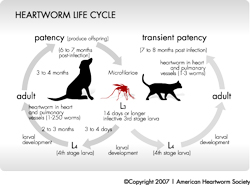 The American Heartworm Society is asking veterinarians to participate in its heartworm incidence survey by visiting www.heartwormsociety.org/hwsurvey to record the number of dogs treated and diagnosed with heartworm disease in 2007.
The society will compile the results and produce an updated, online heartworm incidence map. The last survey recorded cases of heartworm disease in 2004.
"We hope conveying the severity of this disease through actual numbers will help veterinarians encourage year-round prevention with pet owners and eventually move towards eradicating this easily preventable disease," said Sheldon Rubin, DVM, president of the society.
The society also plans to increase its outreach and teaching capabilities, such as continuing to target veterinarians and pet owners via a multi-media website and its sponsored awareness campaigns such as KNOW Heartworms,www.knowheartworms.org, a partnership with the American Assn. of Feline Practitioners and Pfizer Animal Health.
In addition, the society is launching a "Heartworm University" program. It will target 10 state and local veterinary medical association programs per year, particularly those in areas perceived as having little heartworm risk. Speakers will train and assist veterinarians on emerging areas in heartworm prevention, testing and treatment and provide tips on client communications and compliance.