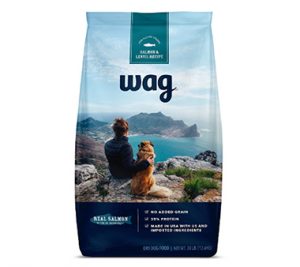 Everyone wants a bite of the pet food market, including Amazon, which just this week launched its own brand of dog food, Wag.
According to the American Pet Products Association, Americans spent $32 billion on pet food in 2017, and competition among online and brick-and-mortar retailers isn't slowing any time soon.
Wag, available to Amazon Prime customers, comes in chicken, beef and lentil, and salmon varieties, and contains no added grains, according to the online retailer.
The dry kibble comes in 5-pound bags for $12.99 and 30-pound bags for $44.99, and a 15-pound bag for puppies for $26.99.
Amazon's guarantee of quality statement claims that all its pet food is manufactured in the U.S., with U.S. and imported ingredients (but doesn't specify countries of origin), and each serving is comprised of 35 percent protein.
The company plans to offer additional products at a later date, said spokesperson Nell Rona.