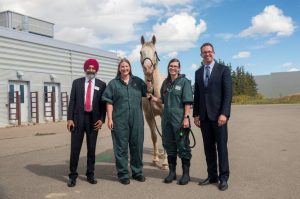 The University of Calgary has received a $7.2-million grant from the provincial government to improve access and learning facilities for students pursuing careers in veterinary medicine.
The grant will be used to purchase new equipment and ensure collaborative programs with institutions and veterinary clinics across the province are available to students.
"Supporting the University of Calgary's school of veterinary medicine helps us prepare more students in our province for good jobs as veterinarians," said Marlin Schmidt, minister of advanced education. "Our government has focused our support on this Alberta-based program so that our communities, our agricultural sector, and our province can prosper, now and in the future."
With the increased funding, more students across Alberta will have greater access to the program's community-based practicum model, which connects veterinary students with rural practices to meet labour market demand and strengthen Alberta's agricultural sector. It is estimated the province will need 1100 veterinarians by 2023 to meet labour market demands.
The project also includes a new animal laboratory and clinical spaces, an expanded surgery suite, new student and teaching spaces, and a large lecture hall.