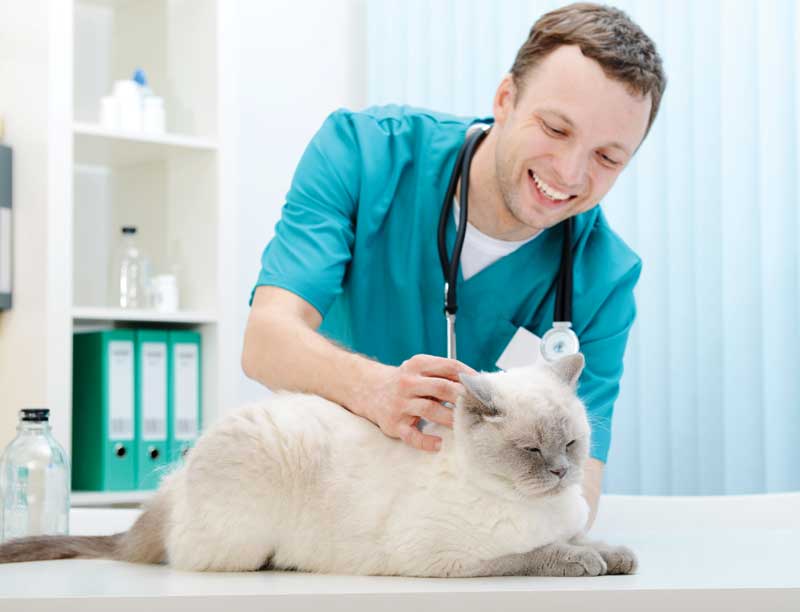 Telling a client there's little that can be done for their pet is among the most heartrending things we do as veterinarians. A wealth of excellent diagnostics exist that help us find an increasing number of diseases, but sometimes, we just can't detect disease early enough to have an impact on the outcome.
A compelling 'what if'
What if we could find disease before it begins? While it may sound like science fiction, it's currently underway in both human and animal health by coupling advanced computing power with artificial intelligence (AI). This technology is an umbrella term that refers broadly to a computer's ability to conduct deep analysis of data too vast for the human mind, detect patterns and trends, and even learn from these discoveries; it's arguably one of the most astounding creations of our time. Machine learning is a particular type of AI in which computer systems use large amounts of data to spot patterns that aren't easily seen by the human eye. Further, computers neither tire nor need a coffee break, and they don't need thousands of hours to do a detailed analysis. They crunch data, create and test their own algorithms, identify the best one, refine it until it's as accurate as possible, and then learn from additional data to keep improving.
AI's potential for human medicine
AI was first introduced in the 1950s. However, it took decades before the required computing power matured and became cost-effective enough for researchers to explore its many applications. Now, almost daily, researchers are unearthing new ways to apply AI and machine learning to diagnose, treat, and even predict human diseases. These innovative applications promise earlier, more precise patient care, and, ultimately, better quality of life and longevity.
The potential for AI to radically improve human health by finding disease—even predicting it before it occurs—is undeniable. Its success offers physicians an unprecedented opportunity to prepare for disease before it occurs by helping patients achieve the best health possible, to delay disease through proven interventions, or, in some cases, even to prevent it. The possibilities are both extraordinary and endless.
AI's promise for veterinary medicine
The early success of artificial intelligence in improving human lives and helping physicians better understand complicated diseases makes its foray into animal health unsurprising. Pets also face devastating diseases for which diagnosis is sometimes too late to have a meaningful impact. In terms of complexity, chronic kidney disease (CKD) is among the frontrunners. As veterinarians know all too well, CKD is a multifactorial disease that is discouragingly difficult to detect in time to impact an animal's health and longevity. Once it's present, kidney damage is irreversible. CKD is increasingly prevalent in cats aged five and older.1 In fact, one-third of this population could be affected. Traditionally available laboratory parameters—namely creatinine levels—detect loss of kidney function after 75 per cent or greater is gone.2 And that's only if pet owners maintain strict adherence to preventive care guidelines and visit annually for an exam.3 Cats with advancing chronic kidney disease often show no clinical signs until at least 50 to 67 per cent of renal mass is lost.4 In an effort to find disease earlier, symmetric dimethylarginine (SDMA), a biomarker of renal function, was introduced in 2015. While an improvement, even this more sensitive biomarker finds disease only after 25 per cent of kidney function is lost.5
Diagnosing and managing CKD: Early knowledge, new opportunities
While a diagnosis of CKD is irreversible, there are an increasing number of ways to treat and monitor the disease to delay its progression and improve quality of life for feline patients. Additionally, not all CKD cases progress at the same rate. The ability to predict disease onset, as well as carefully monitor disease progression, gives veterinarians several opportunities to improve a cat's current and future health, including:
1) Addressing co-morbidities: Hyperthyroidism, high blood pressure, and infection are three common conditions associated with CKD; each can be treated.
2) Early care strategies: The International Renal Interest Society (IRIS) recently revised its recommendations for diagnosing and treating CKD to incorporate early care strategies and more sophisticated monitoring technologies. Review its updated guidelines at bit.ly/2QgxnjL.
3) Nutritional intervention: Published studies show the positive effects of kidney support diets in cats with IRIS stage 1 and
2 CKD.6
The opportunities presented by data
With electronic health records (EHRs) offering vast amounts of data, the opportunity to apply advanced machine learning methods provides an innovative way to advance veterinarians' ability to find CKD earlier. Significantly, the combination of rich data and AI allows researchers to take this one step further. In an abstract presented at American College of Veterinary Internal Medicine (ACVIM) Forum in June 2019, researchers showed an algorithm leveraging the data from 150,000 cat visits over 20 years could predict CKD before it occurred with high specificity.7
A predictive diagnostic tool, the algorithm conducts in-depth analysis of large sets of health data collected as part of routine diagnostics to predict—not diagnose—disease in cats. With it, veterinarians have an opportunity to provide care before disease occurs, giving them a powerful, tangible way to inspire pet-owner compliance with a highly personalized care plan designed to help the cat achieve optimal health before disease onset. It's the kind of high-value knowledge that inspires a whole new level of pet-owner compliance with a recommended care plan.
The high accuracy of AI and machine learning in predicting CKD
The newly developed algorithm can help a veterinarian predict whether or not a cat will develop CKD within the next two years with greater than 95 per cent accuracy. When building the algorithm, researchers initially identified 35 data points as possible predictors of CKD. Over time, leveraging machine learning, they narrowed the list to six routine analytes8 referred to as a 'minimum database.' Significantly, these analytes are found on a standard complete blood count (CBC), chemistry panel, and urinalysis—no extra tests needed.
In practice, veterinarians perform a minimum database during an annual feline exam. At the lab, the algorithm evaluates creatinine, blood urea nitrogen (BUN), white blood cell count, urine specific gravity, urine protein, urine pH, and age to provide a status. Based on this information, veterinarians can report confidently: "Yes, your cat will develop CKD within two years. Here's what we can do now;" or, "Rest assured, your cat will not develop CKD within the next two years. See you in six to 12 months for your next exam."
Most cats fall into a 'yes' or 'no' bucket. For the small percentage with inconclusive results, veterinarians may conduct follow-up testing that includes the minimum database to obtain a status. A recommended timeframe is within three to six months or sooner if the clinical status of the cat changes. Data presented at the ACVIM conference show the algorithm delivers no false positives.9
As Dennis J. Chew, DVM, DACVIM, discussed in the 2007 World Small Animal Veterinary Association (WSAVA) World Congress Proceedings: "A variety of interventions—diet and drugs—can slow the progression of renal disease, improve the quality of life for the patient, and/or could extend their lifespan. Recently, evidence-based medicine studies of clinical dogs and cats with chronic renal failure have emerged showing salutary effects of dietary modification."10 Control of renal secondary hyperparathyroidism, antihypertensive therapy, and ACE-inhibitors also are emerging as effective strategies for the appropriate patient. Knowing a cat will develop CKD two years before onset allows veterinarians to offer pets and their owners the best opportunity for a long, healthy life by prescribing the right care plan for the animal. The aforementioned IRIS guidelines offer revised recommendations for diagnosing CKD and incorporating early care strategies.
Inspiring better pet care
The use of AI in veterinary medicine seems poised to offer pets the same or perhaps even superior health care to their human counterparts. In addition to predicting disease, this next generation of diagnostics helps support the value of preventive care. These tools offer tangible evidence and data supporting the need to follow care plans. In addition, the insight they provide offers a compelling reason for performing additional diagnostics to look for co-morbidities and other undiagnosed conditions.
As pet ownership and reverence continue to grow, pet owners want to keep their companions with them for as long as possible. As veterinarians, we are driven by a deep desire to help them accomplish this shared goal. In a single day, we treat a broad range of different patients presenting with an astoundingly diverse array of medical issues. We endear ourselves to two clients, and one is unable to speak to us. Many of us serve as CEOs of a small business, hiring and inspiring teams, managing inventory and capital equipment, all while supporting people and animals during some exceptionally stressful and emotional situations. Simply put, it is chronically exhausting. However, as veterinarians, we are uniquely driven. At the core of every task we perform is a profound desire to do better for our patients, all of whom can't tell us how they're feeling. To say it's a big job is an understatement. Predictive diagnostics offer a compelling, easy way to 'do better' by affording us the unique opportunity to find disease before it occurs. Applying this new diagnostic paradigm relies only on copious amounts of good data, driving a seemingly limitless number of potential applications.
References
Brown SA. Renal dysfunction in small animals. The Merck Veterinary Manual website. mrkmnls.co/2rM3xtt. Updated October 2013.
O'Neill DG, Church DB, McGreevy PD, et al. Longevity and mortality of cats attending primary care veterinary practices in England. J Feline Med Surg 2015;17:125-133.
"AAHA-AVMA Feline Preventive Healthcare Guidelines," American Veterinary Medical Association, accessed September 15, 2019, https://www.avma.org/KB/Policies/Pages/AAHA-AVMA-Feline-Preventive-Healthcare-Guidelines.aspx.
Chew D, DiBartola S. Prolonging Life and Kidney Function. Paper presented at: World Small Animal Veterinary Association World Congress Proceedings; 2007 Aug 29-23; Sydney, Australia.
Hall JA, Yerramilli M, Obare E, Yerramilli M, Jewell DE. Comparison of serum concentrations of symmetric dimethylarginine and creatinine as kidney function biomarkers in cats with chronic kidney disease. J Vet Intern Med. 2014;28(6):1676–1683. doi:10.1111/jvim.12445.
Hall JA, Fritsch DA, Jewell DE, Burris PA, Gross KL. Cats with IRIS stage 1 and 2 chronic kidney disease maintain body weight and lean muscle mass when fed food having increased caloric density, and enhanced concentrations of carnitine and essential amino acids. Vet Rec. 2019 Feb 9;184(6):190. doi: 10.1136/vr.104865.
Watson P. An Algorithm Based On Clinical Data Predicts Feline Chronic Kidney Disease Two Years Before Diagnosis. Abstract presented at: ACVIM Forum; 2019 Jun 6-8; Phoenix, Arizona.
Bradley R, Tagkopoulos I, Kim M, Kokkinos Y, Panagiotakos T, Kennedy J, De Meyer G, Watson P, Elliott J5. Predicting early risk of chronic kidney disease in cats using routine clinical laboratory tests and machine learning. J Vet Intern Med. 2019 Sep 26. doi: 10.1111/jvim.15623.
Watson P. An Algorithm Based On Clinical Data Predicts Feline Chronic Kidney Disease Two Years Before Diagnosis. Abstract presented at: ACVIM Forum; 2019 Jun 6-8; Phoenix, Arizona.
Chew D, DiBartola S. Prolonging Life and Kidney Function. Paper presented at: World Small Animal Veterinary Association World Congress Proceedings; 2007 Aug 29-23; Sydney, Australia.
Jennifer Ogeer, DVM, M.Sc., MBA, MA, is the vice-president medical affairs for Antech Diagnostics. She is a graduate of the Ontario Veterinary College at the University of Guelph. Dr. Ogeer was an associate professor at Texas A&M University and the Western College of Veterinary Medicine in emergency medicine and critical care prior to joining Antech Diagnostics. She can be reached at Jennifer.Ogeer@antechmail.com.