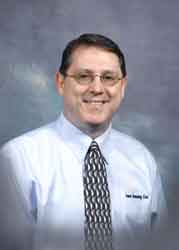 The American College of Veterinary Dermatology has named Russell Muse, DVM, right, as the new member-at-large on its executive board.
Dr. Muse, who will serve a  two-year term, is co-owner of the Animal Dermatology Clinics in Tustin, Marina del Rey and Pasadena, all in California, as well as  in  Louisville, Ky., and Marietta, Ga.
"This is a very important position for the members of the college," said Alexis Borich, ACVD executive secretary. "The responsibility to ensure the members of the college have a voice with the board of directors is key to our success. With Dr. Muse in this position, we are confident that the voice of the members will be heard."
Muse also receives cases at satellite practices in Palm Springs, Calif., and Maysville, Ky. In addition, he lectures regionally and nationally to various veterinary groups as well as assists in teaching a dermatology course annually at Murdoch University School of Veterinary Medicine in Perth, Australia.