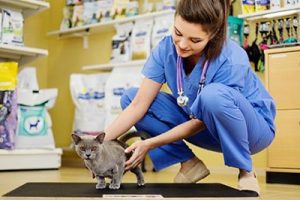 A new competency-based veterinary education (CBVE) program that aims to improve veterinary medical education and quality assurance was introduced during the recent conference of the Association of American Veterinary Medical Colleges (AAVMC).
The program is an outcomes-based, learner-centered approach to veterinary medical education that uses a shared framework and language to help ensure that all veterinary medical college students graduate with competencies that enable them to be successful from their first day as independent veterinarians, according to AAVMC.
"This framework, which represents the latest pedagogical thinking and best practices, lays the foundation for colleges and schools to develop competency-based education," said Andrew T. Maccabe, DVM, JD, AAVMC CEO, noting that the CBVE program is one of the most substantial pedagogical initiatives ever undertaken by the AAVMC.
"Colleges and schools will benefit from a common language and a more comprehensive picture of graduate outcomes based upon evidenced-based criteria and agreed-upon standards from some of veterinary medicine's best educators and the latest research," he added. "It's not a final product, but a first step in a journey of co-creation."
The framework outlines a series of competencies that are core as well as sub-competencies that veterinary medical colleges can customize or use as guidelines for assessing veterinary medical students' proficiency, the AAVMC said.
The CBVE program seeks to clarify what abilities students need upon graduation and to elucidate steps that demonstrate the progression of necessary expertise.
It features nine domains of competence and outlines specific, observable skills, knowledge, values and attitudes within each domain of competence: clinical reasoning and decision-making; individual animal care and management; animal population care and management; public health; communication; collaboration; professionalism and professional identity; financial and practice management; and scholarship.
It also presents eight Entrustable Professional Activities (EPA) that outline what activities all students should be able perform without supervision in a workplace setting. They are: gather a history, perform an examination, and create a prioritized differential diagnosis list; develop a diagnostic plan and interpret results; develop and implement a management/treatment plan; recognize a patient requiring urgent or emergent care and initiate evaluation and management; formulate relevant questions and retrieve evidence to advance care; perform a common surgical procedure on a stable patient, including pre-operative and post-operative management; perform general anesthesia and recovery of a stable patient, including monitoring and support; and formulate recommendations for preventive healthcare.
The working group is currently developing milestones that represent steps in the mastery of competencies, on a scale from novice to proficient.
The CBVE program with downloadable booklets can be found on the AAVMC's website here.