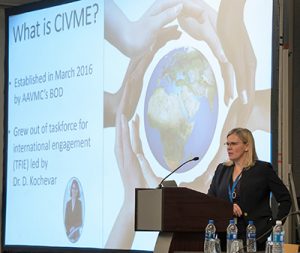 The Association of American Veterinary Medical Colleges' (AAVMC) Council on International Veterinary Medical Education (CIVME) has funded three program grants designed to foster the enrichment and advancement of international academic veterinary medicine. Funded proposals include collaborative projects from 15 institutions in 11 countries and five global regions.
Funded programs include:
Creating the next generation of evidence-based veterinary practitioners and researchers: What are the options for a veterinary curriculum ($9,500)? Main applicant: Dr. Heidi Janicke, St. George University, Grenada. Collaborators: Bristol Vet School, U.K. and Chittagong Veterinary and Animal Sciences University, Bangladesh.
The perceptions of final-year veterinary science students, studying at four international veterinary schools, regarding the suitability of the undergraduate professionalism-training curriculum ($8,780). Main applicant: Dr. Stuart Gordon, Massey University, New Zealand. Collaborators: Murdoch University, Australia; University of Nottingham, U.K.; and University of Guelph, Canada.
Towards an international veterinary immunology teaching network and platform ($10,000). Main applicants: Drs. Victor Rutten and Femke Broere, Utrecht University, the Netherlands. Collaborators: University of Leipzig, Germany; University of Bern, Switzerland; University of Veterinary Medicine Munich, Germany; Royal Veterinary College London, U.K.; University of Berlin, Germany; University of Environmental and Life Sciences Wroclaw, Poland; and University of Veterinary Medicine Vienne, Austria.
CIVME was founded in 2016 to "advance high-quality veterinary education internationally through enabling and empowering best practice."
The council, which seeks to advance its initiatives by promoting interregional collaboration, is comprised of representatives from eight major global regions (Australasia, North America, Central/South America, Continental Europe, U.K./Ireland, Middle East, Africa and Asia).