The American Animal Hospital Association (AAHA) has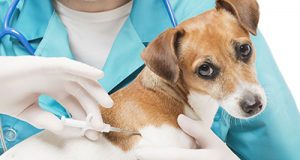 released its newly revised Canine Vaccination Guidelines.
Experts and veterinary practitioners believe vaccination protocols should be individualized based on the patient's risk factors, life stage, and lifestyle, according to the Lakewood, Colo.-based organization.
Published in the September/October edition of the Journal of the American Animal Hospital Association—and for the first time as an online educational resource for the veterinary medical profession—these revised guidelines offer important updates to the 2011 AAHA Canine Vaccination Guidelines that will help practicing veterinarians meet patient and client needs in a complex infectious disease environment, according to AAHA.
The new guidelines include the Lifestyle-Based Vaccine Calculator, an interactive tool to support a veterinary team's vaccination recommendations based on risk factors and lifestyle, quick-reference tables for client-owned and shelter-housed dogs, antibody testing algorithms, recommendations for overdue patients, rabies law and exemption resources, vaccine storage and handling information, immunotherapeutic product summaries, and an expansion of the Frequently Asked Questions section.
The guidelines also provide expert insight on several controversial issues, including frequency, dosing, scheduling, and duration of immunity for core and noncore vaccines; titer result interpretation; and adverse reaction identification and reporting, AAHA stated.
The guidelines review the latest information to help veterinary staff address central issues and perform essential tasks to improve the health of the pet. In 2016, AAHA brought the veterinary profession guidelines on oncology and end-of-life care. AAHA plans to release diabetes guidelines in 2018.
The 2017 AAHA Canine Vaccination Guidelines, sponsored by an educational grant from Boehringer Ingelheim Animal Health, Merial, Merck Animal Health, and Zoetis, are available online at aaha.org/caninevaccinationguidelines.