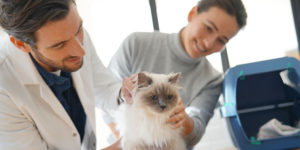 The American Association of Feline Practitioners (AAFP) is hoping to combat misinformation that exists about cats and disease transmission through its updated Feline Zoonoses Guidelines.
Appearing in the November issue of the Journal of Feline Medicine and Surgery (JFMS), the guidelines aim to provide accurate information about feline zoonotic diseases to owners, physicians, and veterinarians to allow logical decisions to be made concerning cat ownership.
"These guidelines provide recommendations concerning the prevention of feline zoonoses, as well as the latest research and information on these diseases," says Heather O'Steen, CEO of the AAFP.
"Cats are wonderful pets, and with education, we can improve the health and welfare of cats as well as decrease any potential risks to their humans. This updated resource is another significant milestone in that direction."
The new guidelines focus on:
the enteric zoonoses;
scratch, bite, or exudate exposure zoonoses;
ocular and respiratory zoonoses;
urogenital tract zoonoses;
vector-borne zoonoses; and
lessening the risk of zoonotic transfer of disease from cats.
It also includes a client brochure titled, "What Can I Catch from my Cat," to educate veterinary teams and cat owners about how zoonotic organisms are spread. Further, it provides examples of potential cat-associated zoonoses and discusses how to decrease risk of infection. A panel comprising veterinarians and physicians worked closely to align the guidelines with the One Health movement.
The new guidelines are based on AAFP's 2003 Feline Zoonosis Panel Report (catvets.com/guidelines). In 2006, the association also published a panel report on feline bartonellosis. Both documents are referenced and the updated version.
"These guidelines are a great example of veterinarians and physicians working together in One Health to provide accurate information about safe cat ownership," says Michael R. Lappin, DVM, PhD, DACVIM, chair, zoonoses guidelines and World Small Animal Veterinary Association's (WSAVA's) One Health Committee.