Most dermatological issues that make their way to veterinary offices present when the pet's incessant itching spurs the owner into action. According to veterinary dermatologists, about 25 percent of general practices' cases are skin-based and 10 percent of those cases are allergy-related.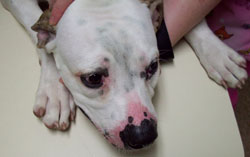 Sunburn on the muzzle and around the eyes.
Itchy dogs and cats referred to specialists' care tend to be lifelong derm patients and are controlled rather than cured, but general practitioners' clients pressed by the economy want the issue handled in a fast, financially feasible way without the added cost of prolonged specialty care. While some dermatology cases take diligence that comes with a price tag, manufacturers provide a plethora of treatments that can prevent skin maladies and treat existing ones cost effectively.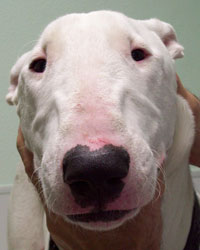 Bull terrier with a sunburned face.
"For the past three summers I've seen about two patients a day with cheyletiellosis, or walking dandruff," says Alice M. Jeromin, DVM, Dipl. ACVD, of Veterinary Allergy & Dermatology Inc. in Richfield, Ohio. "We've seen more of these cases than fleas. We can treat this easily enough with Selamectin or Ivermectin, but most derm cases aren't so clear cut. Environmental, allergies, food, infection, parasitic, neurogenic issues can all cause skin problems and can be tricky to treat."
Itching caused by parasites can be almost completely eliminated, making preventive care an essential educational piece at every patient visit and mailed reminder.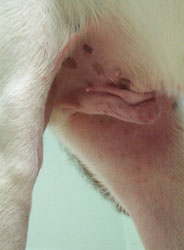 Bull terrier with a sunburned belly.
"There are a lot of good products on the market today that can make parasite-caused dermatology issues a thing of the past," says Sheila Torres, DVM, Ph.D., Dipl. ACVD, associate professor of veterinary dermatology at the University of Minnesota. "It's non-parasite-caused atopic dermatitis that can take some digging to resolve."
Specialists advise curbing the diagnosis time by taking a skin scrape, ear swab and impression smear at the first sign of itchiness. If parasites can be eliminated, treat any existing secondary infection. If the animal has no or partial response to treatment at the recheck, an allergic skin disease could be the cause. While atopic dermatitis accounts for 90 percent of the unresponsive cases, only 10 percent are the result of a food allergy.
"Treating the secondary infection with oral and topical medication makes pets more comfortable and helps uncover the underlying issue," says Rusty Muse, DVM, Dipl. ACVD, an executive board member of the American College of Veterinary Dermatology. Dr. Muse practices at the Animal Dermatology Clinic in Tustin, Calif.
"I'd recommend trying to aggressively investigate the cause of the itching on the first visit and send the pet home with oral and topical treatment," Muse says. "If there isn't much improvement after trying another treatment on visit two, refer to a veterinary dermatologist. Ask the owner questions about when the pet has been itchy in the past and what action was taken. Most seasonal itching can be controlled without referral."
Treatments
Atopica by Novartis Animal Health is an oral nonsteroidal medication specifically approved for the control of atopic dermatitis. The product selectively targets specific immune cells responsible for the dog's allergic response
"The prime issue can cause the itching and a secondary bacterial infection will exacerbate the problem," Muse says. "Make sure the owner understands the possible complexities their pet's dermatology issues may present. This information may make them more vigilant in documenting the pet's food, environment and situations in which they seem most itchy."
A veterinarian might want to use a crossover product that will help the patient when itching is caused by any number of causes, says Steven Melman, VMD, founder of DermaPet of Potomac, Md.
"Veterinarians may want to lean toward natural products as much as possible to treat skin that's already irritated," Dr. Melman says.
"With animals, they're often wearing what they're allergic to, with pollens or parasites right on their fur. The most gentle approach will always beat using harsh topicals."
Fighting Ear Disease
Most veterinary clients don't realize that veterinary dermatologists are also otology experts. Owners of Cavalier King Charles spaniels may be most educated on that front.
"Primary secretory otitis media is a primary disease of the middle ear found most commonly in Cavalier King Charles spaniels," says Lynette Cole, DVM, Dipl. ACVD, of Ohio State University. "The condition causes head, neck and ear scratching as well as neurologic facial drooping and balance problems. The condition is diagnosed with an X-ray, CT scan or MRI."
Dr. Cole is conducting a clinical study of 74 Cavalier King Charles spaniels to test the use of a mucolytic drug that could prevent recurrence of middle ear infections in the breed. Currently, the treatment consists of making an incision in the pars tensa, draining and flushing, but the condition tends to recur.
"We think the disease is caused by a dysfunction of the Eustachian tube prohibiting normal draining from occurring," Cole says.
"Veterinarians are not taught a procedure to put tubes in animals' ears to relieve building pressure in the ear, as commonly performed in the ears of children with the same condition. Since dogs' ear canals are vertical and horizontal, it really poses a problem, but I am working on a way to perform the procedure."
Nancy Bathurst, VMD, clinical development manager of Virbac Animal Health in Fort Worth, Texas, says investigating the functions that lead to skin conditions such as allergies and hot spots is a developing science.
"We worked with human dermatologists to find a solution," Dr. Bathurst says. "The material between skin cells are lipids, fatty acids and cholesterol. Unhealthy skin has little or none of this material. We found that up to 75 percent of dogs that had Allerderm Spot On, a product to be released this year, applied had cosmetic and medical improvements in their itchy skin. The product is for atopic dermatitis, flea allergies and sebbhoreic conditions. The product will be applied by owner and sold by general practitioners."
The product will be produced in a pipette for use in dogs and can be applied in the general area of irritation or directly to lesions. It also can be used as preventive care or treatment.
Other manufacturers are improving dermatological preventions for pets. Epi-Pet's sunscreen is the only pet sunscreen with Food and Drug Administration compliance.
"There isn't an SPF value for animals," says Lisa Drake, marketing director and skin consultant for Animal Medical Center/Epi-Pet of Bradenton, Fla. "Pet skin tumors positive for melanomas are becoming more frequent due to owners' lifestyle changes, and having an appropriate sunscreen labeling will help owners apply appropriate protection to their pets' skin."
Epi-Pet Sun Protector Sunscreen is a mist sprayed on fur when the animal is in the sun. The Animal Medical Center is conducting clinical trials that document the sun's effects on pet skin.
"We are seeing sunspots and solar dermatitis on animals," Drake says. "We use a Wood's lamp to see and document skin damage caused by sun exposure. Animals' ears, muzzles, chests and abdomens are most susceptible."
Dr. Torres, at the University of Minnesota, is working on the canine atopic dermatitis-relation to epidermal antimicrobial gene expression. The $77,349 research project began in 2008 and is sponsored by Morris Animal Foundation. She expects to have presentable results in 2010.