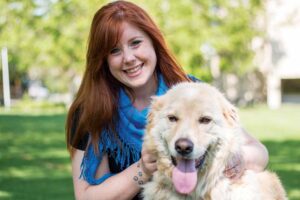 Erin Wasson's professional life has always focused on helping people. A graduate of the University of Regina's Faculty of Social Work, she followed a diverse career path, which includes crisis intervention, in-patient substance use disorder treatment, and counselling for individuals, couples, incarcerated youth, and those living in long-term care homes.
Wasson ultimately found her calling at the Western College of Veterinary Medicine (WCVM), where she helped create a veterinary social work (VSW) program to facilitate support and referrals for veterinarians, students, and faculty members.
"I always knew the value of animals in my own life and, from time to time, it crept into my work," she says. "That said, I didn't set out to 'do' veterinary social work; it came to me."
First established at the University of Tennessee, Knoxville, VSW attends to the human needs that arise in the intersection of veterinary medicine and social work practice. The discipline comprises four identified areas: the link between human-animal violence; animal-related grief and bereavement; compassion fatigue and conflict management; and animal-assisted interventions.
"These skills aren't different from traditional social work," Wasson says. "What's diverse is the knowledge that informs the interventions. For example, VSW accesses clients through their relationship with their animals, assesses for challenges and strengths in that relationship, then provides resources where needed within that interface. The work is attending to the relationship between human beings and their animals."
At the WCVM, the work Wasson does is invaluable. Beyond providing ongoing support and counselling to those in need, she also helps individuals access available services and resources, and reminds animal care professionals to maintain a healthy work-life balance to counteract burnout, depression, and fatigue.
1) How would you classify the work you do?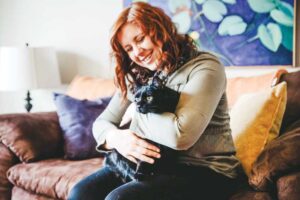 Within WCVM, the VSW program attends to the college's Veterinary Medical Centre (VMC) to ensure support for clients (i.e. pet owners), including counselling for grief and loss. I also provide support and refer students, staff, and faculty to existing and community-based services.
Additionally, I do inter-professional work with community partners to address the issues arising in human and animal welfare—this can be anything from attending policy meetings with government officials, to presenting at conferences, to hosting direct intervention in cases of large-scale disasters or animal hoarding.
2) What inspired you to specialize in helping those who work with animals?
I planned on getting into private practice equine-assisted therapy after completing my master's degree; as a result, my research focused on relationships between human beings and their animals. Frankly, I had a 'right place, right time' kind of a moment when I was approached to create this program as the final component of my degree, and I ended up loving the work.
By my second day working in the hospital, I was assisting with euthanasia cases and supporting clients through quality-of-life conversations. While working closely with veterinarians and allied professionals, I became passionate about their health and well-being.
3) What are some of the distinct challenges veterinarians face today?
Veterinarians must take complex medical information and deliver it to their clients. Being an effective communicator is critical; if you can't build trust and rapport and have empathy with clients, they won't follow your treatment advice.
Additionally, many clients are unaware of the costs of veterinary overhead. Thus, veterinarians often negotiate conversations explaining the cost of care, while simultaneously maintaining relationships and managing client expectations. Veterinarians are trained as caregivers, but are expected to operate as business people; this creates a challenging struggle of values.
There also is a culture of overwork in veterinary medicine. Some professionals provide 24-hour care at the expense of their personal lives and well-being—and do so without recognizing this is also at the expense of patient care. This work-life imbalance is not sustainable (personally or professionally); however, if clients have been trained to expect this treatment, it's easy for the cycle to continue. Worse, many veterinarians work in isolation without access to other colleagues, which can compound these challenges and contribute to veterinary stress and burnout.
4) What strategies can Canadian clinics implement to support staff?
Setting boundaries between personal and professional lives is critical. Some veterinarians use a combined personal and work cell phone, and this is something I discourage—no one can (or should) be on-call 24-7, 365 days a year. If you're the only veterinarian in town and you don't have a contingency plan, you're putting your clients and patients at risk. Likewise, if you're working yourself to the bone because you have a 'need to be needed,' it's important you recognize that.
5) What advice would you give to those who are feeling stressed, overwhelmed, or depressed?
It's important we work toward the general health and well-being within the workplace by modelling the behaviour we hope to see in other people. Support colleagues—be it veterinarians, technicians, or front-end staff—in setting new standards related to the boundaries associated with over-work and the balance between personal and professional time. Rather than place a burden on individual veterinarians, we need to address the root of the problem. Burnout is not an individual issue; it's a cultural problem within the profession.
If you're having depression-like or anxiety-like symptoms, access the appropriate health-care professionals (e.g. doctors, counsellors). If you need support, speak with your employer or professional association. Many provide free counselling services to their membership through wellness strategies.