5 Questions With… Faith Banks, DVM, CHPV, CCRT, founder of Midtown Mobile Veterinary Hospice Services
by Sarah Said | September 10, 2019 11:23 am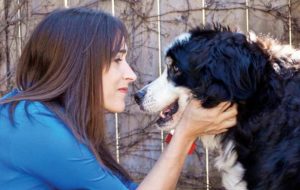 For many veterinarians, end-of-life care is the toughest part of the job. While this may be true, there are some who feel themselves to be a natural fit to provide the compassion and dignity required to assist beloved pets in crossing the 'Rainbow Bridge.'
This is certainly the case for Faith Banks, DVM, CHPV, CCRT. After graduating from the Ontario Veterinary College (OVC) in 1996, she practiced at a traditional clinic in Toronto, but, as she became familiar with veterinary hospice medicine, looked elsewhere for how she could pursue her true passion: providing geriatric and palliative pets with the best possible veterinary care in the comfort and security of their own home.
In 2012, Dr. Banks opened Midtown Mobile Veterinary Hospice Services. The practice, the first of its kind in Toronto, would allow Banks—along with current colleagues Karen Stekel, DVM, CHPV; Rachel Ellis, DVM; Sarah Pechmann, DVM; and Lizete Valdmanis, DVM—to offer patients in-home geriatric care and euthanasia services.
Beyond the veterinary care she provides, Banks, who is among the first group of veterinarians to be named a certified hospice and palliative care veterinarian (CHPV) through the International Association for Animal Hospice and Palliative Care (IAAHPC), assists her human clients in processing the emotions they experience when saying 'goodbye' to a family member.
1) What made you decide to work in a mobile environment?
There is a reason Dorothy from The Wizard of Oz wanted to go home: there's no place like it.
Pets and their owners are much more comfortable and less stressed when in their own environment. I've always liked the idea of doing in-home visits. When I graduated, I remember a veterinarian telling me that if I was mobile, I would mostly end up doing euthanasias. I was okay with that, but I felt as though I needed to go into regular practice because that's what veterinarians are 'supposed to do' when they graduate.
As I became more interested in geriatric and end-of-life care, I realized how beneficial a mobile service would be for the elderly pets I wanted to support—rather than having owners bring them into the clinic, we could bring the care to them.
While we currently care for cats and dogs, our typical patients are elderly, large-breed dogs with mobility problems.
2) What has been the most difficult situation you've encountered?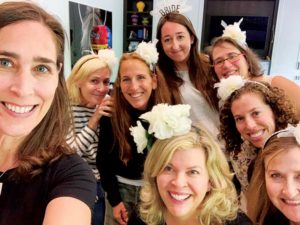 Physically, the most difficult situation was the euthanasia of a 106-kg (233-lb) mastiff in his home. Even with the help of his owners, getting him to my car to transport him for aftercare was extremely challenging.
As far as emotionally difficult situations, I find euthanasias with teenagers present very tough. Watching these young owners say goodbye to their childhood buddy is heartbreaking. I envision my own kids in the situation and I have to bite my lip to hold back tears. My 15-year-old son has been sharing his bed with our 10-year-old Chihuahua since we got her. He's very attached, and the thought of him having to say goodbye one day breaks my heart. However, while it adds to the sadness when teens are present, I believe they need and deserve the opportunity to say goodbye. Losing a pet is often their first experience with death, so it is incumbent on me to make sure the experience is as gentle and meaningful as possible.
3) What are the advantages and disadvantages of a mobile practice?
Amongst the advantages is the flexibility a mobile practice provides the veterinarians in my service. I work alongside four incredibly compassionate and dedicated doctors. I feel strongly that their family life should come first, so I allow them to determine their own work schedules, which alleviates issues related to compassion fatigue or burnout.
We provide ample time for our appointments, allotting two hours for a geriatric or hospice consultation and one hour for an in-home euthanasia. This means we're not in a rush and are able to focus entirely on the comfort and care of the pet and their owner—when we're with a patient, the family knows they're our top priority.
The disadvantages are mainly things out of our control, such as Toronto traffic and winter weather. I enjoy listening to audiobooks when I'm in the car, and stopping for a Starbucks chai latte prior to a 30-minute drive eases any traffic-related stress.
4) What is it like providing hospice care?
It's an incredibly rewarding path. When pet parents tell us how grateful they are for the peaceful and gentle care they received from our team, this warms our hearts.
I have said this before and I believe it in my core: it is an honour to walk pets to the Rainbow Bridge and help them pass over with a dignified and love-filled goodbye in the comfort and privacy of their home.
5) What kind of preparation did you do to set up your mobile practice?
Prior to opening my service, I reached out to two incredible practices in the United States:  Lap of Love, which is owned by Dani McVety, DVM, and Mary Gardner, DVM, and Home to Heaven, owned by Kathleen Cooney, DVM, CHPV, CCFP. All three veterinarians provided me with invaluable information on the set up of my practice, as well as the level and type of service to provide pets. The College of Veterinarians of Ontario (CVO) also offers an extensive list of items (drugs and equipment) that are required when opening a mobile palliative unit.
Additionally, I joined the IAAHPC and attend its conference annually. The event continues to provide excellent information, as well as networking opportunities with like-minded hospice veterinarians.
Source URL: https://www.veterinarypracticenews.ca/5-questions-with-faith-banks-dvm-chpv-ccrt-founder-of-midtown-mobile-veterinary-hospice-services/
---