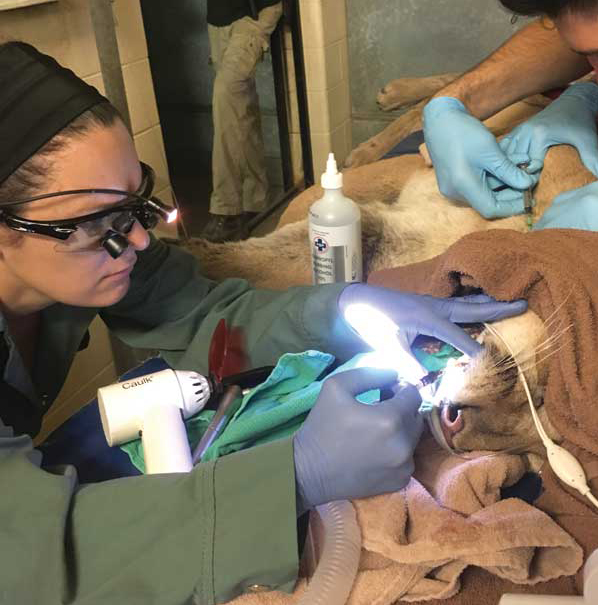 For Candace Lowe, DVM, MVetSci., Dipl. AVDC, hard work, determination, and a life-long adoration of animals were all essential to the foundation of her career in veterinary dentistry.
Growing up in Thompson, Man. (population 13,000), Dr. Lowe was a self-described 'horrible student,' regularly ditching classes in high school to have fun with her friends. While she dreamed of one day working in veterinary medicine, she did not consider this a realistic goal.
"My dad would drop me off at school, and I would go in the front door and leave out the back," she tells Veterinary Practice News Canada. "I wasn't interested in school."
After barely finishing high school, Lowe landed a job as a dental assistant (for humans), making six bucks an hour. She worked at the clinic for two years, but realized it wasn't what she wanted to do.
"I decided this was not my life plan, and I would have to go to university to get out of my small northern town and my minimum wage job," she says.
Thinking she would pursue human dentistry, Lowe started taking classes to improve her high school marks and pick up some of the essential science classes she missed the first time around. She took some pre-dental courses at the University of Manitoba (UManitoba), but her dream of working with animals inspired her to apply to the Western College of Veterinary Medicine (WCVM) at the University of Saskatchewan (USask).
"Once I finished my pre-requisites with a high-ranking GPA, I thought, 'What if I become a dentist and still want to be a vet?'" Lowe says. "From there, I gave my all to veterinary medicine."
To increase her chances of acceptance at WCVM, Lowe started working in veterinary clinics and transferred to UManitoba's faculty of agriculture and food sciences. She was ultimately accepted to WCVM's 2005 graduating class and excelled as a veterinary student.
"Once I graduated, I had an opportunity to work as a clinical associate for the college's developing radiation oncology department," she says. "I realized specialty practice was for me; just not oncology."
When a chance arose to work in animal dentistry at WCVM, Lowe jumped at the opportunity, realizing the specialty would be the perfect hybrid of her professional interests.
"Our veterinary dentist was developing a residency program and he selected me as the college's first dental and oral surgery resident," she says. "I completed my residency in the spring of 2011. That fall, I accepted a faculty position at WCVM, and I never left. I guess I am a 'lifer.'"
These days, Lowe is an assistant professor in the college's department of small animal clinical sciences. She also operates the veterinary dentistry clinical service, where she sees referrals from USask's Veterinary Medical Centre, as well as the Saskatoon Forestry Farm Park & Zoo.
Veterinary Practice News Canada recently caught up with Lowe—who lives in Saskatoon with her husband, Jeff; their sons, Keaton and Miller; two cats, Leia and Kiki; and Lola, their 17-year-old, six-toothed Shih Tzu—to learn more about her journey to veterinary dentistry and get some tips on how companion animal veterinarians can prioritize dental conversations with their clients.
1) What inspired you to pursue veterinary dentistry as a specialization?
My initial plan was to apply for dental college—the hours and the money were good, and I felt like I would be well suited to the industry. I had already been working with a dentist for two years and thought, "This doesn't look so hard!" Ultimately, though, I went full circle, from working as an assistant in human dentistry, to planning to become a dentist, to following my dream of becoming a veterinarian, then, finally, landing as a veterinary dentist.
For me, the specialty is a bit of a perfect balance; I can work in dentistry, but with animals. In many ways, working as an assistant to a human dentist gave me an advantage in my residency because I was already very familiar with teeth. While I had never performed a root canal when I worked at the dental clinic, I had helped with many and understood the procedure, for example.
2) What were some of the unique challenges you encountered while pursuing your career?
As someone from a small northern town with one veterinarian, the likelihood of studying animal medicine felt infinitely small. This is what I remember hearing when I told people I wanted to be a veterinarian as a teenager, and even when I was in university. I can still hear my high school teachers telling me how hard it would be to get into veterinary school.
Once I put my mind to it, though, I was able to accomplish my goal. I'm not sure I would have made it without the support of my amazing family and my spouse, though. For this reason, I always say "yes" when I am asked to speak and engage with youth groups, or to take on mentorship roles. Not everyone has a strong family network to support them in fulfilling their goals. The most rewarding experiences of my career were when I was working to engage with northern communities (like the one I grew up in) through mass spay and neuter programs and WCVM's remote clinics.
3) Which types of animals have you encountered in your research and clinical experience?
My most memorable patients are the ones the zoo team brings to us. As far as notable procedures go, comprehensive oral health assessment and treatments (COHATs) for badgers, foxes, bearded dragons, and monkeys top the list, as do tooth extractions in a fox, and root canals for cougars and grizzly bears. Surprisingly, the mouths and teeth of different species, for the most part, are about the same once you get in there—a grizzly bear's mouth is fairly similar to a dog, but with much larger teeth!
4) In what ways has educating others and sharing your expertise enhanced your professional experience?
In my nine years on WCVM's faculty, I have created and taught 12 three-hour lab sessions and 12 core lectures for third-year students. I am always revising my lessons!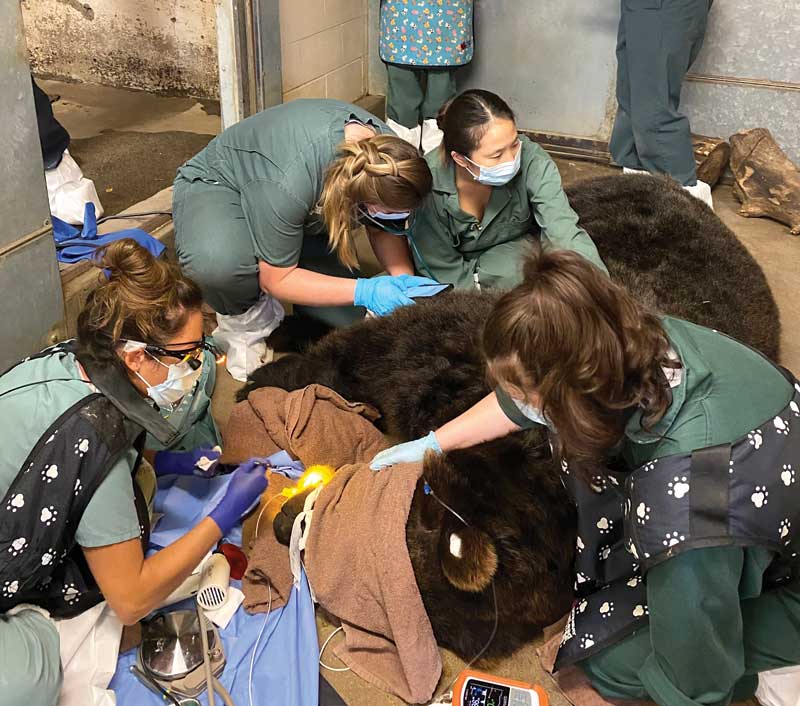 I have the chance to review, alter, or add in new teaching methods annually. As an educator, one of the most rewarding feelings is when a student I have known since their first year joins my fourth-year elective course, and I get to see how their education has improved their confidence and enhanced their skills in dentistry and oral surgery.
As far as WCVM's dental offerings go, it seems every year I am brought in to instruct on additional core and elective courses, including first- and second-year clinical skills, second-year pain and analgesia, and a third-year feline elective. It's incredible how far the college has come in terms of dental course offerings. As a 2005 graduate, I had almost no education in dentistry and oral surgery. I remember one portion of a lecture where a surgery resident came and, obviously begrudgingly, discussed the difference between a scaler and a curette (thanks, Mitch Gillick!).
I have also had great opportunities to provide numerous continuing education topics across Canada in the past 10 years. Unfortunately, COVID has put a damper on travelling in recent years, but I am looking forward to getting out there again. In sharing the knowledge of my specialty with veterinarians ranging from newbies to seasoned pros, I have learned it is best to always start with the basics. After all, if you do not know the anatomy/physiology, it would be near impossible to make recommendations and treat your patients appropriately.
5) Why are conversations about dental/oral health important for veterinarians to have with their clients?
My students will tell you I talk about this incessantly: It is our job as veterinarians to educate clients.
When a pet owner brings in their new puppy or kitten (especially if they are brachycephalic or toy breeds), oral health and care must be tacked on to the standard discussion of vaccinations, deworming, spay/neuter, and behaviour. If clients are well informed, they can be proactive, and, even if they don't follow your recommendations of brushing daily and not giving their pets hard/abrasive chew toys, they will, at the very least, be mentally prepared to treat retroactively. We routinely tell clients that, if they are unable to follow our recommendations, they should be prepared to perform COHATs anywhere from every six months to two years (depending on the patient).
Be the educator!
Explain the disease process honestly. When you describe periodontal disease, for example, say it is a bacterial infection that is destroying the jawbone so severely, teeth are falling out. Explain complicated crown fractures as holes into the jawbone that are constantly bathed in bacteria and saliva. I often say there is nowhere else on our patient's body where we are okay with infection that is so severe it is causing pieces of the patient's body to fall out of (as is the case with tooth loss from periodontal disease). Likewise, we would also not be fine with inserting an 18-gauge needle into our patient's femur and spitting in it all day, so why should we be okay with taking the 'watch-and-wait' approach for broken teeth?
Do not call oral care/checks 'a cleaning'—this makes it sound like an elective procedure.
If a pet owner isn't receptive to your dental homecare advice, recommend they opt for pet insurance or start saving early for the inevitable bill.
When it comes to oral/dental disease, the entire clinical team needs to be educated and on the same page. If you spend 15 minutes explaining to a client why Fluffy needs a COHAT only to have your front-office team member express disbelief about Dr. X's periodontal disease soapbox at discharge, all your work will be undone.