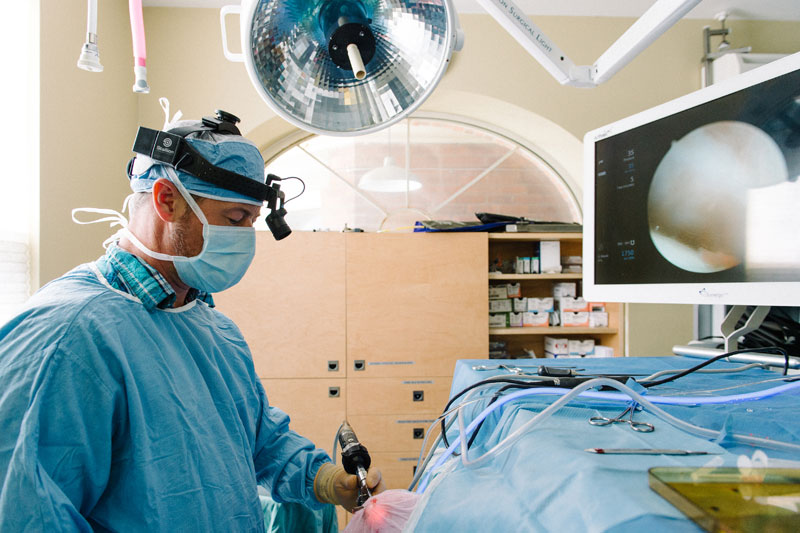 While many clinics are considered 'full service,' few are as sufficiently prepared for emergency as Caledon Mountain Veterinary Hospital.
Nestled in the rolling hills of Caledon, Ont. (70 km north of Toronto), the Fear Free-certified clinic, which specializes in orthopedic surgery, serves as a referral centre for veterinary hospitals across Ontario. Equipped with three-dimension (3D) imaging technology, a computed tomography (CT) scanner, ultrasound equipment, and more, Caledon Mountain can, indeed, handle most emergencies that come its way. What's more, its team of five veterinarians and 18 support staff members are up for an array of challenges.
"We provide services beyond the scope of regular veterinary hospitals," practice owner, John Brajkovich, BSc., DVM, MANZCVS (small animal surgery), tells Veterinary Practice News Canada. "This includes minimally invasive procedures, such as arthroscopy, laparoscopy, and advanced diagnostic imaging, along with advanced procedures, such as arthroplasties and angular limb deformities."
A graduate of the Ontario Veterinary College (OVC), Dr. Brajkovich completed extensive orthopedic training at The Ohio State University (OSU) before becoming a member of the Australian New Zealand College of Veterinary Scientists (ANZCVS) in small-animal surgery in 2016. Today, the surgeon and educator has considerable expertise in the areas of joint reconstruction, total hip replacement, cruciate ligament injury treatment (utilizing tibial plateau leveling osteotomy [TPLO] and tibial tuberosity advancement [TTA] procedures), and orthopedic trauma management.
Additionally, in soft tissue surgery, Brajkovich has a special interest in the surgical management of congenital deformities and complex fractures, using minimally invasive techniques and approaches to manage fractures whenever possible.
Veterinary Practice News Canada recently caught up with Brajkovich to learn more about his approach to surgery and find out how emerging technologies have transformed the care available to his patients.
1) What attracted you to orthopedic surgery as a specialization?
Orthopedic surgery, as a sub-specialty, is a very rewarding area. It allows us to make physical changes to our patients, which results in returning and restoring physical function.
As a woodworker, I have always had an affinity for being skilled with tools and hands-on applications. The ability to appreciate anatomy in different dimensions and understand mechanics and biological applications are among some the primary things that attracted me to orthopedic surgery and animals.
2) How has technology helped transform the level of care you bring to your patients?
At Caledon Mountain Veterinary Hospital, we have many tools available to make our jobs easier and help us provide the best treatment options possible for our patients.
One example is diagnostic imaging with CT scanning, combined with musculoskeletal ultrasound, arthroscopy, and needle arthroscopy alongside integrated radiology. This type of technology has truly transformed this area of veterinary medicine, making it much more efficient, accurate, and educational. These tools allow us to predict outcomes with prognosis to a higher level of certainty. We are able to have a very detailed look at situations such as polytrauma, fractures, mechanics in advanced degenerative disease, and pathological processes.
3) In your experience, how does 3D printing benefit both the patient and the surgeon?
The newest area in veterinary orthopedic surgery is the use of imaging to produce 3D modelling to create a pre-operative evaluation and a plan for our patients before surgery is performed. Using these techniques in this way provides several benefits, including lessening time under anesthesia and lowering its associated risks, as well as decreasing surgical site infection. Additionally, this method has allowed us to understand anatomical and mechanical abnormalities in three dimensions as compared to normal anatomy. In many cases, it has helped with decision making, as well as predicting the overall outcome.
In addition to less anesthetic time, the technique also increases accuracy in the placement of implants and reduces the overall risk of error during surgical procedures.
4) What are some of the most memorable or challenging cases you've encountered?
There are certainly some surgeries that stay with you for years. The most memorable surgeries I have been involved with would be restoring. Pre-surgery, many of the patients referred to our hospital have poor use of their limbs and require constant pain medication and management. Our goal is to restore as much function as possible, allowing our patients to return to normal activity levels and lead comfortable, happy lives.
5) Tell me about your involvement with Toronto-based non-profit group TEAM Dog Rescue.
We work with several animal rescue organizations, including TEAM Dog Rescue. The group developed a partnership with our hospital, allowing us to help countless dogs in their time of need. Most of the animals referred through TEAM Dog Rescue are experiencing chronic lameness, injury, or deformity. These cases can be overwhelming, but we stay focused and positive and do our best to help as we can.
The volunteers with this group share a very similar philosophy to that of me and my colleagues at Caledon Mountain Veterinary Hospital. As such, we are often motivated to go above and beyond the call of duty in cases where dogs do not have an owner and are in need assistance. Financially, some of the procedures might be prohibitive; however, through fundraising, awareness, and perseverance, many of the more complex situations manage to be resolved through a combination of efforts by TEAM Dog Rescue.