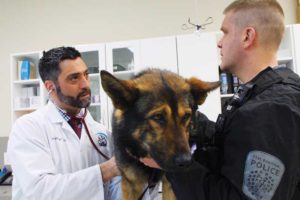 For as long as he can remember, Matthew Croskery, DVM, has always been interested in medicine and the way the body recovers from trauma or disease.
In human medicine, the consultation is pretty straightforward. Yet, when treating animals, determining a diagnosis is an exercise based in part on observation and the information pet owners provide, rather than the animal explaining where the pain is. This challenge of piecing together the puzzle is the part Dr. Croskery says he finds most gratifying.
As a second-generation veterinarian, Croskery says he was inspired by his father and was keen to follow in his footsteps. After graduating from Ontario Veterinary College (OVC) in 1998, Croskery worked at a small-animal clinic in Mississauga, Ont., until June 2001. Shortly after, he realized his dream of wanting to open his own practice by purchasing Oakpark Pet Hospital in nearby Oakville. Over the last 17 years, the practice has grown from one to six veterinarians; it's also moved into a 745-m2 (8,000-sf) structure. The new facility has allowed Croskery to expand his practice, which now boasts digital imaging, non-invasive surgical capabilities, and rehabilitation services complete with an underwater treadmill.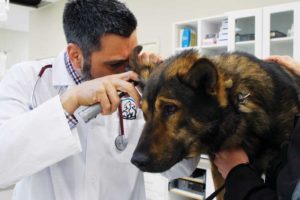 In addition to his regular roster of clients, Croskery and his associate, Lara Zahra, DVM, have been treating Peel Regional Police dogs since 2013. This aspect to his practice came about when a close friend, who is an officer with the service, referred one of his colleagues on the canine unit. It's a part of his career Croskery says he takes pride in, given the important role canine handlers and their partners play in protecting the community.
Not only does Croskery see Peel Regional Police dogs, he also treats dogs working with the Lions Foundation of Canada Dog Guides, another aspect to his work he finds gratifying.
1) What is it like working with animals facing unconventional injuries or trauma? What sort of injuries or conditions do police service dogs tend to experience?
It is important to understand the expectations and work police service dogs do. Most of the time, we see soft tissue or orthopedic injuries, such as cruciate ligament ruptures, tendon inflammation, hip flexor inflammation, or osteoarthritis, along with broken teeth, lacerations to their pads or skin, and heat exhaustion. What we haven't seen, but are always prepared for, are the catastrophic events police dogs are potentially exposed to on a daily basis, such as gunshot wounds, knife injuries, or trauma associated with an altercation with a suspect. Some of the dogs are trained in explosives detection, so we must also anticipate possible debilitating injury from inhaling powders or an explosive device going off. With the increased prevalence of fentanyl and other narcotics, we are sensitive to the risk these drugs pose to the dogs. That said their handlers are trained to reverse the side effects of exposure to narcotics. In addition, they also are taught first aid, so they can handle emergencies in the field, should one arise. We teach the handlers what to do in case of a major laceration, show them how to sedate the dog, tie a tourniquet to prevent blood loss, reverse an opioid, do CPR, and implement heat stroke measures. The key is for us to get them back into service as quickly as possible so Peel Regional Police aren't short a team member. This is critical, since the dogs play such a crucial role in so many aspects of police work.
2) How important is the human-to-animal connection between service dogs and their handlers when it comes to police work?
This is impossible to quantify in words. The bond between the dog and the handler is incredibly unique. They have such a synergistic relationship. The dog is truly the officer's partner and they both rely on each other for safety and success. It's amazing to witness how the dog responds to his handler's mood, posture, and commands. Some of the service dogs go from pet mode to police mode in seconds. For example, the dog will switch to police mode as soon as the officer has his police gear on or when its harness is put on. The handlers take pride in the job their dog does and how it is perceived throughout the police force, as they work closely with the tactical unit and other organizations within the service. The dogs are unselfish and will go into dangerous situations that may be deemed too dangerous for people. For instance, they are able to fit in smaller areas, they see better in the dark, and they smell danger their handler may not be aware of. The great thing about the Peel Regional Police officers we deal with is they understand how to handle the dog in a veterinary environment, since it's counterintuitive to the dog's training to allow an outside person to examine or manipulate them.
3) Having seen many animals facing work-related injuries, what do you think could be the next step in training for veterinarians?
A veterinarian working with police dogs would need to have a good understanding of the stress the canine unit undergoes and what body systems are most vulnerable. Dental injuries are common and a painful tooth could result in a dog not wanting to go in for a bite to neutralize a suspect. This may even put the officer at risk if there was an altercation and a suspect needed to be disarmed or stopped. Orthopedic injuries are also very common, given the nature of the job. Injuries can occur as a result of long treks over unknown terrain, jumping fences, going through windows, walking through marshlands, etc. Trying to keep the animals trained for this and then having the ability to identify the source of discomfort, which may be compromising the dog's ability to perform his job, is critical. A veterinarian needs to have a good understanding of a dog's ability to smell and their visual senses to avoid any treatments or medications that could alter or inhibit these senses. Most of all, it is critical a veterinarian have a good understanding of canine physiology.
4) Based on your experience, what is the most important quality a veterinarian needs to have to be able to handle emergency situations?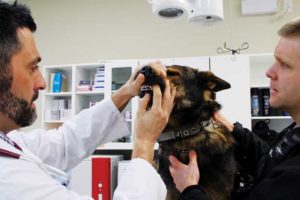 The majority of issues we deal with are orthopedic, skin, gastrointestinal, and dental. The basic ABCs of first aid still apply, meaning airway/breathing/circulation. Gun shot and knife wounds, burns, and smoke inhalation are not common; however, we are always ready for these types of injuries.
5) What is the most fulfilling part about being able to treat police dogs?
Without a doubt, the greatest fulfilment is in knowing we are playing a part, albeit small, to keep the unit healthy and getting a dog back into service as soon as possible. Getting to be 'inside the ropes' and working with the handlers first-hand is extremely rewarding, as is listening to how proud they are of the dogs when they apprehend a suspect, find a missing person, help protect the tactical unit, search for cadavers, discover an explosive, and detect drugs.
To see Otto go visit Dr. Croskery for a check up, click here.