5 Questions With…
by samantha_ashenhurst | September 28, 2022 3:02 pm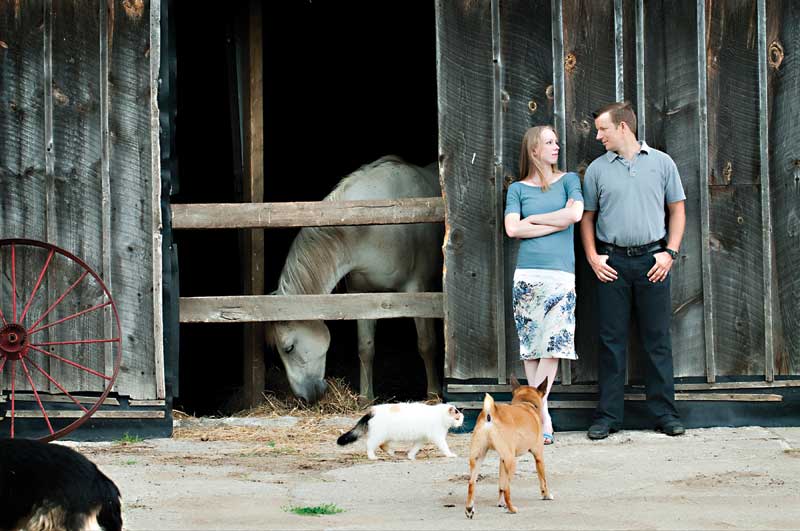 And they called it puppy love… Or is it "veterinary love"? For these two—husband and wife veterinarians Rob Hillerby, DVM, and Emma Webster, DVM—the latter is likely true, though a shared lifelong adoration of animals certainly didn't hurt their connection when they first crossed paths at the Ontario Veterinary College (OVC).
"As far back as grade school, I can remember wanting to work with animals in some capacity," Dr. Webster says of her decision to pursue animal medicine. "I used to say I wanted to be a 'biologist,' but I don't think I really knew what that meant at the time. When I started high school, I decided becoming a veterinarian was a reasonable path and a logical choice for wanting to work with animals."
Dr. Hillerby, too, seemed destined for a career in veterinary medicine from a young age.
"As soon as I knew there was a job taking care of animals, I knew that's what I wanted to do," he tells Veterinary Practice News Canada. "I have a really clear childhood memory of crawling into the room where my parents kept our family dog who had just whelped her puppies, and just having this visceral attachment to being surrounded by those furry little creatures. I was three when that happened."
Since meeting on their first day of veterinary school in 2005, Rob and Emma, who married in 2011, have both enjoyed successful, albeit slightly different, careers in animal medicine. In Emma's case, upon obtaining her DVM in 2009, she accepted a full-time equine/small animal veterinarian position at the Listowel Veterinary Clinic in Listowel, Ont. After spending 12 years as an associate veterinarian at the clinic (which is now Heartland Veterinary Services), she became an owner in 2021.
Meanwhile, Rob spent seven years in a mixed-animal practice in rural Ontario—treating dogs, cats, horses, pocket pets, goats, and everything in between—before joining Caledon Mountain Veterinary Hospital in 2016.
"I have found a real interest in the specialization and focus I can achieve by treating only two species instead of being responsible for any animal owner calling at any hour of the day or night," he says.
In 2014, the couple took their love of animals a step beyond practice and fulfilled a shared dream with the purchase of a 4.5-acre hobby farm.
"[Emma] grew up on a farm and I always wished I did," Rob says. "We have two cats, three miniature horses, and 19 chickens—until next spring, that is, when we always seem to hatch more."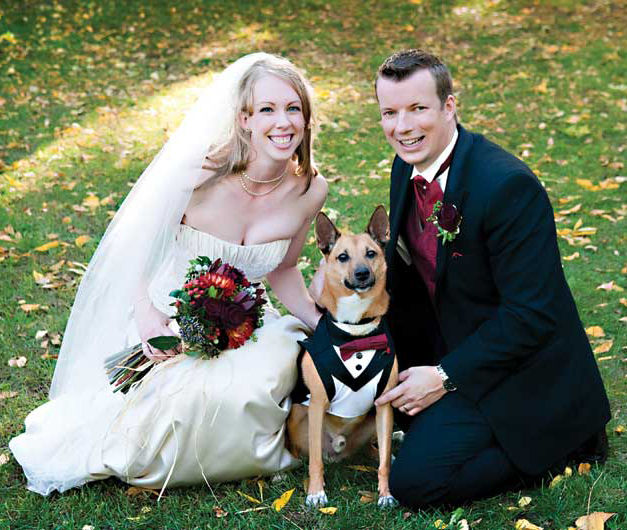 These days, between their careers, their farming responsibilities, and parenting their three children—Miles, Sidney, and Samantha—life is pretty busy for Rob and Emma. Veterinary Practice News Canada recently chatted with the couple to find out how they manage their work schedules amidst parenthood and hobby-farming, and to get an idea of what a dinner table conversation is like in a household with two veterinarian parents.
1) I understand you met in veterinary college. Can you tell me about that?
Rob: Emma and I met on the first day of vet school—September 5, 2005. Each student had to introduce themselves to the class and say a bit about who they were and what they did. I remember Emma standing up and saying, in her free time, she was a fencing instructor at the University of Guelph. For me—a guy who had just spent the last seven years sword fighting for a living at Medieval Times—this was very intriguing.
She will tell you she sought me out, but the truth is I enlisted the help of a friend from high school to introduce us and then asked her out for coffee. From there, we found out how much we had in common, and the rest is history. Emma always jokes that in a class with seven graduating men and more than 100 women, she was not expecting to find a husband.
2) What are each of your specialties/main areas of interest?
Emma: I enjoy the contrast of practicing on horses and small animals. There are many similarities in these groups, as both are truly companion animals, but, of course, there are also many differences between my 'James Herriot' road-warrior days and my more sterile and (mostly) scheduled in-clinic days. I enjoy soft tissue surgery and the opportunity to fix a problem. I have a special interest in ophthalmology and will take any opportunity to marvel at the beauty of an eye. Similarly, I don't miss a chance to use my ultrasound to help achieve a diagnosis and treatment plan.
Rob: My move to small-animal practice has allowed me to focus more on a few areas of medicine that really interest me. I have done some continuing education in ultrasound, and I enjoy the constant challenge this field provides. Also, working in a practice owned by a skilled surgeon like Dr. John Brajkovich has afforded me the opportunity to learn surgical skills like laparoscopy and other specialized procedures.
3) What's it like to be married to someone who works in the same field as you?
Rob and Emma: To be honest, it certainly has its benefits. There is a huge level of understanding and empathy, which allows us to support each other both personally and professionally. We both understand the days can be long and the hours unpredictable. Plus, if we are met with a challenging case late at night, we always have the 'phone a friend' option.
We commonly round on cases over the dinner table, which was particularly helpful in the early days of our careers. Our kids have grown up in a home where discussing pathology reports and surgical technique is common. We often take family visits to the veterinary hospital to see patients. Our oldest son has already told us he wants to be a vet when he grows up—although, with two veterinary parents, we expect at least one of our three children will rebel against us and grow up to be an accountant or—God forbid—a human doctor.
4) Why did you opt not to work in the same clinic?
Emma: Very early on, we discovered that, although we chose the same career and enjoy many of the same things, we have very different work styles. The classic 'Type A' leadership personality associated with veterinarians makes working together challenging. Despite these obstacles, we have discussed many times the possibility of working for the same practice. Ultimately, though, we decided scheduling work around our family life would be too difficult if we worked in the same place. Plus, as it stands, if Rob came to work with me, I would be his boss and that might be detrimental to our marriage.
5) How do you achieve balance amidst maintaining two busy (and, I imagine, often conflicting) work schedules, managing your hobby farm, and raising your family?
Rob: It's a work in progress and a balancing act, indeed. We were both very clear the early years of our career would be dedicated to veterinary medicine, but that, once we had a family, family life would become our priority.
Emma: We have worked hard to build our work schedule around our personal lives. To that, we have both chosen to work four days per week so we can be home more. Our jobs have allowed us to hire help and we outsource what we can so we have more time to enjoy our farm and our kids. We schedule everything! Rob's decision to move to a practice with no on-call schedule made a big difference in our work/life balance, and the understanding afforded to us from working in the same field helps to ease the stress of long and unpredictable days at work.
Endnotes:
[Image]: https://www.veterinarypracticenews.com/wp-content/uploads/2022/09/110818-480.jpg
[Image]: https://www.veterinarypracticenews.com/wp-content/uploads/2022/09/crop_111008-690.jpg
Source URL: https://www.veterinarypracticenews.ca/5-questions-hillerby-webster/
---