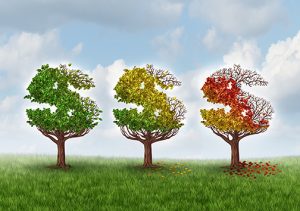 Veterinary clinic cash flow is challenged by several factors, but broken down, it's simple: how much comes in versus how much goes out. Here are 10 ways your practice can immediately take control of its cash flow.
If your practice is hemorrhaging money, you must immediately staunch the flow. You cannot save your way to success, but you should still be conscious of what you are spending. By controlling your spending and saving on extraneous things, your practice will be able to spend more money where it counts, such as equipment and human resources. Plus, you must identify cash that is lost because it was never collected in the first place.
The countdown to controlling clinic cash flow starts now.
No. 10: Create a budget
If you're like most, you just cringed a little when you read the word "budget." As much as they're disliked, budgets are a vital tool in your practice's path to success. Your accounting software and/or your accountant should be able to help you get started if you are unsure how to begin.
Adhering to a budget allows you to project potential income and expenses, avoid shortcomings and build in a safety net in the event of a slow month.
No. 9: Negotiate fixed costs when possible
For the most part, there's not much you can do about fixed costs, but that doesn't mean you shouldn't negotiate them when you can. Is your mortgage/lease at an appropriate rate? How about the business loan? What about your insurance coverage?
You want to save money, but you need to save yourself from liability. Don't just choose the cheapest policy. Before signing the annual renewal, get different quotes. Worker's comp, property, professional liability, etc. are competitive, so make sure you get the coverage you want and need. Visit vetinsure.com for more information.
Also, annually review miscellaneous contracted services, such as paying for extra parking spaces to landscaping to trash service. Again, multiple quotes can help ensure you get the best services you need for the money.
Last, bank fees, including merchant services, can be a source of huge savings. Many practice managers and owners don't clearly understand the mysterious credit card processing industry. Do your homework—I have seen practices save thousands upon thousands of dollars just by renegotiating or changing the credit card processing.
No. 8: Use and consolidate your technology
Practices often contract with multiple companies that overlap in service offerings—appointment reminder systems, social media management, portals, marketing, etc. Why pay monthly subscriptions to multiple companies that do the same thing? Determine where you can consolidate.
When possible, link your technologies to help avoid errors and missed charges. An example is having your practice management software integrated with your in-house blood analyzers and radiology system. If you request the test or image via the patient chart in the PMS, then you will for sure capture that charge on the client's invoice.
No. 7: Control the accounts payable
Pay your bills on time to avoid late fees. Work with your distributors to leverage such options as split billing. Split billing, preferred over deferred billing, allows you to pay over two or three installments rather than facing one large sum all at once a few months down the road when your stock is already gone and you have to order more.
Paying bills with a credit card might bring additional savings. I know one practice that earns 1 percent cash back on every dollar they spend with their credit card. They pay every bill they can with that card and then pay off the card each month. The credit card company was paying them thousands of dollars each year for using the card!
No. 6: Control overtime
I don't like to be cheap when it comes to payroll. My approach to practice finances is to spend more on the human resources and less on the "stuff." Team members work so hard in an industry that doesn't pay very well, and I believe they deserve to be compensated appropriately. That said, inefficient scheduling can cost your practice thousands—money that you could have appropriated more wisely. If you team's work schedule isn't in harmony with the practice flow, it's time to re-evaluate.
No. 5: Empower the team
Your team wants to do a good job, but so often they don't understand why management is concerned about a particular issue. It's up to you to teach and coach them so they do. Give them the tools and knowledge they need to succeed. They will thank you for it, and you will thank them for eventual savings.
Your team is a huge influence on many practice expenses. Training methods such as open-book management can really be eye opening for them. It gives the team insight on just how much hospital supplies cost each year and just how much money is lost when a piece of equipment is damaged. Incentivize the team to lower those costs by offering to share some of the savings with them.
Incorporate time management into team training to boost efficiency and inspire your team's outlook. They feel the pressure when their days are chaotic and disorganized, and they also will benefit from a less stressed, balanced day.
No 4: Manage your inventory
Do you know, for fact, which items are your top revenue-generating items? Use the ABC Analysis (80/20 rule) to help identify your core inventory items. Then, make sure you are getting the best price on these items and that you never run out of stock. Veterinary practices are notorious for their use of just-in-time inventory management. When this style fails you, however; you lose sales, your patient does not get what it needs, and your customer hasn't been well served. It is critical that you use your practice management software and other tools to control your quantities on hand.
No. 3: Control clinic inventory expense
There are many ways to control the cost of goods. First and foremost, make sure you are getting the best price. Many brand-name items' prices are fixed, so it won't matter where you order them from; however, taking advantage of promotions and split billing can help you save by earning rebates, free goods, etc.
Consider this: You use six boxes of item X a month. Each box costs $500. The manufacturer is offering a 10 percent rebate if you purchase 20 boxes. This means your regular monthly cost is $3,000. If you take advantage of the promotion, the invoice would total $10,000 ($9,000 after the 10 percent rebate). Now, ask your distributor for three-month split billing. The result? You still pay the $3,000 per month you would have spent anyway, and you're ahead $1,000.
Consider using generic drugs, which in most instances will work equally as well as the name brand but cost significantly less.
Don't try to stock everything—leverage an online pharmacy. Many third-party companies will host your online pharmacy. It will be branded to your practice, and your clients will be assured they are getting competitive online prices as well as guaranteed quality products. Additionally, your practice will still generate revenue from these online sales without having to actually manage the product. Today's consumer loves to shop online, and they love autorefill, autoship, and home delivery. Your online pharmacy can provide all of these things, which will increase client compliance with everything from flea/tick/heartworm to prescription diets.
No. 2: Shop smart
Maintaining a healthy and symbiotic relationship with your suppliers is an important part of your practice's success. However, when you are purchasing inventory, equipment, or other goods, you are essentially acting as a consumer. Just as you would be an informed and conscientious consumer in your personal life, be that same consumer when buying for your practice. You, and only you, are going to ensure your decision to purchase is in the practice's best interest, earning both the best price and the best terms. Don't allow third-party representatives to place your orders; purchase online to see all the options available before purchasing.
For example, one practice recently paid $47 for a 500-count bottle of metronidazole, ordered by phone. When I showed staff how to buy online, we discovered the same product in a different brand was $37, and if they purchased from a different distributor, it was $31. Taking control of the purchasing saved them $16 on a single item … how much do you think they will save over the course of a year?
Don't impulsively engage in pitches and promotions. First, research to determine if the promotion will work for your practice. Using the example above, it wouldn't be smart to order the 20 boxes of product if it's going to take 6-plus months to sell it. In this instance, your practice will have tied up cash in product that will sit on the shelf for too long, preventing the practice from spending it elsewhere.
No 1: Join a GPO
The No. 1 way to save money is to join at least one group purchasing organization (GPO). It's estimated that 9 percent of practices nationwide were a member of a GPO in 2010; membership in 2017 is estimated at 28 percent.
The group you join depends on several factors, including your region and what additional perks you want from your group.
GPOs already have negotiated special pricing and promotions with many major manufacturers and distributors. The upfront discounts and end-of-period rebates can yield a major reduction in cost of goods, freeing up cash that the practice can spend on improving human resources or other practice needs.